Stone Buddhas and Pagodas at Hwasun Unjusa Temple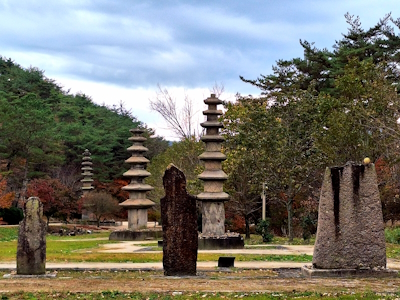 Stone Buddhas and Pagodas at Hwasun Unjusa Temple is part of the Tentative list of Republic of Korea in order to qualify for inclusion in the World Heritage List.
Map of Stone Buddhas and Pagodas at Hwasun Unjusa Temple
Load map
The coordinates shown for all tentative sites were produced as a community effort. They are not official and may change on inscription.
Community Reviews
---
This, in my opinion, does not only deserve to be a world heritage site, It would also be Korea's best world heritage site. Unjusa is unfortunately (or rather fortunately) very off the beaten path. The only WHS close by is the Hwasun dolmen component of the site everybody seems to tick off with Ganghwa near Seoul. I spent the night in Naju, the closest place I could find a hotel online, and visited the temple first thing in the morning. As so often during my off-season Korea trip, I was the only visitor. There is a ticket booth and free parking at the entrance.

The temple itself is at the end of a small valley and not spectacular or even different from the many other temples I visited in Korea. The real value lies in the many Pagodas and Buddhas along the valley. The come in different forms and sizes. Some very unique, like the round pagodas or the massive Buddha carved into a rock. Apart from the main road to the temple, you have to explore the paths on the hills to the left, right and even behind the temple. I spent around two hours exploring all the pathways and admiring every single statue and pagoda.

This site should be a must on your itinerary. If you have enough time, you might even consider a temple stay they offer. I leave it to the non-drivers to figure out how to reach the temple with public transport. Just use a rental car.
---
Chinese-Canadian - 31-Jan-18 -
Do you know the feeling that when you visit sites and they aren't so special but have World Heritage status? You get this "meh" feeling of disappointment. Then you get to one of those places that are not listed and you do not expect to see much because, hey, those guys are ICOMOS must have checked it out already and immediately recommended for inclusion, but it turns out to be really amazing? Unjusa is one of those places.
Unjusa Temple might be one of Korea's most amazing cultural tourist spot. Yes, I know everyone goes to the temples in Seoul which I personally found mediocre but they are easily accessed and have English tours so I understand they are popular. Unjusa is far away from the nearest towns you could even try to get to with public transportation and then from there taking the bus is going to be even harder. Thus the best solution is unfortunately a rental car or finding a tour group that goes there.
From the description they used to have a thousand Buddha statues and pagodas in the temple area. Now you only get to see 94 statues and 21 pagodas. What happened to them is unclear because I can't see them being moved to other temples. Maybe the 1,000 never really existed and the records are wrong. They do not explain it on the signs.
Nevertheless what you see how is so great. Take a stroll through the entrance gate and after a few minutes walking you arrive in a green valley (I visited late fall so it may get grey here in winter). The first pagodas pop out over the tree line and you see some statues at the edge of the forest too. Some of them are not special but there are some really unique ones like the twin Buddha and the ones carved into the rock.
The temple itself is not that special but still very idyllic. Beyond the temple are paths to more statues so don't turn back just yet. The brochure has an excellent map to pinpoint each one. It is also worth climbing to the top of the mountain for a view as in the picture. Have a rest up there to soak in the panorama and descend down the other path.
You can easily spend 2 hours here.
---
Community Likes
Site Info
Full Name

Stone Buddhas and Pagodas at Hwasun Unjusa Temple

Country

Added

Type

Cultural

Link
Site History
2017

Added to Tentative List
Visitors
4 Community Members have visited.