Great Spas of Europe (Austria)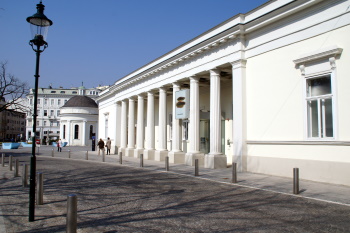 Great Spas of Europe (Austria) is part of the Tentative list of Austria in order to qualify for inclusion in the World Heritage List.
The Great Spas of Europe comprise a serial transnational site that includes the Austrian town of Baden bei Wien (Baden near Vienna). The warm sulphur springs were already known to the Romans. After a great fire at the beginning of the 19th century, the town was rebuilt in Neo-classicist style according to plans by the Austrian architect Joseph Kornhäusel. The most significant buildings are the former Frauenbad and the Kurhaus-Casino.
Map of Great Spas of Europe (Austria)
Load map
The coordinates shown for all tentative sites were produced as a community effort. They are not official and may change on inscription.
Community Reviews
---
Japan / USA / Cyprus - 16-Jun-19 -
This is the 5th Great Spa in Europe I have visited. The other 4 are Karlovy Vary in Czechia, Baden-Baden in Germany, Spa in Belgium and Bath in the UK.
I guess Bad Ischl in Salzkammergut, which I have also been to, is no longer included in this Great Spas of Europe nomination, but Baden bei Wien is. I'm not exactly sure how these decisions were made.
I enjoyed visiting this small town outside Vienna quite a bit, but I see some problems in this nomination. First of all, there are not many traces of spa facilities in this town. At other spa towns included in this nomination you can either drink the spa water (Karlovy Vary; Spa) or soak in it (Baden-Baden; Bath) at their historic facilities. But here are no historic drinking or soaking facilities available for tourists.
The nomination says, "Among the most significant spa buildings there are Josefsbad, Leopoldsbad, Frauenbad, Engelsbad, Franzensbad, Grand Hotel Sauerhof, Kurhaus, and the theatre."
To begin with, the staffs at the tourist info were not able to give much info on the specific sites related to this nomination. They just said the whole town is nominated. They did not even mention the fact that the tourist office building itself had been converted from the Leopoldsbad mentioned in the nomination.
To be sure, there is a modern spa facility in town, aptly named Römertherme, but this is rather like a water park that you can find in any sizable city in Europe today. I understand that this facility does not even use natural spring water.
The tourist info said that a rehabilitation center (converted from Engelsbad) is the only place where you could be treated by the natural hot spring water, but you need to make an appointment with a doctor who may or may not decide that you need such treatment.
Upon my further inquiry they said that the best place to see the former bathing facilities in town is an art museum dedicated to a local painter named Arnulf Rainer. This museum had been converted from the Frauenbad mentioned in the nomination. There I went to find that one of the bathes was used as a library. All in all you can see 3 bathes among the Francis Bacon-like paintings by this artist. I thought this was a Tentative World Heritage in Danger! I had to pay the entry fee for the art museum to see the bathes.
Taking matters into my own hands, I discovered that Josefsbad had been converted to an Argentinian restaurant, and Franzensbad to a Turkish bath. Grand Hotel Sauerhof is permanently closed. (And, as mentioned above, Leopoldsbad to a tourist info office; Engelsbad to a modern rehabilitation center; Frauenbad to an art museum.) By then I knew why the staff at the tourist info seemed not to know how to answer my questions on specific sites.
So the only right place to head to in this city may well be the kurpark. This historic kurpark is not only the most beautiful kurpark I have ever seen but also the most practical one for health, as it is located over a hill on the edge of the Vienna Woods. Here you can find monuments for Strauss, Mozart and Beethoven (the photo), all of whom came to this town from Vienna for relaxation.
So if you come to this town looking to be pampered in a historic setting, you may get disappointed. Perhaps the best way to go is to believe that if you relax well even at a modern setting in this town, you can become a great musician. For this there is a historic tram (Wiener Lokalbahnen) that picks you up from the front of the Opera House in Vienna and brings you right to the front of the former Frauenbad in Baden bei Wien.
Read more from Tsunami here.
---
Community Likes
Site Info
Site History
2014

Added to Tentative List
Visitors
25 Community Members have visited.