Anatolian Seljuks Madrasahs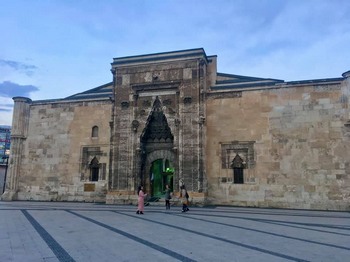 Anatolian Seljuks Madrasahs is part of the Tentative list of Turkey in order to qualify for inclusion in the World Heritage List.
The Anatolian Seljuks Madrasahs comprise 10 Islamic educational institutions. They date from the 12th and 13th centuries. They can be divided in open court madrasahs and covered court madrasahs. Made out of stone, these buildings represent an interesting period of Turkish-Islamic architecture.
Map of Anatolian Seljuks Madrasahs
Load map
The coordinates shown for all tentative sites were produced as a community effort. They are not official and may change on inscription.
Community Reviews
---
Out of all proposed properties we visited only one – Yakutiye Madrasah in Erzurum. I did not read a description on UNESCO site so I did not realize there was another one in Eurzurum - Çifte Minareli Madrasah, very close to Yakutiye.
Yakutiye Madrasah is located in the very center of Erzurum, one of the biggest cities in the East of Turkey. The whole building has been preserved in original shape and it looks very nice - epecially its minaret with vivid blue ornaments. The entrance to the building is beautifully carved with ingenious iwan. There is a museum inside and normally the entrance is paid but we were there during a holiday, so no fee was required and there were many people inside. The museum shows a bit of everything – arms and armors, costumes, daily life ages ago and how the teaching in madrasah was conducted.
Madrasahs, originating from Iran but then spread along all Islamic world, do not have their own representation on World Heritage List. Of course many of them are inscribed under "historic center of…". Maybe Turkey wants to fill out this gap. For us at least visiting the one in Erzurum was worthwhile so if you are nearby, consider a detour.
---
Community Likes
Site History
2014

Added to Tentative List
Locations
The site has 11 locations
Anatolian Seljuks Madrasahs (T)
Anatolian Seljuks Madrasahs: Çifte Madrasah (Kayseri) (T)
Visitors
18 Community Members have visited.