Archaeological site of Laodikeia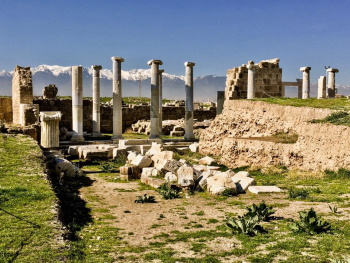 Archaeological site of Laodikeia is part of the Tentative list of Turkey in order to qualify for inclusion in the World Heritage List.
Laodikeia comprises the remains of a Roman, Hellenistic and early Byzantine city. The existing remains attest to its former greatness, notably the aqueduct and the stadium. It was also an important site in early Christianity: it had an early church which was mentioned in the Bible.
Map of Archaeological site of Laodikeia
Load map
The coordinates shown for all tentative sites were produced as a community effort. They are not official and may change on inscription.
Community Reviews
---
I didn't know I would become a fan of classical civilizations until I visited Turkey. In fact, Laodikea was not really part of my itinerary but because I was going crazy over ancient Greek/Roman ruins while I was there, I decided to visit Laodikea as my third ancient Hellenistic city within the area of Denizli, after Hierapolis and Aphrodisias. I thought it was a rewarding trip.
Date of Visit: August 2017
Description:
Based on its description in UNESCO website: (1) it was "founded as a city in the Hellenistic period" but was later assimilated into the Roman republic, and (2) the city was earthquake-prone and had been rebuilt several times until people had enough and settled somewhere else. Good thing they didn't demolish the city—otherwise, we won't be able to witness the beautiful ruins of Laodikea.
Experience:
It has been 3 years since I visited it—memories of how my trip went are a little bit blurry now, but I will try to give much details as I can.
I started the half-day trip by going to Denizli bus station, where I planned to take a public bus that was supposed to go past the site, as mentioned by some sources. Unfortunately, I couldn't find such bus hence I decided to take a taxi. When I arrived at the site, the taxi driver looked at me as if he was questioning my sanity for going to a rarely visited site alone and in the middle of a hot sunny day.
It was indeed very hot. I went to the only store at the entrance of the site and most of what they were selling were souvenirs, cold drinks and ice cream. From what I can remember, the man at the ticket booth was so surprised that a traveler showed up at this time of the day. On the other hand, I thought that this would be a good time to visit as I could have the entire site to myself.
I wasn't wrong. It was just me roaming around the site. I started walking through a street that used to be colonnaded. At the end of this street was a series of Corinthian columns of what could have been a former temple or public building in the agora. On the right was a large roofed portion of the ruins, which might have been the remains of an important building. I believe that this roofed area was in the process of excavation. Past this structure, I walked around the remains of several ancient buildings, with columns looking more like tree stumps. I took several pictures of the intricate designs on some of the columns and walls.
I went straight towards the stadium, which seemed to be a little bit far from the agora. It is on the edge of this elevated part of the plains and the "seats" of this stadium follows the contours of the slope. The description in the UNESCO website says that this ancient stadium was the biggest in Anatolia. I would say that it was a nice spot to view the bright white travertine terraces of Pamukkale, which I think is probably more than 10 kilometers away.
As I concluded my visit, a few other visitors started coming in. My sweaty, thirsty and hungry self was happy.
Thoughts:
I believe that its importance as a commercial city during its heyday would be a nice justification for inscription (as described in its UNESCO webpage). However, I don't think that the site is at par with its neighboring UNESCO-inscribed sites of Aphrodisias and Hierapolis. The other two were well-preserved and had more grandeur. But if this site gets inscribed in the future, I won't complain at all.
All information about the site's attributes, history and other facts were retrieved from this site's UNESCO page.
---
Community Likes
Site Info
Site History
2013

Added to Tentative List
Visitors
17 Community Members have visited.