Flow Country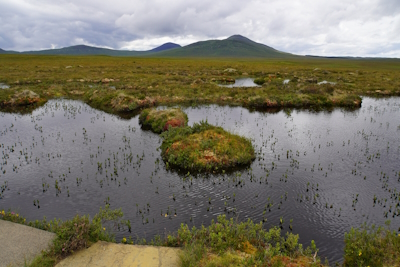 Flow Country is part of the Tentative list of United Kingdom in order to qualify for inclusion in the World Heritage List.
The Flow Country in northern Scotland is considered the largest area of blanket bog in the world, representing 1.5% of the global total. Covering 4,000km2 the bog landscape and surrounding heathland remains largely undisturbed and its wide range of vegetation provides habitat to a large range of birds, including an abundance of raptors, waterfowl and waders. The site would be unique if inscribed for being the only site listed because of its bog/ peatland.
Map of Flow Country
Load map
The coordinates shown for all tentative sites were produced as a community effort. They are not official and may change on inscription.
Community Reviews
---
On our trip around the northern coast of Scotland in summer 2019 we crossed also the area of Flow Country. The main argument about this site seems the size of untouched land that is unique in Europe and the amount of CO2 it binds. To me this seems for my taste to jump on the (very necessary) wave of the current climate consciousness.
The trip along the northern coast road is attractive mainly for the rocks and beaches on the seaside. The actual flow country on the landside has a certain wild "Wuthering heights" charm: it is a huge area of rather flat moor with moss in many shades, pools and small hills. This is a very typical Scottish landscape but you can find it in smaller chunks nearly everywhere in Scotland and it is also almost everywhere else more attractive because it contrasts sharply with hills, mountains and lakes.
There is little doubt that this area has an ecological importance and that it should be protected but for a traveller this has not more to offer then a walk (where it is possible) through a very wide, lonely and very wet country. That is less then almost any other landscape of this spectacularly beautiful country can offer.

Things to see:
The most interesting thing during this drive is really the contrast between the landside and the seaside with gorgeous bays, cliffs and beaches. Here are a few places interesting sights in the area. They are not relevant to the OUV of this natural site but worth a stop.
In Alltnacaillich you can see one of the best-conserved Brochs in Scotland, the Broch Dun Dornaigil.
Near Internaver you can find the beautiful Lochan Duinte. On its northern shore you can explore one of the best clearance villages. It is quite overgrown but there is a map and you can find some of the ruins by the relief in the soil. The attached picture is taken there.
At Bettyhill there is the quirky Strathnaver Museum in an old church with an interesting graveyard.
At Crosskirk there is a very nice viewpoint with cliffs near St Mary's Chapel.


---
Flow country is the name given to a large area of bog in the very northern part of mainland Scotland. We visited that region during our "tour of Scotland" in summer 2015. We drove to Forsinard, where a small visitors center is housed in the train station, surrounded by few houses. I understood that the train line and station were still in operation at that time (unexpected for such a tiny and remote village), so this could be a travel alternative to car for those willing to visit that place.
The visitors center is operated by RSPB (Royal Society for Protection of Birds) and gives helpful information about fauna and flora of the area. Main attraction is the nearby board walkway, leading to the recently built observation tower. The area is wide, quite flat with few "bens" (Scottish mountains) in the background, and extremely quiet and relax (and clearly off beaten tracks). We really enjoyed the landscape, as not comparable to any other in Europe (I remember some bogs in French Massif Central, but there is no way they can compete in terms of extend and landscape), as well as observation of insects, lizards and droseras around the small pools. All activities were free of charge. I would be happy to see this area inscribed one day, and I recommend this place to anyone visiting this area (and by the way, the road to Durness, that we drove on the next day, goes along what is probably one of the most scenic coasts of all the UK).
I remember also seeing several signs along the road, not really in favor of the protection of nature in that region. Back home, I found out on Internet that in the 1980s the area had been subject to changes to boost activity, such as planting trees and drainage of the land to develop farming, until it was stopped in the 1990s under consideration of the uniqueness of this natural heritage (with RSPB leading the fight for protection). Antagonism between development of human activities and heritage preservation is not something new, but I believe that full support of people living in the area is a must before inscription of any site as a WHS. It may still take some time before this candidate site would move forward.
---
Community Likes
Site Info
Full Name

Flow Country

Country

Added

Nominated for

Type

Natural

Link
Site History
2012

Added to Tentative List
Visitors
16 Community Members have visited.