Silk Roads Sites in Kyrgyzstan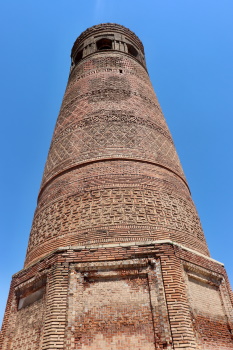 Silk Roads Sites in Kyrgyzstan is part of the Tentative list of Kyrgyzstan in order to qualify for inclusion in the World Heritage List.
Silk Roads Sites in Kyrgyzstan is a serial nomination with 5 clusters of a total of 12 different sites (if we exclude another cluster with 3 sites, still in the file, but already inscribed in the serial multinational 2014 nomination "Silk Road: the Routes Network of Chang'an-Tiashan Corridor). It consists of remains of long-distance dissemination of trade, ideas and human prosperity along the networks of the Silk roads (from the 2nd century BC until the end of the 16th century). It includes remains of road infrastructures (as caravanserais or protective fortresses), cities (from quarters of local nomadic rulers to regional citadels and large cities), religious monuments (mausoleum, including the one attributed to Manas, the Kirghiz national epic hero, minarets, cemeteries or natural sacral mountains of various different religions from archaic belief to Zoroastrian, Buddhist, Islam or Christianity).
Map of Silk Roads Sites in Kyrgyzstan
Load map
The coordinates shown for all tentative sites were produced as a community effort. They are not official and may change on inscription.
Community Reviews
---
This serial nomination consists of 14 proprieties, assembled in six different groups. One group (The Upper Chui Valley with its three elements), is already on the WHS as part of the Chang'an-Tianshan Corridor Silk Roads.
I had the chance to visit some of those proprieties on my trip to Central Asia in June 2019
First, I headed with a rental car in the southeastern high-mountainous part of Kyrgystan, some 300 km from Bishkek, arounf the town of Naryn. It is where the first group (the nomadic monuments of Inner Tien Shan) lie. I visited two proprieties, Koshoi-Korgon and Tash-Rabat and had a quick look at a third one.
South east of Koshkor, on the way to Naryn, is the sacral mountain called Kochkor-Ata. I was not able to find any useful information about this propriety, apart from coordinate leading to the slope of a mountain. I just had a look at the mountains from the road by-passing the town of Koshkor, and try to imagine which one was sacred for the habitants with archaic beliefs later adapted for Islam.
An hour from Naryn is Koshoi-Korgon (lower picture), located at the foot of an impressive mountain range valley, at the altitude of 2500 m. It is located on the fringe of Kara-Suu village. It is a ruined square fortress 250 х 245 m long having been in function from the 9th to the 12the century. Walls are made of mud blocks, some of them to an impressive 8 m high but are very fragile and therefore crumbling. Some bees even built their nest within the mud-walls. There is a small museum nearby, which was closed at the time of my visit. The propriety is fenced, but the door was open, and I could wander around the site, all by myself, and enjoy the great scenery of the nearby At-Bashy mountain range.
Tash-Rabat (upper picture) is located in the western part of the At-Bashy mountain range, on a small side-valley, 55 km west of Koshoi-Korgon, at the altitude of 3200 m. It is accessed by a 15 km magnificent dirt road (passable by regular car). It is a caravan-saray, providing services for travelers of the route. The building seems to be from the 1500s, but earlier use of the place may predate from around 900 AD. Tash Rabat is a tourist attraction near the road toward China and therefore there were a few tourists (local and European) on the day of my visit. There are even a few yurt accommodations in the area. This slate-plates building has been carefully restored. The façade is decorated with towers. There is a small entrance fee to the inside, where a very large central domed room, surrounded by about thirty smaller domed room and many corridors to wander around.
After the first group of proprieties, I drove to the second group, the southern Issyk Kul lake shore. It consists of three forts in very bad shape. Marskoon, Tosor and Khan Dobo.
Barskoon 2 is located, according to the description of the TL, in the heart of gorge, on the right terrace above the floodplain, with a square shape of 60 m length, oriented to cardinal points with semicircular towers in each corner. After doing extensive research, I came with the conclusion that its coordinates were (42.092540, 77.594616), but I might have been wrong. It is 4 km south of Barskoon village and lies on the western edge of the road. It functioned as a fortress protecting entrance and exit from gorge from the early Middle Ages until the 12th century. This site is not signposted, and is very low key. It is fenced and not open to visit, be visible from the outside. It really looks like a small green hill.
Tosor site is another ruin of a fortress on the western end of Tosor village, 200 m to the north from Balykchi-Karakol road. It is square with 100 m sides to cardinal points and semicircular towers. It is not signposted, and is now used as a cemetery for local people (coordinates 42.168217, 77.434739).
Khan-Dobo, also called Dun or Ton city is located on the left floodplain terrace of the river Ton, in the entrance to the gorge. It consists of the ruin of a central citadel on a small hill (60x60 meter) surrounded by a wall with towers in the west and the north walls (each about 500 meters long). Functioning dated back from 7th to 12th centurie. Again, no sign to indicate the place. According to my research, coordinates are (42.066994, 76.975063). Take the first dirt road at the entrance of Turasu village (6 km south of Bokonbayevo on the Karakol road), turn right and follow a dirt road, crossing a river, and then you can see the hill. Have GPS ready !
Those three proprieties are not very impressive at all, and I would recommend to visit only if you happen to be in the area, where much more interesting things are to visit, including the great scenery of Issyk Kul lake and the Skazka (Fairytale) canyon.
I also visited the group 6, which consist of Uzgen and Shorobashat, in south west Kyrkystan.
The ancient settlement of Uzgen is the centre of Uzgen town, lying 60 km north-east of Osh. Three mausoleums and minaret are the main monument to visit. It is signposted as " Uzgen architectural complex". The mausoleum are three fired-brick buildings, closely attached to each other. The earliest mausoleum, in the middle, was built in the 11the century centuries, surrounded on each side by later mausoleum. Facades are richley decorated with architectural terracotta and carved plaster. The minaret dates back to middle of 11th century. It looks a lot like Burana tower, and like Burana was partially destroyed by an earthquake and was partially reconstructed.
Shorobashat is the ruins of the a big settlement between Uzgen and Jalalabad. However, I was not able to find any information or coordonates about it.
---
Community Likes
Site Info
Full Name

Silk Roads Sites in Kyrgyzstan

Country

Added

Type

Cultural

Link
Site History
2014

Revision

Part of this TWHS is inscribed as WHS as Silk Roads: the Routes Network of Changan-Tianshan Corridor
2010

Revision

Includes former TWHS Issyk-Kul as a cultural and natural landscape (cultural part subsumed), Shakh-Fazil and Uzgen (2001)
2010

Added to Tentative List
Locations
The site has 12 locations
Silk Roads Sites in Kyrgyzstan: Nomadic Monuments of Inner Tien Shan: Shyrdakbek (T)
Silk Roads Sites in Kyrgyzstan: Shorobashat (T)
Visitors
14 Community Members have visited.