Jômon Archaeological Sites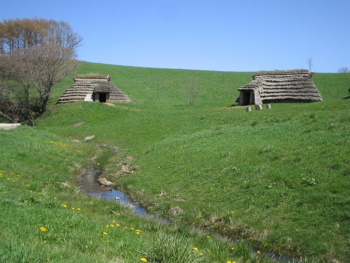 Jômon Archaeological Sites in Hokkaidô, Northern Tôhoku, and other regions is part of the Tentative list of Japan in order to qualify for inclusion in the World Heritage List.
The Jômon Archaeological Sites are a group of unique archaeological sites representing a culture that continuously occupied the Japanese archipelago for nearly 10,000 years in the natural environment sustained by the humid temperate climate of the Holocene epoch, living in permanent settlements supported primarily by hunting, fishing, and gathering.
Map of Jômon Archaeological Sites
Load map
The coordinates shown for all tentative sites were produced as a community effort. They are not official and may change on inscription.
Community Reviews
---
I don't know what the rank of the 'Jomon sites' is among the current Japanese tentative sites. There's not really one site that jumps out from their current Tentative List, maybe one or two of the early industrial sites could be a good angle for Japan to choose. According to this report, the Tomioka Silk Mill indeed will be next (in 2014).
But you never know, so while travelling between the WHS of Hiraizumi and Shirakami-Sanchi I stopped by at one of the Jomon sites. These are a cluster of 15 prehistoric archeological sites at the northern tip of Tohoku province and the south of Hokkaido. I choose Sannai-Maruyama in Aomori city, both for its accessibility and because it seems to be the most developed location.
Directions by public transport were a bit sketchy, so I took a taxi from Aomori station to bring me some 7km to the outskirts of the city. In a true example of Japanese ways, the taxi driver with whom I had no language in common decided that I should make the best of my visit to Sannai-Maruyama and called ahead with his mobile to announce that an English speaking visitor was to arrive. He then went inside the main building with me to secure that I was given a volunteer guide that spoke English. The girls behind the desk were all very excited having a guest from 'Oranda' anyway.
So I went on to visit the site with the (at first hesistantly) English speaking guide. These remains of the Jomon period (5,500 - 4,000 years old) were only discovered in 1992 when they were to build a baseball stadium in this location. Many pit-dwellings, pillar-supported buildings, burial pits and jars, and lots of pottery were found. Sannai-Maruyama nowadays consists of an outdoor location with reconstructed buildings and archeological digs, and an indoor complex with a museum and shop/restaurant/experience-things.
Sites this age are always difficult to portray, and I must say that they've put a lot of effort in making the most of it. Some reconstructions to get a feel of what the dwellings people lived in must have looked like, but also open pits (covered by small buildings though to protect them) to show how the archeologists found it. The museum finally exhibits the major objects found here: jade rings, lots of spearpoints of course, decorated pottery and funny little clay figures probably used in rituals.
They are already enthousiastically looking forward to a possible WH status, which is mentioned in the English brochure and displayed prominently at the reception. I fear that its chances of getting in are low - it seems to lack the detailed study of sites like Catalhoyuk for example. I enjoyed my visit of about an hour anyway, and extended my stay in the area by going to the Aomori Museum of Art which lies a short walk away. It holds 3 large pieces by Marc Chagall, the statue of the Aomori-ken dog (8.5 meters high but cute anyway), the Hula-Hula room and more that will appeal to fans of modern art.
---
Community Likes
Site Info
Site History
2009

Added to Tentative List
Visitors
8 Community Members have visited.