Cultural Landscape of Alamout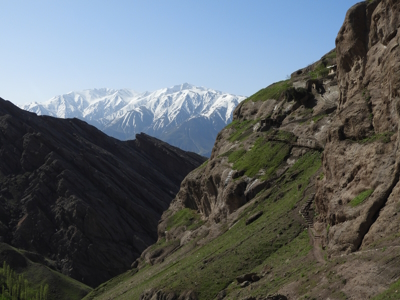 Cultural Landscape of Alamout is part of the Tentative list of Iran in order to qualify for inclusion in the World Heritage List.
The Cultural Landscape of Alamout comprises the remains of Hassan Sabah's castle. This mountain fortress at a strategic location had a garden and a library in its heydays. It was captured by the Mongols in 1256, but remained in local use afterwards.
Map of Cultural Landscape of Alamout
Load map
The coordinates shown for all tentative sites were produced as a community effort. They are not official and may change on inscription.
Community Reviews
---
Back in Nov 2014, this Iranian article seemed to indicate that the Cultural Landscape of Alamout might be undergoing active preparation for nomination. The subject appears to have gone very quiet since then however, and our visit in Apr 2016 gave no indication that the site had been prepared or was ready for, inscription. Nevertheless it was a worthwhile trip up into the Elburz mountains at a beautiful time of year.
The "big draw" for the "castle" at the heart of the site is its connection with the "Assassins" (though no mention is made of this in the UNESCO T List introduction). When preparing for the visit I was surprised to discover the extent of its public profile - featuring in several novels (including some critically acclaimed), video games and as the name of an up-market fragrance (presumably for its associations with danger and the mysterious!). Even Marco Polo refers to it – although there is some doubt as to whether he would have visited it since, by the date of his travels in the 1270s, the Assassins had already been destroyed by the Mongols. And, finally, one of my "favourite" 20th century travellers and writers, Dame Freya Stark, visited it and wrote about it in "The Valley of the Assassins and other Persian Travels" (1934).
Now neither the "idea" nor the reality of the "Assassins" has ever really grabbed my imagination, even though these drug crazed murderers (in fact their use of "hashish " is a matter of debate) seem to loom quite large in popular culture! So, I am afraid, their historical "presence" could play no part in my reactions on visiting the site - though the only other tourist we met there had made a very special (and long) day trip away from his conference in Tehran in order to achieve a major ambition which seemed to have been fuelled by the site's "reputation"!
However, if the site's reputation wasn't going to impress me, its location certainly did. It is almost "impossibly" situated atop a crag, surrounded on all sides by steep cliffs. And, beyond the valleys around those cliffs, rise even higher mountains – still nicely snow-capped in mid April. The crag can be seen from a long way off and the road manages to climb to within a few hundred metres in height and distance with the summit almost vertically above the car park. "Normal" Iranian entrance fees apply and a stepped path leads to the top via a zig-zagged route. Maybe it has been improved since the previous reviewer's visit but it wasn't that "arduous" even for this 73 year old! At one point it passes through an, at least partially, reconstructed "Main Gate of the Lower Castle" (signage is in English and Farsi) - followed by the "Main Gate of the Upper Castle". The final climb is certainly only available to "walkers" because of a scaffolding pathway. And, at the very top an amazing 360 degree view.
The location and its views are not matched however by the quality or quantity of the remains. This "castle" was totally destroyed by the Mongols in 1256 and everything seen "above ground" today is the result of archaeological digging and reconstruction. This latter is somewhat unsightly, having been covered by structures made of scaffolding with corrugated iron roofs. The total summit area is remarkably small but contains the remains of the Mosque, a courtyard and reservoirs (these latter being important to allow the Assassins to survive sieges) plus various unidentified structures. There is even a cellar which has been turned into a comfortable café by an enterprising local!
Iran has titled the T List entry "Cultural Landscape of Alamout" without explaining why. The entry also includes some somewhat fanciful examples as comparators - "Hassan Sabah's castle in Alamout and comparable with palace of caliphs in Baghdad; Chief Mosque of Isfahan; Tower of Khaghan; Chief Mosque of Ghazvin." (sic. I think that the "Tower of Khaghan" probably refers to the T List site titled "Bastam and Kharghan" in NE Iran which invcludes a significant "tower"?). Many of these comparators are religious buildings which seems somewhat inappropriate for what is primarily a castle. In any case it would seems that Iran has rather got carried away in choosing e.g Baghdad and Isfahan!! The natural and man made landscape in which Alamout is situated is indeed very fine. The Alamout area provides excellent "trekking country" and, when we were there, the cherry blossom in the fields way below, looked almost like snow when viewed from the castle. But I don't really see it as forming a valid "relict" or "continuing" etc "cultural landscape". Similarly there are many other castles from this period in the Middle East (The history of the "Assassins" and the "Crusaders" even met at times). So we are left with a cultural site in a magnificent natural location and having a strong "associative" value but not, perhaps, enough else?
Some time after writing this review I discovered some additional information about Alamout's somewhat surprising role in the history of mathematics and astronomy which might be of interest to anyone planning to go there!
---
AHAMED ISMAIL
Visited Iran in September, 2013 as part of a group. Drove to Alamut to see and experience first hand what it is all about. The drive itself was amazing going through a mountainous region. Climbing the fort of Alamut is an adventure itself. I took the help of a donkey to climb half way and then after taking a bit of rest, proceeded to climb over multitude of steps that are narrow and uneven. Missing a step one could end up sliding on the slope and probably in the valley. At the top discovered how water was collected and conserved, where prayer hall was and how strategic the fort was. Noticed some restoration work in progress. A lady served tea to visitors. How Hassan bin Sabbah and his people would have lived here can only be imagined because there were no paved roads in those days and the terrain very challenging.
A great experience!
---
Community Likes
Site History
2007

Added to Tentative List
Visitors
8 Community Members have visited.