Ecosystèmes terrestres et paysage culturel de l'Archipel des Comores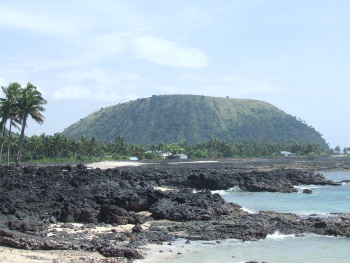 Ecosystèmes terrestres et paysage culturel de l'Archipel des Comores is part of the Tentative list of Comoros in order to qualify for inclusion in the World Heritage List.
The Comoros archipelago represents a relatively young land surface of volcanic origin. It is partly covered with tropical and subtropical moist broadleaf forests. There is a fusion of natural and cultural elements by way of agroforestry cultivation at Mount Karthala (with the use of crops that respect the forest cover).
Map of Ecosystèmes terrestres et paysage culturel de l'Archipel des Comores
Load map
The coordinates shown for all tentative sites were produced as a community effort. They are not official and may change on inscription.
Community Reviews
---
This T List proposal consists of 3 ecosystems and 1 cultural landscape spread across all 3 of the islands currently making up the State of the Comoros (the 4th, Mayotte, voted to stay with France!). It encompasses therefore both the natural tropical and volcanic scenery as well as the man-made landscape. During our visit in Feb 2008 we were able to visit the "cultural landscape" on Grande Comore ((Ngazidja). We probably did not climb high enough to reach that island's potential "ecosystem" site but both are set on the slopes of the active Karthala Volcano which dominates the south of the island. The natural element consists of the volcano itself with its caldera (at 3 kms in diameter, said to be the largest in the world) and reaches down through broadleaf rainforests which contain a range of endemic species. At lower altitudes this forest "morphs" into the cultural landscape.
The Comoran approach to agriculture mixes high growing trees (including endemic forest species) interspersed with plantation trees/bushes such as bananas/coffee/cocoa and low growing vegetables. This mixed agriculture exists on the slopes of the volcano from high altitude levels down to sea level and the T List description seems to include all of these. There are almost no roads and the area is criss-crossed by paths bordered by walls of volcanic stones. The whole is managed within a village culture which maintains the terraces etc.
We visited a variety of locations within this cultural landscape from sea level to reasonably high up on Mt Karthala looking both at the "way of life" of the people via their crops and houses whilst bird watching for some of the endemic species. On the higher slopes in particular it is difficult to appreciate that one is in a man-made landscape - at first sight it appears that one is in natural forest and only on closer inspection do the complex terraces, walls and variety of crops present in the undergrowth become apparent. Equally, it may be a cultural landscape, but the endemic birds don't seem to care and we were able to see them without having to climb all the way up to the "primary forest" which commences at about 1000mtrs.
February was the rainy season and Mt Karthala (2361mtrs) "attracts" the clouds. We had a wet outing on its slopes (photo – there really wasn't much else to take a photo of!), but a successful one in terms the number of the island's endemic birds we saw. But should this be a WHS? Well it does appear that the Comoros has adopted an excessively "scattergun" approach with the definition of this T List site by including both Natural areas and Cultural Landscapes – and across 3 islands as well! It would need a lot more "focus" before it could even be considered. The mountain IS inscribed as a RAMSAR site and mention is made in the RAMSAR web site of plans to develop a National Park "which can further increase the tourism potential of the area". I have looked at the IUCN "Filling the Gaps" documentation but can't see that the Comoros's terrestrial (as opposed to its marine) attributes have been given "priority" status in that analysis. It was identified as representing a "Regional Centre of Plant Diversity not represented on the WH list" but significantly was NOT present on the list of "Potential Natural WHS". And I don't really see the "Cultural Landscape" aspect gaining a great deal of support – especially as its growth is actually threatening the pristine natural areas! If UNESCO is determined to find some site for the Comoros then another of its T list sites – the "Ecosytems Marins" would seem more likely to be successful. The islands have something of an international reputation as "Home of the Coelacanth" and this site would, I feel, make a worthwhile and exciting addition to the List at a time when "marine sites" are getting particular attention. Indeed the T List description refers to a "Parc Marin des Coelacanthes". However my understanding is that although this Park was first investigated as long ago as 1999 it does not, as yet, have any reality. Until it does Comoros will probably have to await its first WHS !
---
Community Likes
Site Info
Site History
2007

Added to Tentative List
Site Links
Visitors
8 Community Members have visited.