Diego Rivera and Frida Kahlo's Home-Study Museum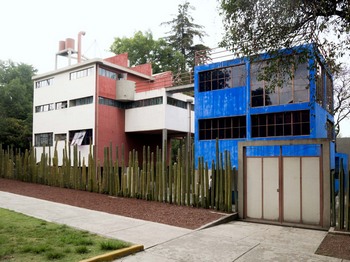 Diego Rivera and Frida Kahlo's Home-Study Museum is part of the Tentative list of Mexico in order to qualify for inclusion in the World Heritage List.
Diego Rivera and Frida Kahlo's Home-Study Museum is a group of three buildings designed and built in 1931 and 1932 by the architect and artist Juan O'Gorman. It includes two house-studios and a photographic laboratory. These are examples of functionalist architecture where a maximum of functionalism is achieved with a minimum of cost and effort.
Map of Diego Rivera and Frida Kahlo's Home-Study Museum
Load map
The coordinates shown for all tentative sites were produced as a community effort. They are not official and may change on inscription.
Community Reviews
---
Chinese-Canadian - 18-Feb-20 -
I'm going to be really selfish and champion Frida's "home-study" as worthy to be WHS. The architecture is not that special if you have been to places designed by Le Corbusier but might find a niche with the committee, yet I think the empowering large windows that let the sun into the massive studio makes me feel it is worthy alone. The other buildings I find only kinda interesting and it is mainly a museum with pictures and explanations so I was done quickly. Instead I was relaxing on the benches just across the main facade and imagine Frida's life here (well, also Diego Rivera but I kind of always have to think about Alfred Molina). Definitely something you should include on your Ciudad de México itinerary.
The entrance ticket also includes her home which doesn't have the best access via public transportation so I recommend a taxi ride.
---
Mexico City already has 2 WHS built in the 20th century – and Mexico's T list contains 2 more! On of these is described by Wikiarquitectura.com as "one of the most important cultural landmarks of Mexico City, both for being the place of residence and studios of two of the most important artists of the twentieth century, as well as being the first construction of the modern movement in the American continent." : - "Diego Rivera and Frida Khalo's Home-Study Museum". We saw it in 2008 – on the same visit in which we visited the Casa Barragan and Rivera's Anahuacalli Museum. What a feast of modern art and architecture!!
Anyone who saw the 2002 movie "Frida" will know the story of her and her husband Diego Rivera and will also "know" the house, since parts of the movie was shot there (as well as at 3 other WHS by the way – Teotihuacan, Xochimilco and central Puebla). Kahlo's family house, the "Casa Azul", was a replica however. It had become a museum of her life and work in 1958. From the 1980s she became something of a cult figure, first in Mexico and then more widely – a trend cemented by the success of the movie. Her house now has 25000 visitors a month and queues of people waiting to enter. This popularity has spread to the "Home-Study Museum" but, luckily on the day we were there, with rather fewer visitors!
The Home-Study museum was designed/built during 1929-31 by another great Mexican artist/architect, Juan O'Gorman who was a friend of Diego Rivera. O'Gorman already has work in the inscribed list in the form of the murals on the Libarary Building at UNAM. The museum consists of 3 buildings carefully sited on a single plot – a house for Frida (in Blue) and another for Diego Rivera (in Red!!!!) connected by a bridge. The 3rd building is a photographic studio for her father Guillermo who was a photographer. Look at Arctictura.com for more information and many photos. The buildings are not very large and, with even a few visitors, get a bit crowded –you can wander at will. Rooms are furnished as a mixture of their original use and as galleries of Rivera and Kahlo works.
The question is of course whether this ensemble, important as it is for an understanding of Rivera and Kahlo and for its position in the history of Latin American architecture, could justify WHS status by demonstrating "OUV". The connection with the 2 artists isn't going to cut any ice at all with UNESCO, as other potential sites which failed because they derived too much of their significance from association with famous individuals have found out. So what about its position in Architectural history? O'Gorman had discovered the writings of Le Corbusier in 1924 and was concerned to produce buildings rationally designed for their intended purposes but at minimum cost and effort – Functionalism. "It's a factory, a machine for living, the machinery of art where Frida and Diego produced a world aesthetic" (Wikiarquitectura). O'Gorman has however incorporated Mexican influences – in the colours and the cactus fence for instance and his much later work at UNAM represents his later divergence from pure functionalism. O'Gorman wasn't a prolific architect and, indeed, is more famous as an artist and muralist.
The Home-Study house surely wouldn't figure that near the top of any representative list of functional architecture but its relatively early construction well away from the European roots planted by Le Corbusier and Van der Rohe might be seen as significant in demonstrating the world-wide significance of the ideas. But Mexico has already slipped one "Regional" architect onto the list via the Casa Barragan – surely it couldn't repeat the trick? A trans-national nomination of early Functionalist buildings might be a more suitable option?
Whatever – we certainly enjoyed our visit and would recommend it to any other visitor to Mexico City with an interest in modern architecture and art.
---
Site Info
Site History
2001

Added to Tentative List
Visitors
41 Community Members have visited.