Maltese Catacomb Complexes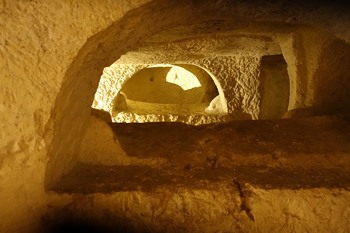 Maltese Catacomb Complexes is part of the Tentative list of Malta in order to qualify for inclusion in the World Heritage List.
Map of Maltese Catacomb Complexes
Load map
The coordinates shown for all tentative sites were produced as a community effort. They are not official and may change on inscription.
Community Reviews
---
On my way to Mdina I visited the St Paul's Catacombs. These date from Roman times and were used as burial grounds. The site covers several small and large caves and makes for a nice visit. Watch your head as the height of the caves varies greatly.
To me the most surprising feature was how many caves there were. The whole area is dotted with them. The Maltase have done a good job in making them accessible. It is useful, though, to bring a flash light as lighting is poor.
After a while, though, the caves got to be a bit repetitive. The caves look more or less the same and any form of artistic expression is missing.
OUV
Having seen a few catacombs over the years I am hard pressed to see the uniqueness of this variant. It's certainly a nice visit and you should do the small detour when visiting Mdina. But in and of itself it feels as too little to warrant inscription.
I could see this as either a combined site with Mdina (but not sure how one would spin that). Or as a combination with other Roman ruins on the Maltese islands if these exist.
While You Are There
I combined the visit with Ħaġar Qim and then walked along the Coastal Cliffs to the St Pauls Catacombs continuing onward to Mdina. This could have been a fairly pleasant walk, but Malta does not offer hiking trails, so I was walking on the road most of the time.
---
The catacombs in Malta have everything a true catacomb should have: A proud roman/christian origin,an underground labyrinth and a slightly creepy athmosphere. I have visited the St Pauls and the St Agatha catacombs in Rabat. They are in walking distance to Mdina, but can be a bit difficult to find. Especially tricky is the fact that the St Pauls church offers visits to the St Pauls grotto (and catacombs - but not THAT catacombs). In fact, all these catacombs might have been connected in ancient times, and the different names and access methods originate from more modern times. The difference between the St Pauls and St Agatha catacombs is mainly in the operation method. St Pauls catacombs are operated by Heritage Malta and accept the Malta multipass. The tour is self-guided, and you can easily make photos. St Agatha catacombs must be paid extra, and be explored with a tour. The visited area is smaller than St Pauls, and photographs are forbidden. As a plus, St Agatha comes with an underground chapel with very nice frescos. Also, many tombs have the original bones inside of them, adding to the athmosphere.
The visiting experience in both catacombs was quite nice, although there are very few decorations or inscriptions. Compared with the catacombs in Rome, the experience is roughly similar, although the catacombs of Rome are much bigger and more famous.
All in all, the catacombs are one of the stronger entries in Maltas tentative list. The big question is if the catacombs of Rome have already blocked the catacombs-as-WHS niche. If Malta wants to play safe, they could combine the catacomb tentative site with the Mdina tentative site for a really strong contender. At least, they could come up with a less boring name. In any case, I wouldn't be unhappy if Malta's catacombs get on the WHS list.
Visited in April 2019.
Importance 2/5 Beauty 4/5 Uniqueness 3/5 Environment 3/5 Experience 4/5
---
Site History
1998

Added to Tentative List
Visitors
52 Community Members have visited.