Zaruma ciudad minera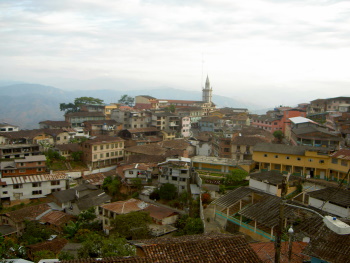 Zaruma ciudad minera is part of the Tentative list of Ecuador in order to qualify for inclusion in the World Heritage List.
Map of Zaruma ciudad minera
Load map
The coordinates shown for all tentative sites were produced as a community effort. They are not official and may change on inscription.
Community Reviews
---
Zaruma is a small mining town that was once a major player in the Spanish colonial gold trade. Unlike typical Spanish colonial towns, Zaruma doesn't have a grid pattern though it still manages a small central plaza. Most of the older buildings are made of local wood and have a more typical local style of construction rather than a colonial one. In some areas even the sidewalks are still made of wood. Unfortunately wood doesn't age very well so in some ways the town looks older and more run down than it is but overall it was quite clean and still preserved well enough to get a good feel for what they are trying to convey with the nomination.
We visited on a weekend and apart from the heavier than expected local traffic (road options are few for drivers) it was overall pretty quiet. We got the impression they don't receive many foreign visitors. We were stared at quite a bit (in a friendly way) and the guy at the tourist information was very excited to see us, showering us with gifts and all sorts of information (and coffee!). There are beautiful views from around town and the small museum and local gold mine, sexmo (just a short walk from the centre) are both free to visit. We liked the town well enough but there isn't really much to keep you occupied for more than half a day and there are no major construction works or "wow" buildings to see.
Practicalities
There are half a dozen hotels in town, most clustered a short walk from the central plaza and ranging from $10-15/person. They are on the main street so expect noise. Zaruma is surprisingly easy to get to with direct bus connections to Quayaquil, Cuenca, Loja and even Quito. Most of the times are inconvenient so the easiest is to connect via frequent buses to Machala (2.5 hours). There may be better service to Portovelo, a few km and short taxi ride downhill from Zaruma, especially if heading east to Loja. Zaruma is also known for its food and coffee. The local dish, Tigrillo, is a combo of plantain, fried egg and cheese. Sounds weird and doesn't win any beauty awards but was surprisingly good :)
---
Community Likes
Site History
2016

Revision

Renomination, with a name change from Ciudad de Zaruma
2016

Added to Tentative List
Visitors
3 Community Members have visited.