Inle Lake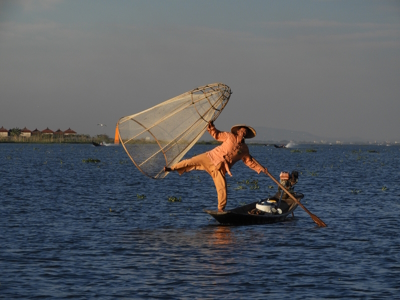 Inle Lake is part of the Tentative list of Myanmar in order to qualify for inclusion in the World Heritage List.
Inle Lake is a mountain lake known for its floating vegetable gardens and distinct housing from several ethnic groups. The inhabitants of the surrounding villages use the lake for fishing, navigation and commerce. Most live in simple houses of wood and woven bamboo on stilts; they are largely self-sufficient farmers. Inle Lake is a Man & Biosphere Reserve and a RAMSAR site, but the lake's environment is under serious pressure due to pollution, siltation, eutrophication, overfishing and introduced species.
Map of Inle Lake
Load map
The coordinates shown for all tentative sites were produced as a community effort. They are not official and may change on inscription.
Community Reviews
---
The Inle Lake is quite touristy especially the northern part close to Nyaungshwe. However, the southern part is still in pristine condition. Hardly any tourists in the southern part so worth the extra effort IMHO. Still I don't think the Inle Lake deserves a WHS listing.
---
Soon after our boat left Nyaungshwe, the main entry point for Inle Lake, I was somewhat surprised to see a board advertising the fact that Inle is already an ASEAN Heritage site – a scheme aimed solely at natural sites. The Lake may well have some natural values in the form of birds (It is undoubtedly of some importance in this respect and we saw quite large numbers – but of relatively few species), 9 endemic species of fish and also over 20 endemic species of snail (!), but nearly everyone visiting the Lake will be doing so to see the "leg rowers" and to visit the villages within and alongside the lake for their markets and pagodas – this is no "natural" wilderness and has only very small reserved areas. Accordingly the T List entry is aimed purely at Cultural values and, if it ever reaches the nomination stage, it will surely be as a Cultural Landscape (CL) without any "Natural" claims.
The current list is surprisingly short of true lacustrine CLs – as far as I am aware only Ferto/Neuseidlersee includes a lake as a major part of its inscribed area and even then the lake itself doesn't appear as a really significant part of the cultural life represented by the site, which emphasises more the viticulture, towns, palaces and other land based aspects. On the T List, Ganvie in Benin and Nzulezu in Ghana are 2 genuine lacustrine sites with stilt villages etc and a way of life which looks towards the lake rather than towards the land. The Peruvian element of Lake Titicaca also envisages including the "floating islands" of the Uru.
But whether Inle could be brought to "inscription readiness" is another matter. It was yet another site which I had previously visited back in 1977 and it too had undergone enormous changes across those 35 years. Nyaungshwe was unrecognizable as the small village I visited all those years ago – the only tourist there that morning, as far as I could tell. A constant stream of long tailed motor boats now roar to and from its quays carrying between 1 and 5 tourists down river to the Lake on day trips and the town is a hive of small hotels and other tourist "facilities". Annual tourist numbers are already at 300000 and are envisaged to reach 500000 in the near future. And only this year was a conservation plan developed – though whether there is the capacity to operate it is another matter. There are already 13 hotels in or on the Lake itself. A moratorium has been placed on further lakeside development and a new hotel zone identified – proposals for a further 16 hotels are awaiting allocation to this area. To put all this in context, the current Yangon airport is running at over capacity with 3 million arrivals pa – Myanmar has just re-commenced construction of a new international airport capable of handling 10 million and the existing airport is still planned for expansion to 5.5 - a significant number of those extra arrivals are going to want to come to Inle!!
Tourism isn't the only pressure point. There has been a massive growth in lacustrine agriculture using man made floating islands (very similar to Xochmilco's Chinampas). Tomatoes are a major crop and all across the lake boats were picking up material to increase the acreage of such islands. But productivity is constrained and notice boards exhorted against the use of fertilizers because of their impact on algi and weed growth whilst our guide indicated that pesticides were getting into drinking water.
Water volume is another major issue, with the lake reducing to crisis levels in 2010. It has increased somewhat since then but is still a problem. Large dredgers were operating in several places and the dreaded water hyacinth was taking over in many lakeside areas. Increasing local population and tourism with inadequate sanitation is creating water quality and potential health problems whilst deforestation is increasing silt. So, all in all, a worrying situation and one where one can't see the Myanmar government wanting to complicate matters by trying to move on a World Heritage inscription!!!
So, what is the current visit experience like? We only visited the northern part of the lake – there is a narrow neck to a more southern area which may be less touristy. The main sights are
a. Phaung Daw Oo Paya. This pagoda contains 5 holy Buddha statues which have had so much gold leaf stuck on them that they have become mere formless balls. Nearby, are a "golden barge" for moving them around the Lake at festival time and special boats for teams of "leg rowers" to tow the barge (if you can get a hotel room this could be an interesting time to go). The attractive wooden pagoda with rusty corrugated iron roofs which I remembered in 1977 had been replaced by a rather ugly concrete structure and photo fees had been introduced
b. Inthein – a village set back from the lake up a river which has a fine pagoda with ruined "zedi" (stupas) – though, like Bagan, these are rapidly being "renovated"! The climb up to the pagoda and then beyond to a viewpoint is well worth while. You will almost certainly be taken here as the main "lunch stop" on the lake is on the way!
c. Nga Hpe Kyaung or "Jumping Cat Monastery". LP is out of date on this as the cats are no longer encouraged to jump through hoops by the monks – though this seemed no great loss! The monastery does provide some nice opportunities for photos of monks chanting/reciting etc. Though , if you have been in Myanmar for more than a few days, you probably have plenty of these already
d. Ywama "Floating Market" – except that it isn't (floating) but has morphed into a street of tourist shops. There may be a local market there as well with fine opportunities to photo tribespeople but you need to establish which village has this market on the day you are there as it rotates.
e. Craft Factories – you will be unable to avoid these as your guide/boat driver receives a kick back for your visit. They can be quite interesting however and main thing is to keep a control over time and numbers- "crafts" on offer include cheroot making, silversmithing, umbrella/paper making and weaving (together with the opportunity to photograph some "tame" Padaung Giraffe ladies if you wish, though they are not from this area)
f. "Leg rowing". In fact this will be going on all around you but most of it will be people just moving around or else fishing using drift nets. If you want to see the "classic" action involving the traditional yellow trousers and the conical "basket net" (As per the LP Myanmar cover and my photo) you will almost certainly have to get your boat to stop at the entrance to the lake from Nyaungshwe, where there will be a gaggle of such boats putting on a show rather than genuinely fishing, and then pay for the right to photo! This was a major change from my visit in 1977 where the conical net was in widespread normal use and no payment was necessary. I tried to find out why there had been this change in mode of fishing but never really got to the bottom of it – presumably they must find drift nets more efficient. We also rented a leg rowing boat for an hour (with leg rower!!) – this provided excellent photos but you really need to be staying on the lakeside and to have some spare time without a motor boat trip to do this. The boats lie very low in the water and you will probably get quite wet sitting down in them!
If all this sounds a bit negative and downbeat then don't let that put you off going. Inle remains a great destination – but I would go sooner rather than later!!
---
Community Likes
Site History
1996

Added to Tentative List
Visitors
44 Community Members have visited.