Ancient Greek Theatres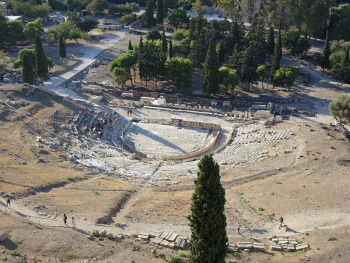 Ancient Greek Theatres is part of the Tentative list of Greece in order to qualify for inclusion in the World Heritage List.
Map of Ancient Greek Theatres
Load map
The coordinates shown for all tentative sites were produced as a community effort. They are not official and may change on inscription.
Community Reviews
---
Greece is littered with Greek ruins: agoras, acropolis and amphitheatres. Places you have probably never heard of, e.g. Lindos on Rhodes, have amphitheatres that would make a medieval king proud. As such, I appreciate the huge tentative site as it guides your travel to lesser (and still great) antiquity sites to visit while you are in the area.
Excluding the already inscribed WHS (Delphi, Epidauros) and the buffer zone one (Athens), I have seen two amphitheatres in Greece: Argos and Lindos. Lindos was a day trip in Rhodes, Argos was on my way after visiting Mycene. These are nice sprinkles to a Greece trip. They come with an agora and in the case of Lindos with an acropolis, too. But are they WHS material?
OUV
If any of the proposed amphitheatres were in Germany, they would definitely have OUV. But for Greece and ruins from antiquity the requirements are substantially higher, a bit like Italy. Also, as I understand it (and from what I have seen on my travels), the best preserved amphitheatre (Epidauros) is already inscribed. As are the ones in Delos and Epidauros. And the Athens' one practically is, too, as you will visit it, when you are visiting the Akropolis.
I am not convinced that creating a serial site combining inscribed and further amphitheatres adds anything to the list. This should not keep you from visiting if you are in the area, though.
Getting There
For the inscribed sites, check their respective page. For Argos, you will pass through when visiting Mykene. It's a 20min walk from the bus stop. For Lindos, we took a bus from Rhodes.
---
On my trip to Greece in 2014, I visited the Theatre of Dionysus in Athens and the Theatre of Delphi on tours of the Athenian Acropolis and the Sanctuary of Apollo in Delphi, respectively. The Theatre of Dionysus is quite small and not that impressive, but better preserved than the nearby larger Odeon. I only really viewed it from above, and it wasn't a very memorable sight. The theatre at Delphi seems larger and better preserved than the one in Athens. I also had a better view of it from the bottom.
As a whole, the Ancient Greek Theatres do have OUV, and they are definitely symbols of innovations in art, not to mention demonstrations of innovations in acoustics and architecture, but does that make them better grouped together? Theatres are essential parts of ancient Greek cities, and as stated in the justifications of OUV, are completely connected to other parts of the cities. That's the problem with this serial T-list site: the individual theatres are more coherent sites with their respective cities than with what seems to be a somewhat random selection of theatres around Greece. They were built at different times, under different conditions, tell different stories of different cities, and lie in various states of preservation. A serial site this big can't have every site considered revolutionary. We also shouldn't forget that other essential parts of an ancient Greek city exist, and theatres shouldn't be the only structures highlighted in every single ruin now. Theatres are meant to be enjoyed along with everything else in a city, and that's the way it should be on the list.
---
While touring Greece in the summer of 2018, I stopped by a number of its World Heritage sites, and had a chance to see theaters at Delos, Acropolis (called Dionysos Theater), and Delphi. Wherever a theater is part of an ancient site, it is always among the most grandiose monuments to the skill and mastery of the builders of the day. The one at Delos has been pretty much leveled by the two thousand years of neglect - the shape remains, but it is significantly ruined. Dionysos Theater is better preserved. So is the theater at Delphi, the smallest of the three that I've seen.
For all of the recognition that I am happy to grant to the master builders, I am ambivalent about this serial site standing on its own for future inscription. I don't think that theaters work as monuments of ancient civilizations outside of the context of the larger archaeological sites that they belong to. As part of the complex, a theater complements the rich picture of urban life along with other structures. You practically cannot ascribe any value to it without considering its relationship to the surrounding city, its proximity to the places of worship, places of commerce, living quarters of rich and poor. On their own, these theaters are basically relatively impressive feats of architecture that may or may not have survived the test of time all that well; the connection between them is no bigger than the fact that every city of note had one. So, for theaters that are part of already recognized WH sites, it appears redundant to have a separate explicit recognition of them; for the rest, it feels mildly unjustified to anoint one specific structure as worthy of recognition while leaving the surrounding ancient city off the list.
The theaters at Delos, Delphi, or Acropolis are unmissable if you are touring the corresponding larger sites. I suspect a rare visitor will spend more than a few minutes on the theater itself. You can walk inside the semicircle at Delos, but only admire the other two from beyond the roped-off area.
Read more from Ilya Burlak here.
---
The "Ancient Greek Theatres" proposed site encompasses 15 theatres across Greece including three that are already World heritage sites (Epidaure, Delphi, Delos) and one, the Dionysos theatre, located on the slopes of the Acropolis, in the buffer zone.
The Greek theatres definitively possess an objective OUV for the world's culture and history. It embodies the level of advancement reached by ancient Greece. Moreover, this serial site puts the light on several major ancient Greece sites but also on more remote ancient greek cities and ruins that help acquiring a broader view and understanding on Greek antiquity.
On top of those of Epidaure, Delphi and Athens, I have also visited the theatre of Argos which is quite impressive and surrounded by large ruins.
---
Site History
2015

Revision

Includes former TWHS Lindos (Rhodes) and Dodoni (both 1985-1996)
2014

Added to Tentative List
Visitors
84 Community Members have visited.