Dougga/Thugga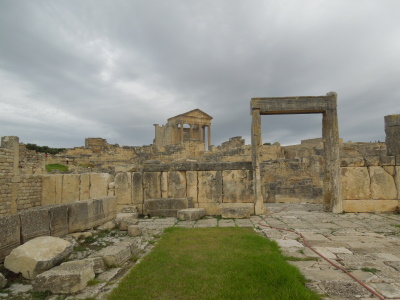 Dougga / Thugga is an impressive Roman ruin in northern Tunisia located on a 65 hectare site.
Dougga was originally a fortified Berber village (the name Thugga meant "pastures"). Later, it served as the seat of the Numidian king Masinissa in the 2nd century BC. The Romans occupied the city in the late 2nd century BC.
Dougga declined under Byzantine, then Vandal, occupation.
Community Reviews
---
Darren
Dougga s one of the better roman sites you can have the chance to visit. Many impressive monuments and a pleasant stroll over he topography. Well worth a visit
---
This is one of the best UNESCO sites I have visited, it is on a huge scale and very well preserved. The theatre and Capitol are almost entirely intact! And the size is so impressive. The remote location really adds to the appeal as well set on the side of a hill overlooking mountains and cornfields. If you are in Northern Tunisia this is a site really not to be missed.
To get there catch a bus or Loauge from Tunis to Terbosouq (these normally carry on through to Le Kef) from here the locals can help you to get to the site, but chances of bartering may be low as there seems to only be a few taxis around for tourists, so expect to pay about 15TD (€9) for a taxi/ caminette so the more people going the cheaper it will be! It is about 15km away and pretty remote so it is money well spent, you may be able to get it cheaper if you go in summer and try a bit of bartering!
---
André Dique
Getting to Dougga from Tunis was a bit of a trek considering the lack of transport, this may have been due to the religious holidays during Ramadan. The cheapest and quickest way of getting there is to go to the louage (shared taxi) station for Teboursouk and waiting for the taxi to fill up. Driving to Teboursouk took just over an hour (cost less than ten dinars) and a friendly local taxi driver was willing to take me the additional 10 kilometres for another 10 dinars.
The ruins at Dougga are magnificent! I was the only tourist there and explored the ruined city at my leisure. The capitol and many of the temple building are still relatively intact making for some very impressive views. Many of the homes still have much of their beautiful mosaic floors visible as well. It rained the day before so the mosaic tiles in the baths were wet bringing out the beautiful colours and shapes.
This is a truly impressive site well worth the visit. It is much better preserved than many similar sites in Europe. I also felt that it was much less touristy being furhter away from the coast. Its remoteness makes it difficult to reach but it is well worth a visit.
---
Site Info
Full Name

Dougga/Thugga

Unesco ID

Country

Inscribed

Type

Cultural

Criteria

2

3

Categories

Link
Site Links
Unesco Website
Official Website
Visitors
85 Community Members have visited.