Serra da Capivara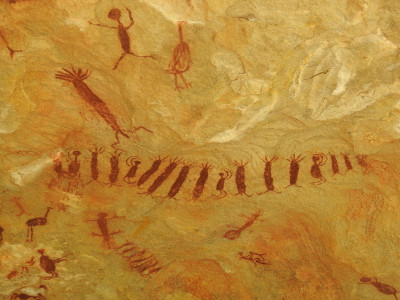 Serra da Capivara National Park holds many rock shelters in which the oldest rock art of South America has been found.
This art reveals aspects of the religious belief and practices of the earliest inhabitants of this region.
The earliest traces of rock painting here dates from between 26,000 and 22,000 BC. Most of the painted works date from 10,000 to 4,000 BC, and were made by Nordeste and Agreste cultures. The sites weren't rediscovered until the 1960's.
The park lies in the north east of Brazil.
Community Reviews
---
Visit in November 2019
Sites that have been inscribed primarily to protect important areas containing ancient Rock Art are among my favorite types of sites to visit and it had been a fairly long time since I had been to a site from that category. Consequently, I was definitely looking forward to my visit to Serra da Capivara National Park. Though I only had one full day available for this visit, I found the park to be beautiful and fascinating, and felt that my time there was well spent.
As the previous review mentioned, the park is a long way from anywhere else that most travelers might be when visiting Brazil, so getting to the area will generally be time consuming. The transport infrastructure is in reasonably good condition coming from any direction, but, while the small cities and towns that one will pass through along the way are friendly, and contain most of the important services, they are usually not the most attractive examples to be found in Brazil. One of the nicer places is São Raimundo Nonato, the main service center for the park, located just to its south. I used that town as my base for this visit, but there is also a small hotel with a restaurant in the park, adjacent to the main entrance, just to the west of the village of Coronel José Dias. If my timing had been a little different, or if I was able to spend more than one day at the park, that option would have probably been preferable.
I believe in the past one could visit the park independently, but now it is obligatory to use a local guide. I arrived at my hotel, eponymous with the park, late in the day, and I was a little worried that I would have trouble making arrangements for a visit the next day on short notice. Fortunately, the hotel receptionist was able to make the call for me and it only took a few minutes to get that taken care of. The cost for a full day visit was just over ninety US Dollars, but if I had been able to provide my own transportation for myself and the guide, it would have been around half of that. Like many tourist sites in Brazil, most guides there only speak Portuguese and so, for some visitors, that could be an issue. However, I usually don't mind going on a tour with minimal conversations, and for most of the really important information mobile device translators do a satisfactory job.
One instance where I was concerned about communication was with the itinerary of the tour. There are a very large number of important Rock Art sites scattered throughout the park, and I wanted to be sure that I saw a good selection of those, without having to spend an inordinate amount of time just getting to the sites. However, without being able to discuss that effectively, I took a chance that the standard itinerary would be to my liking. Fortunately, it was, and I was pleased with what I was shown. The park is an area of smallish, partially rounded hills composed of sedimentary rocks with a wide variety of aggregate sizes, containing many shaded areas and somewhat moderate amounts of water, in contrast to the more level surrounding terrain. With that in mind, it is obvious why people have made that a place of importance for many millennia.
I was shown a few slot canyons, which I was not expecting, but thoroughly enjoyed, two small pictograph galleries, and two of the major galleries. The pictographs were all easily seen from wooden walkways that were the perfect distance from the art, not close enough to encourage touching the drawings, but still being able to see everything perfectly clearly. Depictions of animals and human activities dominated the galleries that I saw, with relatively few abstract designs that are sometimes common at other sites. Two fairly unique aspects of the galleries were images of what are believed to be South American megafauna species that went extinct at the end of the Pleistocene Age, and smooth, fist-sized river stones in the aggregated cliff walls that were used as "canvases" for paintings of tiny animals. Compared to other Rock Art sites I have seen, WHS or otherwise, I would rate this site near the top, almost to the level of Kakadu of Cueva de los Manos.
There are two relatively new museums associated with the park, one in São Raimundo, the Museum of American Mankind, and one near the main entrance to the park, the Museum of Nature. I would have been more interested to see the first in this case, but unfortunately I didn't have enough time for that. The Nature museum was an optional stop on my tour, so I did visit that one. At first, the exhibits do not seem to be very relevant to the Park's ouv, focusing on general aspects of nature and geological history. Further along, there are some nice fossils of the former megafauna, and then a Virtual Reality simulation of taking a hang-glider flight over the park, which does provide an interesting additional perspective on why that place had been so useful to people throughout time. That left me with the impression that Serra da Capivara really should have been inscribed as a mixed site. While the semi-arid Caatinga habitat of this region of Brazil does have similar counterparts elsewhere, it is distinctive in its own way there, and within the park boundaries its health appeared, to me, to be relatively good, compared to the surrounding areas, which have already been greatly affected by human activities.
Read more from Michael Ayers here.
---
I visited Serra da Capivara NP some months ago. Truly an amazing experience. It takes time and planning to get there, as the closest airport is 400 km away, but newly paved roads make it accessible.
It usually takes three days and lots of hiking with an accredited guide to spot the most famous rock paintings the park is famous for. Most of them are 6.000 to 12.000 years old, but some are said to be much older - some researchers belive that's the proof that the first Americans also came from Africa, crossing the Atlantic Ocean during Ice Age, and not only from Asia through Alaska.
The painting are plentiful and depict various themes such as hunting and adoration, but also regarding sex intercourse, animal habits, honey collecting, etc.. Very interesting indeed.
There is very little left in Brazil about human activity before the Portuguese colonizers. Serra da Capivara is a remarkable exception.
---
Peter Ravenscroft
I have, I much regret, not got there yet, just via hyperspace. But I would like to observe that this is perhaps the most important early human site found in the Americas to date. Given the recently obtained dates, of around 50,000 BP, it is the oldest known. The similarities of the rock art, to Australian aboriginal rock art, given the other archaeological and cultural similarities between these two distant regions, and to finds in the Middle East, will re-write the entire story of early human expansion.
---
Caron De Mars
FANTASTIC!!!! I'm a diplomat who has lived in Brazil for almost two years. I've travelled around quite a bit. As far as stark beauty, good hiking, and incredible history, this place can't be beat. The guides are professional and knowledgabe. I vowed I'd only go to sites once since Brazil is such a rich, vast country full of treasures, and I know I'd only live here two years. Well...I broke my vow, and I'm going back this weekend.
---
Site Info
Site History
2003

Rejected

Regarding extension on natural criteria
Site Links
Unesco Website
Official Website
In the News
Visitors
9 Community Members have visited.