Mafra Palace, Convent and Royal Hunting Park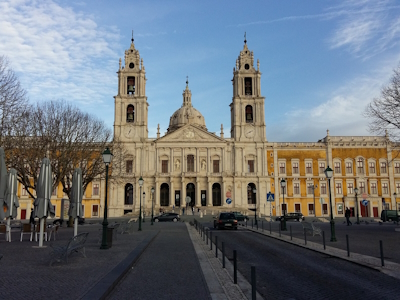 The Royal Building of Mafra – Palace, Basilica, Convent, Cerco Garden and Hunting Park (Tapada) - is an 18th century palace-monastery designed according to the ideological programme of King João V.
The vast multifunctional, baroque complex was meant for pleasure, study and religious life; it also served as a Franciscan friary. It was connected by an aqueduct to the royal hunting reserve (the Tapada Nacional de Mafra) via the Cerco Garden. The last King left in 1910.
Map of Mafra Palace, Convent and Royal Hunting Park
Load map
Visit July 2020
2.0
Mafra Palace, Convent and Royal Hunting Park became my first 'new' WHS post-Covid! I had planned to go and pick up the 2 recently inscribed Portuguese WHS in April already, but had to cancel at the time. After things started opening up again within the EU, this trip quickly got back to the top of my list as Portugal was welcoming tourists with open arms. I wouldn't normally visit Portugal in mid-summer (it was 36 degrees Celsius!), but the good feeling of being able to travel again overcame any disadvantages.
Mafra hasn't received the best of reviews, "another run of the mill Baroque palace/monastery" sums it up I guess. All previous reviewers 'only' visited the Palace, so I planned to focus on the Tapada: the hunting park. I just did a photo stop at the palace, which seems way too big for its surroundings. There's a convenient large, free parking next to it and I also enjoyed a 1.60 EUR fish soup for lunch at a bakery in the street across.
The Mafra WHS comprises only 1 location (it's a large area), but still the entrance to the Tapada lies 7 km away from the Palace. I drove there in my rental car, via narrow and winding roads. It is signposted well, also with UNESCO signs. At the entrance I found out that, as an anti-Covid measure, visits to the park have to be pre-booked via their website. Fortunately I could do that via my phone and was able to secure a spot for the next time slot. They only let 10 people in every 30 minutes, but there were far less visitors than that on the Friday afternoon when I was there.
The Tapada de Mafra is an enclosed area that was created to bring self-sufficiency to Mafra, not only by hunting. It had water reserves, farming livestock, orchards, vegetable gardens and woodland for timber and firewood. It is now mostly a recreational area: there are four signposted walking trails, a mountain bike route and a falconry show. The helpful information centre at the entrance also has toilets and (in normal times) a cafetaria, of which now only the vending machines were accessible.
I choose the Blue walking trail, the shortest at 4.5km. It only goes to the central area of the park, while the other routes also reach the fringes and are a better bet to see animals (I hesitate to call it wildlife). Nevertheless I encountered a number of deer along my route, they seemed to have succumbed to the heat and were just resting in the shade. It's a pleasant walk, with interesting tree formations to look at. It loops around the center where there is a rather modest royal hunting pavillion and stables for the horses of the guests. You'll also pass a lime kiln and a row of hunting shelters: small bunkers from where they used to shoot the game.
While visiting WHS one unwillingly becomes some kind of a hunting expert. The list contains no less than 15 hunting lodges. The Tapada de Mafra is more similar to the Store Dyrehave component of the Danish Par force hunting landscape than to more opulent country houses such as the Palazzina di Stupinigi in Turin or Falkenlust in Brühl. Unfortunately its contemporary use as a recreational area does make it feel more like a theme park than a historically accurate preserved cultural landscape.
Click
here
to see more of my photos of Mafra Palace, Convent and Royal Hunting Park
Community Reviews
---
2.50 California - United States of America - 11-Aug-18 -
Mafra Palace is pleasant enough, but like other visitors I wonder where is the OUV? Sure, it seems like most of us did not opt to visit Cerco Garden and the Hunting Park (Tapada). Perhaps these components are rewarding and differentiate the site from other royal palaces. Nevertheless, time is also somewhat important to me and it would have been hard to justify the extra time considering our already fairly busy drive to Coimbra.
The basilica was a highlight in part because of the atmosphere. I entered as it opened, no lights. The vast space was very dark, silent, and therefore a bit different than previous experiences in large religious buildings.
The library is certainly impressive and we had a nice chat with some enthusiastic and well-versed employees about the collection. It is possible to reserve time in the library to do research, from our understanding this includes anyone. This might be worthwhile for anyone with linguistic skills. The collection houses books in Portuguese, Latin, Spanish, Arabic, and English to name just a few.
While roaming the vast halls, I kept thinking that a bike would have come in handy. Yes, completely ridiculous, but the hallways do seem to go on forever and most rooms are fairly bland.
Read more from Kyle Magnuson here.
---
The Palacio Nacional de Mafra is nominated for inscription in 2019, reason enough to include Mafra in my itinerary for my Portugal Trip in May 2018. The palace is huge, the front is 220 meters long, it seems completely oversized for the small town. The Palace-Convent complex was built in the 18th century and was paid with the gold from the colony of Brazil. When visiting the palace, you have to walk through an endless number of rather uninteresting rooms, worth mentioning are only the hospital and the library (photo). The library is certainly impressive, but you can not properly visit, only the first meters are accessible.
The nomination also includes the Cerco Garden behind the palace, not outstanding, and the hunting grounds, the Tapada Nacional de Mafra. There are several marked trails and even guided tours that start from an information centre about 8 km northwest of the palace. However, I did not visit the Tapada, I thought I had enough hiking the days before at Sintra.
Mafra is certainly of national importance, it is considered the most important baroque building in Portugal, but not enough to justify a WHS in my opinion. What I will remember from Mafra is mainly the long indoor hike.
---
Mafra is a huge baroque palace complex North of Lisbon. When I arrived the sheer size of the site was impressive. Situated on a hill overlooking the coast, this is a clear statement of absolutism and the wealth generated in the Brazilian colony.
However, when you move in or around the palace it feels like being built for size and show, not quality. The backside of the palace is pretty mundane as is the attached park. And in the interior the hallways are vast, but there is an emptiness to it. Some of it may be due to the French invasion and the best art pieces being moved to Brazil. But the prime inhabitants, the Royals, also seem to have felt the same way as they didn't move in permanently either.
[Update July 2019] Another run of the mill Baroque palace/monastery, what more is there to say? I have seen plenty of these (and better ones at that). Compared to nearby Sintra it lacks the special Portuguese touch, Sintra's rich history, and Sintra's great park. Consequently, I don't feel this merited inscription.
Logistics
A bus runs more or less hourly from Lisbon to Mafra. Check the schedules.
---
Site Info
Site History
2019

Advisory Body overruled

ICOMOS advised Referral
2018

Incomplete - not examined
2017

Revision

Successor to former TWHS Mafra Palace, Convent and Royal Hunting Park (2004)
Site Links
Unesco Website
Official Website
Visitors
58 Community Members have visited.