The Prosecco Hills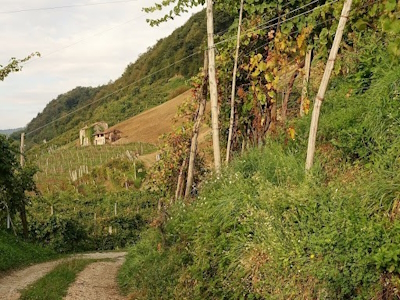 The Prosecco Hills of Conegliano and Valdobbiadene form a viticultural landscape in challenging, mountainous terrain.
The highest quality Prosecco wine has been produced here since the 18th century.
Community Reviews
---
I visited this WHS in July 2019 on a whim to keep Italy complete. As such it will always have a special place in my memories as I was listening to its inscription on the WH list in my car, literally while reaching Valdobbiadene. Having visited what in my opinion are Italy's best vineyard WHS, famed for its red wines, we didn't mind heading to Valdobbiadene-Conegliano after Cannelli/Asti to taste more of Italy's sparkling white wines.
The valley between Valdobbiadene and Conegliano is covered with vineyards and dotted with small villages (not comparable to the ones in Piedmont). I used a local winegrower's B&B near Valdobbiadene as my base for 3 days where I learnt that the best category of Valdobbiadene-Conegliano prosecco comes from the Cartizze area, at the foot of the Cesen mountain (1570m - nice panoramic view for sunset). The Cartizze area has an ideal microclimate which gives the best expression to the Glera grapes and hence the special organoleptic characteristics of prosecco's 'Grand Cru'. This is mainly thanks to its sun exposition, its ventilation, its soil and its temperature variation. The Cartizze valley hills rise from 200 metres to 350 metres above sea level. The steep hills are facing south, meaning that virtually every vine is always exposed to sunlight and is never affected by the shadow of the vines in front, giving the grapes the opportunity to mature evenly and with a higher sugar content than in any other prosecco production area. Moreover, there's a constant light breeze blowing from the North East, which dries the leaves of the vines, eliminates humidity and prevents diseases such as blight and mildew. Thus, less pesticides are needed here compared to the rest of the inscribed area, which was something that was passionately highlighted just before inscription by a member of World Heritage Watch.
Valdobbiadene and Conegliano are the largest towns in the Strada del Prosecco. Apart from the Istituto Sperimentale per la Viticoltura where several Italian grape varieties have been bred and the remains of a castle, Conegliano and its surroundings felt much more urban and less picturesque in a way. Perhaps this is due to its proximity to the city of Treviso, some 30km away (train is a viable option if you travel from Treviso but a car or long distance hiking are necessary to cover more ground and actually appreciate the vineyards - there are no pavements along the SP36 which is possibly the best vantage route to take in the Valdobbiadene-Conegliano Prosecco Hills. Cison di Valmarino and Follina are two quaint towns listed among I Borghi più belli d'Italia (and rightly so). The Chiostro Romanico (1268) in Follina was free of charge when I visited and definitely worth a stop. The hike through the vineyards near the Chiesa di San Lorenzo near Farra di Soliga offers breathtaking views all day round especially in sunny weather.
Other viewpoints worth mentioning are the ones just outside Frazione di Santo Stefano (here you can try something different at the Osteria Senz'Oste; a sort of healthy version of a McDrive but with cold cuts, cheeses and prosecco of course) and from San Pietro di Barbozza just after Valdobbiadene. Another route worth exploring by car is along the SP152, with my personal highlight being Rolle (photo) and the touristy but sweet Mulinetto della Croda nearby.
All in all I enjoyed my visit and I'll give it a pass mark because of the experience even though I struggled to find any true OUV. It is more of a niche site or a national heritage site especially when considering the other cultural and natural WHS nearby.
---
One of the charms (or challenges) of visiting tentative sites is that the usual tourist infrastructure is missing. No visitor center, no heritage trails, little to no signposting, no official website ... And worse, as it's still a nomination neither the boundaries nor locations are finalized. So I was left wondering what the proposed site "Prosecco Hills of Conegliano and Valdobbiadene" entailed and what to visit. I found the nomination to be rather unhelpful in that respect.
One site that is mentioned and that can be visited easily is the Convitto Scuola Enologica in Conegliano. It is based in a 19th-century manor on the outskirts of town and supports to this day the local vineyards in growing the Glera grape.
From there you can travel onward into the main hills between Conegliano and Valdobbiadene. I googled a bit and found a trail in Premaor, more or less in the middle of the region. So I hopped on a bus and went on a hike in the hills. The trail was poorly signposted (see above) so I missed out on a Chateau along the way and had to walk back along the main road (not so nice). After 2h I decided to call it a day and headed back to Conegliano.
If the Piedmont Vineyards were the threshold, the Prosecco Hills should have been inscribed the first time around. The viticulture university offers actually some uniqueness. But I hope to have made abundantly clear in both my review and with my rating: I don't think the Piedmont Vineyards belong on the list. And neither do the Prosecco Hills. It's yet another run of the mill vineyard.
But what I (and more importantly ICOMOS) consider as having no OUV has been of little importance to the WHC it seems. So I wouldn't bet against the Prosecco Hills making the list eventually.
[Update July 2019] And indeed, the Prosecco hills are now inscribed. This one got me sweating as the site was greatly reduced from the nominated area. Conegliano including the viticulture school is no longer part of the site. It's really only about the hill.
I spent some time with the dossier to conclude the hills around Premaor (not Premaor) is just within the core zone. Really close call.
Getting There
Conegliano is well connected by train with Venice and the rest of Italy. If you are arriving from the Dolomites (Cortina), things get a bit trickier, especially on the weekend when no trains run, but plenty of car traffic goes in and out of the mountains.
Plenty of buses run from Conegliano to the hills. Buying tickets on the bus is possible but more expensive. I couldn't figure out, though, where to buy the tickets otherwise.
While You Are there
Conegliano is the usual nice and pleasant Italian town. If Venice gets way too expensive you could consider commuting from here by train.
---
John S.
Another special place in Italy which, despite its beauty, tranquility and delicious product, may not necessarily be as "culturally" significant as Italy claims it to be.
---
Site Info
Full Name

Le Colline del Prosecco di Conegliano e Valdobbiadene

Unesco ID

Country

Inscribed

Type

Cultural

Criteria

5

Categories

Link
Site History
2018

Advisory Body overruled

ICOMOS advised Not to inscribe; amendment to Inscribe voted against 9-12 in secret ballot (no 2/3 majority). Finally overturned to a Referral after much debate, including a Deferral amendment lead by Australia.
Site Links
Unesco Website
Official Website
Visitors
51 Community Members have visited.