Central Suriname Nature Reserve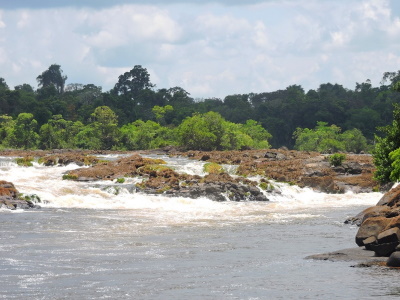 The Central Suriname Nature Reserve (CSNR) covers 1.6 million ha of pristine tropical forest in the Guayana Shield.
The reserve is one of the very few undisturbed forest areas in the Amazonian region with no inhabitants and no human use. It covers 11% of the land surface of Suriname. Located at the upper watershed of the Coppename River, it contains areas of swamp forest and savannah.
The CSNR was established in 1998 to link up three pre-existing reserves: Raleighvallen Nature Reserve, Tafelberg Nature Reserve and Eilerts de Haan Gebergte Nature Reserve. It has a high diversity of plant life and 400 species of birds. Globally rare fauna species include the Cock-of-the Rock, the Harpy Eagle, Jaguar, Giant Armadillo and Giant Otter.
The CSNR has several dramatic geological formations:
The Tafelberg is a 'tepui' or table top mountain
The 250-meter Voltzberg Dome is an inselberg
The Devil's Egg, a giant rock balanced atop a granite spire hundreds of feet high
The Julianatop (1,230 m), the highest peak in Suriname.
Map of Central Suriname Nature Reserve
Load map
Community Reviews
---
Although I am a long time member of worldheritagesite.org, till now I never wrote a review, mainly because most sites are already excellently covered by others. But to my surprise nobody wrote about the Central Suriname Nature reserve. To my surprise, because although the site isn't reached easily, still a lot of people seem to make it there.
By far the easiest way to visit is on an organised tour from the capital Paramaribo. First you go by minibus to the Kwinti village of Witagron. The bauxite road is not too bad and it takes about 4 hours to get there. From Witagron you continue by boat. In the dry season this is not so easy as water levels can be very low, which means many times getting out of the boat into the water and pushing it forward. Although piranha's, cayman and electric eels live here nobody seems to worry a lot about them.
Be prepared for loud music in the boat.
After a trip of nearly 5 hours we reached the lodge which is on an island in the nature reserve. Accomodation is rather basic, mainly hammocks, but also a few en suite bedrooms. Most visitors are Dutch stagiaires, who are mainly interested in music and dancing, swimming in the rivers and waterfalls and not so much in experiencing the pristine rain forest. This influences the atmosphere and makes the experience less agreable than it could be. Excursions are to the Raleigh falls and a long walk to the voltzberg, which is a monolith towering about 200 meters above the surrounding lush forest. Climbing in this climate is a little hard but views from the top are magnificent. The only animals we saw were squirrel monkeys, howler monkeys ( only heard), the poisonous fer-de-lance snake, some frogs and lizards en a lot of beautiful birds and butterflies.
Because of this enormous area with a completely intact eco system I think inscription as a worldheritage site is highly justified.
---
Site Info
Site Links
Unesco Website
Official Website
Visitors
15 Community Members have visited.