Works of Antoni Gaudí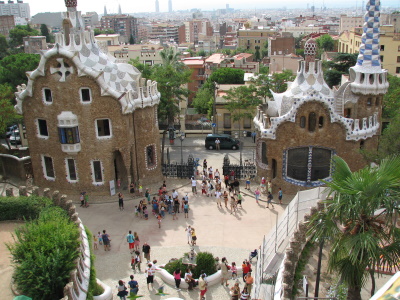 The Works of Antoni Gaudí represent the creative architectural works of this Modernist architect from the late 19th and early 20th centuries.
Gaudí was born in 1852, and died 74 years later in Barcelona. From the 1880s he did a lot of work for the Güell family, who supported him with money and gave him freedom in his work.
The designated World Heritage Site consists of the following works by Gaudí:
Parque Güell
Palacio Güell
Casa Mila
Casa Vicens
Nativity Facade and Crypt of the Sagrada Familia
Casa Batlló
Crypt at the Colónia Güell
Visit June 1991, August 2006
4.0
Gaudi's monuments in Barcelona are easy to visit. On our trip in 2006, we started at the Sagrada Familia. I had been there before (15 years ago), and my impression is that the construction works have taken on some speed. I have memories of an empty church, but now both the exterior and interior have a lot of new features. It even has a roof nowadays. The tourist masses hadn't changed though: this must be the most visited sight in Barcelona (together with Nou Camp, Barcelona FC's football stadium).
Second stop: the formidable Park Güell. Near the entrance it was also very busy, but further into the public park you can pleasantly sit or walk around. Just to sit on those quirky benches! We also liked the plants (cactusses, yes I know, but we don't see those daily in the Netherlands).
And finally, new to me, Casa Battló. This is one of the fine modernist houses at the Passeig de Gracia, in the heart of Barcelona. A visit to its interior is rather costly (at 16 EUR), but it's definitely worth it. With an audioguide you can tour about 16 rooms, all up to the top of the building. The house reminded me of the Town Houses of Victor Horta in Brussels, however larger and more over-the-top.
---
---
---
---
---
---
---
---
---
---
---
---
---
---
---
---
---
---
---
---
Site Info
Site History
2005

Extended

To include the Nativity façade and Crypt of Sagrada Familia, Casa Vicens, Casa Battlo, and the Crypt in Colonia Güell
2005

Name change

From "Parque Guell, Palacio Guell and Casa Mila, in Barcelona" to "Works of Antoni Gaudí"
2005

Extension rejected

8 other of Gaudi's works were nominated in this extension but rejected by ICOMOS
Visitors
807 Community Members have visited.