Würzburg Residence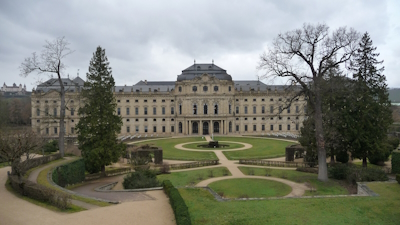 The Würzburg Residence with the Court Gardens and Residence Square represents a highlight in 18th century Baroque palace architecture.
In 1720, the building of this baroque palace started on request of Bishop Johann. It is made of yellow sandstone, which provides a golden glow. The palace has 300 rooms, spread over 3 wings.
The ceiling over the broad staircase is decorated with frescoes made by the Venetian master Tiepolo. The paintings date from 1753, and portray the god Apollo and the four continents.
At the end of World War II, the Residence was partly wrecked by bombs. However, the ceilings (and paintings) did survive.
In the western wing lies the Hofkirche, an elegant red-golden church. The altar is decorated also with paintings of Tiepolo.
Visit February 2000
2.5
The paintings made by Tiepolo are really marvellous. They are the no.1 reason to visit this site: they colourize this otherwise quite empty and bleak building.
Würzburg is a quiet town in the South of Germany. Except for the Residence, the old bridge across the river Main (dating from the 15th century) with its statues, and the several churches are also worth visiting.
---
---
---
---
---
---
---
---
---
---
---
---
---
---
---
---
Site Info
Site Links
Unesco Website
Official Website
Related
Visitors
310 Community Members have visited.