Vienna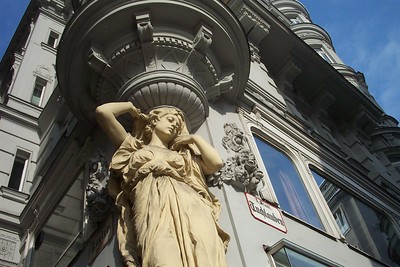 The Historic Centre of Vienna holds significant architecture from three periods (Middle Ages, the Baroque period, and the Gründerzeit), and is a capital of music.
It still is a living tribute to Habsburg times. This dynasty ruled most of Central Europe between 1273 and 1918. Its emperor Frederick III transformed Vienna from a medieval market town into an imperial residence. This attracted other nobility and a lot of artists.
Two of the city's most prominent buildings, the Hofburg and the Stephansdom, even date from the Habsburg beginnings early 13th century. The Hofburg was its center of power - an evergrowing palace with over 2500 rooms. The giant Stephansdom features an 137 m. high church tower, and is adorned with coloured tiles. Inside, the stone prayer chair (dating 1514) draws the attention. It was made by Anton Pilgram, who portrayed himself on it.
The former canal Graben now is a luxurious shopping street. Here you can find the exuberant baroque Plague statue (1679). In this area there are also many baroque and Jugendstil.
Along the Ring, fine examples of 19th century architecture can be seen. Examples are the Rathaus and the Burgtheater.
Visit February 2004
3.5
It's a joy to explore Vienna's center on foot. You don't have to worry too much about traffic, and this slow pace enables stopping every 5 minutes or so - to stare in awe at the buildings. Almost every one of them has special ornaments: iron balconies, circular towers, frescoes, statues, marble pillars.
The City Hall ("Rathaus") is a relatively recent addition to Vienna's splendour (19th century). This huge building at the Ring is in neo-gothic style, and this way blends in very easy with its surroundings. Another highlight for me was the "Am Hof"-square - this is where the medieval predecessors to the Habsburg family had their main seat. Nowadays the fire brigade inhabits one of the magnificent buildings here.
Vienna was a pleasant surprise. Having visited Prague and several German cities, Vienna does stand out because of its overall character: its cleanliness, the condition of its buildings and the general chique atmosphere.
---
---
---
---
---
---
---
---
---
---
---
---
---
---
---
---
---
---
---
---
Site Info
Full Name

Historic Centre of Vienna

Unesco ID

Country

Inscribed

Type

Cultural

Criteria

2

4

6

Categories

Link
Site History
2017

In Danger

due to high-rise projects
Visitors
947 Community Members have visited.