Tugendhat Villa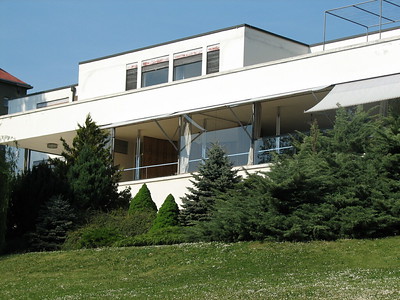 The Tugendhat Villa is a masterpiece of the Modern Movement in architecture. It was created by the German architect Ludwig Mies van der Rohe.
The building in Brno was built in 1930 for Fritz Tugendhat, owner of a Brno textile factory.
Exquisite materials and modern technologies were used in the construction of this house. Its main structure is made of reinforced concrete with steel frames. The exterior of the house is painted white. The back wall of the living area is made of onyx panels from the Atlas Mountains.
The original furniture was also designed by Mies van der Rohe, such as the so-called Tugendhat chair.
The house had central heating and an air-conditioning system with a regulated fine-spray humidifying chamber.
Visit April 2007
2.5
The villa is located in a residential area of Brno, and can easily be reached by public transport or by foot. Bear in mind that an essential part of its lay-out is the difference in height, so the last part of the walk is uphill.
I had arranged a guided visit. There were about 15 other interested visitors, mostly Czech. The whole tour was in Czech, the foreign visitors had to make do with a small booklet. The guide points out all the little details, unfortunately I missed out on some by not understanding the Czech explanation.
The house itself is a great treat of course. That view from the living room into the garden! Just like you're living in a country mansion, while in fact the house is located in a rather average city street.
Brno itself is a rather funny place to visit. One of my colleagues described it as a 'city full of prostitutes and tramps'. How bad can it be, I thought. Well, if you're attracted to people walking around with beer cans, or tasting Czech experiments in Chinese cookery, or have an above average interest in trams, or like to take advantage of free internet use for females AND don't mind a few sex clubs here and there - then you really have to check it out!
---
---
---
---
---
---
---
---
---
---
---
---
---
---
---
---
---
Site Info
Site Links
Unesco Website
Official Website
In the News
Visitors
183 Community Members have visited.