Tsodilo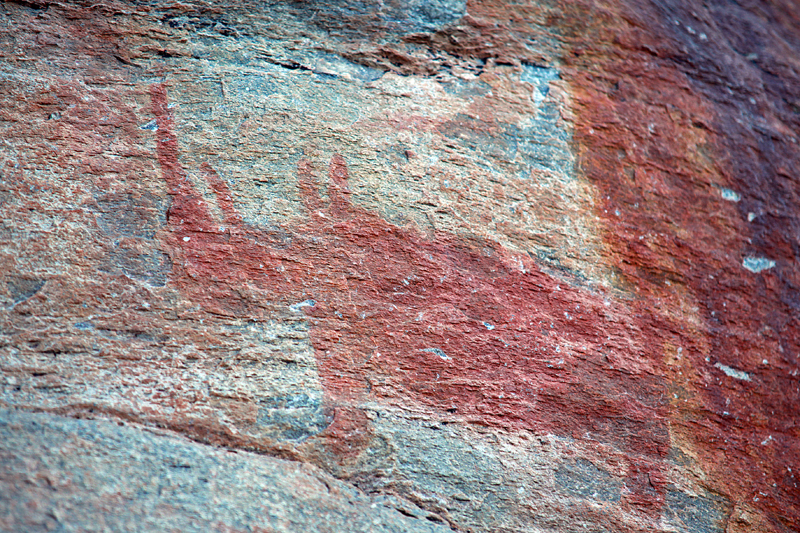 Tsodilo holds unique religious and spiritual significance to local peoples, as well as a unique record of human settlement over many millennia. It contains over 4,500 rock paintings in an area of approximately 10 km2 within the Kalahari Desert.
The Tsodilo hills are of great significance to the San peoples of the Kalahari. It is believed that the caves and caverns of the "Female" hill are the resting places of the deceased and various gods who rule the world from here. The most sacred place is near the top of the "Male" hill, where it is said that the First Spirit knelt and prayed after creating the world. The San believe that you may still see the impression of the First Spirits' knees in the rock.
Most of the San rock paintings are found on the "Female" hill, the most famous being the "Whale" painting, "Two Rhinos" and the "Lion" on the Eastern face of the "Father". Some of the paintings have been dated to be as early as 24,000 years before present. There are numerous paintings, but relatively few on the outlying hills. Indeed there are so many paintings in obscure places that it is very unlikely they have all been discovered or documented.
Community Reviews
---
Kebonyekgosi Divonge
Hello
I would like to thank all Batswana and International tourists as a young youth who grew up in Tsodilo Village that keep on visiting this beautiful place course with you we prosper and we give more information about Tsodilo Hills and is part of our life development and socio-economic development to all Batswana which will end up combating unemployment to some of us as this site will keep on having more tourists.
---
Russell Fowler
Did a solo visit in Nov 2014 and managed 34 mins to the top with two big cameras. Going back again in Jan 17 to beat this record.
Wondrous place which needs a week visit to fully explore and photograph.
Botswana needs to do a lot more to look after and celebrate this unique site and the surrounding villages
---
Bonnie Kokeletso
I was at WHS last month for a week. It was one of the best camping experiences i have ever had. The hills, the flora, the fauna is just so breathtaking. Being there makes one appreciate the beauty of nature and how i wish nature could just be forever natural. Special thanks to UNESCO Botswana for the oportunity
---
Fortunate Mongwaketse
Hello!
I have been to Tsodilo hills several times but I still cant get enough of the natural beauty of the place. I encourage Batswana and everyone around the world to find time to visit this place and get the real experience. The site is rich in spiritual heritage that makes it exceptional from other historical sites.
My best experience was when we went hiking up the male hill in 2012 and we managed to set a 35min record, being the best time taken to reach the peak. Still up to date we still holding the record.
'I was at the tsodilo heritage site 2015'courtersy of UNESCO youth forum...
---
Galaletsang Gabatsholwe
As one of the young villagers of Tsodilo, I would like to thank everyone who had taken his/her time to visit this, as described, "intangible Tsodilo".
Currently I am a student at the University of Botswana studying a Bacherlors degree in Chemistry, with a full hope to find a job in my own village...my pride! I would also like to share some words with everyone else who may have access to this, that, "lets protect, conserve, and preserve our own traditions".
To think about Tsodilo some years back, as we are told by our elders, it was one of the poorest settlements in the country. Today, these sacred hills have brought about a dramatic change to the residents, country, and the world.
I would finally like to thank the Botswana National Museums and Monuments for its vital contributions to the lives of Tsodilo residents, and its great protection over the hills.
---
Lopang Tatlhego
It is interesting to have found an opportunity to share with friends to the Tsodilo WHS. I am an employee with the Botswana National Museums and Monuments. I worked at Tsodilo for some years since 1994. Currently studying for an Honours Degree in Archaeology and Cultural Heritage Conservation at Midlands State University, Gweru, Zimbabwe.
I would like to call upon visitors to tsodilo to share the experiences extensively but to keep one important thing in mind,that there are so many of us interested in reaching the site,which really mean the site experiences extensive exploration. If all visitors can bring with them the spirit of conserving Tsodilo for posterity, we may not need restoration and rejuvenation in the near future as it seems.
Thank you.
---
Didier Bertrand
French tour guide in Cape Town, South Africa - 03-Nov-09 -
Hi,
I was several times at Tsodilo during the 90s and came across a picture of a whale, next to a hippo and another animal. I have been looking forever for my photo of this incredible painting everywhere and can't find it anymore. Can anyone out there confirm its existance and may have a photo?? Thanks so much for your feedback!!! db from Cape Town.
---
Duncan Mongwaketse
There is an interesting, perhaps sacred cow stories about Tsodilo hills. That being undocumented mysterious sightings which can maybe only be rivalled by the loch ness mystism. This crptozoological properties of the hills are quite compelling and the line between the truth and fallacity about them must be done justice by being documented.
Well me i remember like yesterday that sometime in 1990 i we were in a school wildlife trip to the hills. And two girls in our group fainted when we approached the male hill. When they came to the two amazingly made compelling similar revelations that they saw a giant mysterious two headed snake like creature on the hill.
Later we met an oldman who was approached by our teacher to help the hysterious girls. The oldman testimony was quite compelling; his account being that what the girls saw is common occurance in the hills. He said that on top of the male hill "what one see is not what others see".
As someone who has keen interest in matters of tswana spirituality i wish to network and with others out there who want to preserve this faculty about tsodilo hills. Please email at: gaomongwaketse@yahoo.com
---
Stephan
I am currently writing a complete 4x4 guide to visit Tsodilo from Johannesburg South Africa. Included are a great number of photographs and maps. I have spent nearly two years research on the art of Tsodilo. This ebook will first be available in my native language - Afrikaans and then I will start the translation of it. Bushmen or San rock art has been in the news lately and new views of their meanings has seen the print. Some of this is captured in my ebook; Tsodilo, Berg van die gode, 'n 4x4 Veldgids.
During my recent visit the main road or the middle road was transformed from a two-spoor (1996) to a grade road, however, building roads on moving Kalahari sand is not easy and this road is slowly busy changing to a two-spoor. Do not be fooled by the obvious condition, drive slowly and be alert. Currently a fence is been erected between the nearby village and the hills - western side, to keep domestic animals away from the campsites and especially the ablution block near the Museum and office. Still not sure if entrance fees are asked or camp fees. No need to book as there are plenty campsites. No public transportation from the main road to Tsodilo. During spring of 2005 I want to explore a route from Dobe to Tsodilo, anyone interested to join me?
---
Gerhard Fourie
We are a group of 4 4X4's 8 adults and are planning a trip to Botswana. All our sites have been booked but we want to stay over at the camp site at Tsodilo Hills. If anyone that have the contact details please let us have it so that we can arrange a booking.
Gerhard Fourie
loufor@xsinet.co.za
---
Susan Keitumetse
I had a really fascinating encounter with nature and culture in Tsodilo. The painting are magnificent and they provide an insight into what art in context really is and what it can do to one's imagination. The landscape is beautiful in its own context especially in the mornings and late afternoons. The site museum adds to the mystery of the hills in that it isolates itself as a piece of art (in the form of architecture) which blends, not well but mysterioulsly with the natural landscape.
And the people from the two communities are welcoming and their interaction with this space that has come to be known as World Heritage site is fascinating in many ways. Its a combiination that no one would like to miss!!!
---
Phillip segadika
As a landscape Archaeologist and reseacher (and therefore a regular visitor) at the Tsodilo hills, let me share with you the following abstract the full paper of which may be presented at the October Icomos general Assembly whose theme focuses on 'Intangible Cultural heritage'.
The reason I share this with you is so that next time when you visit Tsodilo you should take time to experience the intangible as experienced by the local community and pilgrims to the site.
"Mapping and Managing the Intangible Heritage at World Heritage sites-the case of Tsodilo"
By Phillip Segadika, Landscape Archaeologist-Botswana National Museum
"'Criterion 6' of the cultural properties of the World Heritage is one of the reasons why Tsodilo is recognised as being of 'outstanding Universal value'. This is because the Ju/hoasi and Hambukushu communities living at Tsodilo know that Tsodilo is the ancestral home to the spirits of all living creatures. As prove to this, the local shamans, guides and herbalists point to specific areas, which are testimony to the marks of the first animals, the first people, the first sex spot as well as the first and eternal water spring in the Tsodilo landscape. An ongoing study suggests that the apparent conflict on te interpretation of the history of the Tsodilo rock art by Jo/huasi and Hambukushu communities converges into a conservation plan rooted in the cosmology which supercedes and unites the politics of ownership. This paper also analyses the nomination dossier and current management plan of Tsodilo in terms of the intangible cultural heritage. Recommendations are then made for managing the intangible heritage of Tsodilo and a model proposed for managing the intangible heritage of African World heritage Sites."
---
Marianne Breukink
Good Day
I am a tour operator from Windhoek Namibia and visited Tsodilo on 12 May 2003.
We were advised that the road to Tsodilo was extremely bad and sandy and we were warned that it was definitely not safe for two women to travel that distance into the bush to visit "just a few hills"
We were very surprised to find a newly built gravel road leading to the vicinity of the hills. Only the last 5 km was hard sand driving, but anyone with a 4 x 4 vehicle could enter with out much trouble.
There were camp sites on strategic places where you could utmostly enjoy the views around the hills. The ablution blocks were clean and with running water. We had a chat with the camp manager and he informed us that they will have telephone lines and internet ( thus reservation possibilities ) acess by the end of August.
In the morning we were taken onto the Female by a local guide and shown the most interesting paintings and pictures, although he could not speak a word of English, he gave us an insight on the lives of the little Bushmen in the early days. Upon arrival back at camp were visited the museum where some of the artefacts and tools found are on display.
It was a realy wonderful experience to visit the hills, and I will surely return soon for a few days to explore the hills more intensively.
Marianne Breukink
---
Site Info
Full Name

Tsodilo

Unesco ID

Country

Inscribed

Type

Cultural

Criteria

1

3

6

Categories

Link
Site Links
Unesco Website
Official Website
Related
In the News