Tikal National Park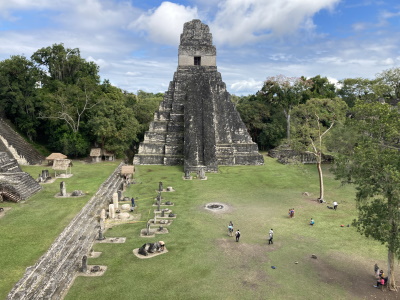 Tikal National Park holds one of the most important archaeological findplaces in the world. In the jungle of Tikal, archaeologists discovered more than 3000 pre-Columbian monuments.
Among them are palaces, temples, houses, streets and balplaygrounds. The city was probably inhabited between 600 BC and 900 AD.
At its height from 700 AD to 800 AD the city supported a population of 90,000 Mayan Indians. They had made the transition from hunters to farmers: excavations have yielded remains of cotton, tobacco, beans, pumpkins, peppers and many fruits.
The natural surroundings of Tikal are also rewarded by this inscription. In the 22,100 ha rain forest several animal species have their home: among them howler monkeys, anteaters, crocodiles, racoons, skunks, weasels and various birds.
Visit September 1997
3.5
They call it jungle, but Tikal nowadays is a well-developed natural park that daily caters to lots of tourists. Actually too much park and conservation to my taste.
The ruins are beautiful of course, although they also are not unique (similar to a site as Palenque (Mexico)). So I was a bit disappointed about this major site ...
Community Reviews
---
Tikal was the last major prehispanic archeological site I visited on my Mexico-Guatemala-Belize trip last winter. And it was the best one!
The size of the site (gigantic), the number of pyramids and structure (numerous), the quality of the pyramids (amazing) and the wildlife (abundant) cannot be compared with other sites (even with Palenque). Me and my friend visited on a tour book at our hostel in Flores. We didn't took the sunrise tour, but rather the early bird one arriving in Tikal for opening. I think it's the best time to visit as it is not a ridiculously early wake-up, the crowds are still manageable and the wildlife is active. Our tour last half a day, and we head back to Flores at noon.
The most interesting complexes are la Gran Plaza, el Mundo Perdido, la Plaza de los Siete Templos and el Templo IV. It's a good idea to have a guide here to truly understand the site. Many pyramids and temples can be climbed on wooden structures. The view from la Gran Piramide de Mundo Perdido and from el Templo IV are nice. It's also nice to climb on Templo II and on both Acropolis Norte y Central to get the view over la Gran Plaza.
Wildlife we spotted include a lot of coatis, an agouti and howler and spider monkeys. Even without binoculars, we spotted 19 bird species, including cool ones such as great curassow, ocellated turkey, limpkin, slaty-tailed trogon, black-headed trogon, collared aracari, keel-billed toucan, orange-breasted falcon, red-lored amazon and montezuma oropendola.
In brief, Tikal deserves its world wonder status as one of the greatest prehispanic archeological site and a hotspot for North American tropical biodiversity. A must-see!
---
Tikal was the first ancient Maya site that I ever visited, and it remains my favorite one. I've since visited about 20 others, but Tikal still stands above them all. The combination of the lush jungle and the steep pyramids poking above the canopy with their delicate roof combs above the top temple rooms was just fantastic. I loved the combination of the imposing pyramids with the detailed hieroglyphic stellae and the occasional giant stucco mask. You get it all at Tikal, whereas other places, like Calakmul, for example, disappointed me a little because it didn't have much of the finer art, like stellae, while it had plenty of impressive massive buildings. When we visited Tikal (1988) you could still climb on any of the structures, although a couple of them required getting up some rickety wooden ladders. I still remember how scary it was to climb the very narrow steps and having respect for the ancient Maya who had to ascend and descend these staircases routinely
---
I visited this WHS in December 2015. I drove from Palenque to Tikal by car through the El Ceibo border. Tikal is definitely Guatemala's highlight and one of the best WHS I've visited so far. The rainforest environment is still intact although the central plaza has been cleared. However, 'VIP service' buses/vans should not be allowed inside the historical area proper as is currently done from the back roads for the older wealthy tourists. However, apart from this practice, the main ruins are spectacular as are the minor ones still full of scrub and overcome by the jungle. Tikal is the best preserved example of an ancient Mayan city. Climbing is prohibited mainly on Temple I although access to the other main temple structures is gained by climbing wooden stairs on the back of the structures. As always, birdlife and fauna is most 'active' at sunrise/sunset. It's worth staying at least 2-3 days to be able to enjoy the park at different times of the day. The sunrise hype can easily be skipped as it's the only time when the site is really packed and since it is frequently misty, there is nothing you'd miss if instead you stay in the lodge in the national park (except the crowds and the early wake up call at 03:30!).
---
Emilia Bautista King
Tikal was a highlight of my 2-week stay in Guatemala. Before I left for Guatemala, I saw a travel program on TV about pyramids and it stated that the pyramids at Tikal were superior to those in Egypt. Since I haven't been to Egypt, I can't say I agree or disagree. The view from Temple IV is amazing. I also enjoyed the walk through the jungle in order to get to the North Acropolis. I was delighted by the spider monkeys and toucans!
---
Site Info
Full Name

Tikal National Park

Unesco ID

Country

Inscribed

Type

Mixed

Criteria

1

3

4

9

10

Categories

Link
Site Links
Unesco Website
Official Website
In the News
Visitors
213 Community Members have visited.