Tassili n'Ajjer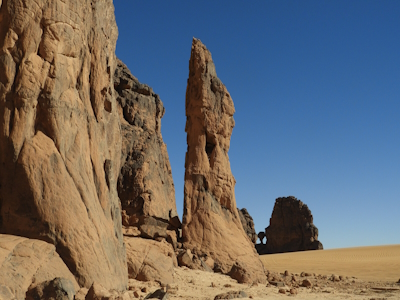 The Tassili n'Ajjer is a mountain range characterized for its impressive rock art and geological formation of sandstone "rock forests".
Erosion in the area has resulted in nearly 300 natural rock arches being formed, along with many other spectacular landforms. It lies in the Sahara desert in southeast Algeria.
Its prehistoric rock paintings and other ancient archaeological sites date from neolithic times when the local climate was much moister, with savannah rather than desert. Over 15,000 rock paintings have been inventarized. They date from five different periods up until the first centuries AD.
Community Reviews
---
5.00 Philippines - 11-Feb-20 -
In the crossroads of modern-day Algeria, Libya and Niger, is the vast, the beautiful Tassili n'Ajjer National Park. I booked a two-hour flight from Algiers to Djanet - a 2200km+ journey that would have taken two full days (with rest and sleep stops) by land.
Mr. Hassani (Tinariwen Tours) welcomed me with a gift - a blue scarf - and instantly got me acquainted with how their group is most popularly described, Tuareg or the blue people. That cool February day, Mr. Hassani's indigo robe shone in the gold sand and brown rock forests.

"In the desert," he said, "the wind is the artist," and showed me curious geologic formations and contoured sand dunes. I went to Djanet in search of prehistoric rock art (see photo), and returned with remembrance of solitude and moments of temporary yet much-needed detachment from the material world.



---
Site Info
Full Name

Tassili n'Ajjer

Unesco ID

Country

Inscribed

Type

Mixed

Criteria

1

3

7

8

Categories

Link
Visitors
9 Community Members have visited.