Taj Mahal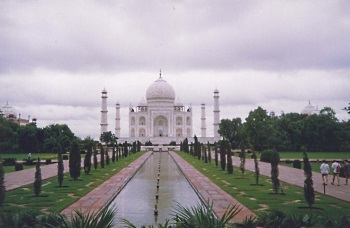 The Taj Mahal dates from the 17th century, as tomb for the favourite wife of Moghul-emperor Shah Jahan.
She died at the birth of her 14th child in 1630. In grief, Shah Jahan decided to construct for her a monument to show his eternal love. It took 22 years to complete.
The name Taj Mahal is derived from her nick-name Mumtaz Mahal: pearl or crown of the palace.
According to legend, Shah Jahan planned to erect a black version as tomb for himself on the other side of the river. A bridge should connect the two monuments.
The Taj is situated in the city of Agra, on the banks of the Yamuna-river. It is enclosed in a garden amidst fountains and ornamental trees. The walled complex further includes two mosques and an imposing gateway.
Visit July 1993
5.0
The writer Anthony Weller: "Several points about the Taj Mahal that astonished me: ... How big it is ... How clean it is ... How symmetrical it is ... How many of the visitors are Indians, not Westerners ... How as you get closer, you see there is curlicue writing all over it ... How much it matches all its photographs."
What can I say more? Truly beautiful.
---
---
---
---
---
---
---
---
---
---
---
---
---
---
---
---
---
---
Site Info
Visitors
427 Community Members have visited.