Skogskyrkogarden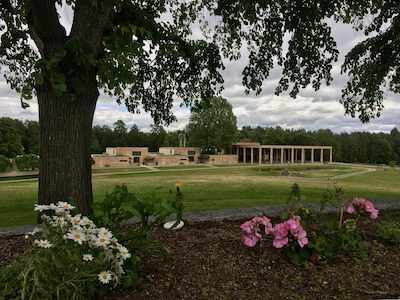 Skogskyrkogarden is an early-20th century cemetery known for its landscape and architectural design.
The cemetery was built between 1917 and 1920 by the architects Gunnar Asplund and Sigurd Lewerentz. They got the job of designing a new cemetery for Stockholm after an international competition was held.
The landscape they could use as their raw material consists of pine trees, gravel and small hills. The two young architects added several chapels, a crematorium and a large granite cross.
Visit December 2000
2.5
Well, this hobby of visiting world heritages really takes you off the beaten track: to a cemetery in this case. As it is a public place, you can just walk in and roam around freely.
Most remarkable is that the graves are hidden in the pine forests. The rest of the place impresses as a series of monuments.
Community Reviews
---
I visited this WHS in July 2018 on a bright sunny morning. Like most I arrived to this WHS using the very convenient metro. It is just a short walk round the block, to the right hand side of the metro station exit of Skogskyrkogarden (thumbs up to meltwaterfalls for suggesting to make sure to keep track of the metro stops as this word's pronunciation is definitely not what most non-Swedish speaking people would expect!).
Skogskyrkogarden (or woodland cemetery) made it to the WH list as it is an outstanding example of a designed cultural landscape which blends the landscape itself and natural vegetation with architectural features. The 20th century creation of Apslund and Lewarentz established a new form of cemetery that is believed to have exerted a profound influence on cemetery design worldwide.
That said, does this mean that it possesses OUV? In my opinion, even though I enjoyed my visit, there are several other cemeteries around the world which are as unique and arguably possess OUV, for example the Cimitero Monumentale in Milan, Italy or the La Recoleta Cemetery in Buenos Aires, Argentina. For a non-modern architecture affecionado like myself, I struggled to appreciate this cemetery's OUV and felt its inscription on the WH list was stretching the cultural landscape argument a bit too far.
In any case, the cemetery contains over 100,000 graves and more than 2000 funerals are held every year in the cemetery's 5 chapels. Needless to say, consideration and respect should be shown when visiting such a WHS. The UNESCO WHS plaque can be found just before the cemetery main entrance, just opposite the wall with columns and cascading water. This granite wall is 3.6km in length and surrounds the whole cemetery. After the entrance, I passed by the Woodland crematorium and the Faith, Hope and Holy Cross chapels just next to an average sized pond and a granite cross. Next I headed to the tranquil meditation grove and hill with trees of Almhojden.
After that, I walked the straight Seven Springs Way in the woodland cemetery towards the classical and temple-like Chapel of the Resurrection. After that I passed by the visitor centre (open from 11 to 4pm daily from May to September) which was the most striking modern architecture building in the cemetery and visited Greta Garbo's rather humble grave close to the Woodland chapel (Skogskapellet), the oldest and smallest chapel of the cemetery. Next I just went deeper and deeper into the woodland cemetery, past the Jewish cemetery, where there was a mixed section of Bahai, Muslim and Christian tombstones very close to each other. It was precisely there, where I struck gold and spotted a deer and a stag (photo) roaming freely among the tombstones and feeding off the cemetery lawn and flowers. I also spotted some tree birds such as woodpeckers, tits, finches, etc. as well as a red squirrel on my way back to the metro station.
The cemetery is open 24/7. If you like cycling it's an ideal place to do so and if you want to get a bit more information while visiting you can get the free audio guide from the visitor centre or use their free wifi.
---
2.50 California - United States of America - 07-Jul-17 -
Taking the metro train to the easily accessed Skogskyrkogarden, I was immediately confronted by the awkward dynamic of being a tourist amongst grieving families. There were 2 different funeral parties I witnessed while walking the grounds. I tried to be discreet and avoid camera use in spaces that deserved some privacy, and the site is large enough where its unlikely you would actually become an annoyance to others.. Thankfully, much of my explorations were done in private.
I appreciated the modern architecture and the design itself which impacts the visitor. The wooded paths create an atmosphere that could be described as soothing. The chapels feel remote and isolated alone, but I imagine for families intimacy is more accurate. The hill or "mediation grove" is something in itself. Walking up the hill from the Southern side (opposite of the main entrance), there was a special sense of walking toward the sky. It felt otherworldly, perhaps because the sky was also a beautiful color, with thin delicate clouds.
I had a lot of time for my own thoughts here. My reflections left me relaxed and ready to continue my last couple days exploring Stockholm before returning to the United States. For most visitors 1-2 hours should be sufficient to visit Skogskyrkogarden.
Read more from Kyle Magnuson here.
---
As World Heritage Traveller I have visited over 250 UNESCO-sites in the world. But in my hometown there are also 3 sites to see, that tells the story of three historic periods in Swedens capital Stockholm. This film covers the Woodland Cemetary (Skogskyrkogården), built in the 1920's.
---
2.50 Netherlands - 09-May-12 -
Similar to other reviews, my visit to Skogskyrkogården or the Woodland Cemetery in Southern Stockholm was surprisingly enjoyable. When I reached the T-Bana station I also surprised the pronunciation of this place similar to Ian Cade did, and when I arrived the main entrance I really surprised again for the landscape design that totally different with other cemeteries. The entrance pathway dictates every eye sights to the big granite cross and the crematorium. And when my eye at the crematorium I saw smoke come up, a sign of cremation took place. Since I saw smoke I decided to change my intention to the mediation grove which was located on the right hill of the whole landscape. As I visit in early spring time, all trees were leafless and quite spooky; however, the grove was really amazing. I was really admired the architect for this genius landscape design, simple but easily inspired for spiritual meditation. After the meditation grove I went to see some part of the real cemetery, all the grave sites were well organized in the pine forest.
Actually I planned to visit the famous Woodland Chapel, but I saw some ceremony in the area, so I decided to walk back to the Crematorium to see the building, the lotus pond and the big cross. The building looked very modern and functional; the view was also stunning especially toward the meditation grove. Overall Skogskyrkogården was really a masterpiece of landscape design, and I hardly believed that this place was a cemetery, but a great public park that nice for picnic. Another highlight was the big cross, it was a very simple cross but really special that it made the landscape to be not to vast or empty. Skogskyrkogården, in my opinion, was the best World Heritage Site in Stockholm area; it was also a place to understand the contemporary Nordic landscape design which cannot be found in other World Heritage Sites of Scandinavia.
---
This is one of the more unusual sites on the list (probably the only cemetery, apart from ancient necropolises), as well as one of the most easily accessible: just get off at the Skogskyrkogarden stop of Stockholm's metro system, walk a few hundred metres, and there you are. I must say that I didn't expect too much of it - I went there after a long and rainy day on Birka and Hovgarden, just to tick off another site. In the end, however, I liked it quite a lot. The weather improved, and walking through the large cemetery was a great way of ending the day. It is a fantastic combination of an idyllic city park and interesting modern architecture, while never forgetting that it is an active cemetery. As I had gone there on one of Scandinavia's long summer evenings, the visitor centre had already closed, but you can still pick up a map in a box at the entrance and find your own way through the immaculately landscaped grounds (and go find the grave of Greta Garbo). This is one of Stockholm's (and the WH list's) underrated sites (a friend of mine has been living in the city for over 4 years and never gone there), but definitely worth a visit in this great city full of interesting sights.
---
William K. Hayes
I visited in June of 1993, to see the gravesite of my great grandfather Jakob Nilsson Friborg and great grandmother Sigrid sophia Andersen Friborg. I bought flowers just outside the T-bana and put them on their grave. At that time, there were no entrance fees. It was a very hot day and it was a very long walk from the entrace up the long hill past the buildings on the left and then down the slope at the far end to the grave. It was a wonderful experience. I felt like I was coming home to them and closing a circle. Jakob wasan important building contractor in Stockholm in the latter half of the 19th century. He lived from 1838 to 1922
---
This probably isn't top of most people's lists of Stockholm's 'must sees', even down to the name which I thought I had managed to get my tongue around until the train dropped us of at the station and the announcement sounded nothing like what I had imagined.
I had tried to do a little background reading on Gunnar Asplund who co-planned the cemetery; he has a really restrained approach to classicism that veers towards later modernist developments. The Stadsbibilotek in Stockholm is a great example of his work. Walking around the crematorium and chapels you can see that this is a very restrained architectural undertaking, the few grand monuments that do exist are very understated and simple, most notable it the huge granite cross. This worked really well with the tall pine trees, under which lay the graves of those interned here. It made it feel like a very contemplative place to walk around. I especially liked stumbling upon the Skogskapellet, it was very understated but very nice.
I am sure that I don't have to point it out, but this is not really a place to visit with a flippant attitude, as it is still very much in use as a cemetery so a significant amount of respect is due, however it is a nice place for a meditative walk.
As Christer has said the Cemetery is easy to get to just a short 10-15 minute hop on the underground from Gamla Stan or the über-cool botiques of Södermalm, this makes it a worth while short trip and although it may not be a highlight of the list it is certainly a place worth experiencing.
---
Adam Truran
WOW! This was my first impression of walking up the entrance drive from Sockenvagen and immediately confronted with a beautiful black granite cross. The landscape was covered with a blanket of white; the Meditation Grove, Chapels and the tops of pine trees only visible. I felt apart of everything here; as though it welcomed me here. To have such an instant welcoming offers warmth to those who have come to say goodbye to their loved ones. I visited the cemetery as part of a study trip with university. We are currently designing a cemetery/ crematorium, and I would recommend this place as a great precedent study. This is truly a magnificent piece of landscape and architecture, fused together to offer an essential place of departure.
---
It's not just a cemetery, it is also a nice park for an afternoon stroll whilst you are contemplating and solving the world problems. And if you are into architecture you've probably already learned that the cemetery was planned and laid out by the Swedish architects Gunnar Asplund and Sigurd Lewerentz in the 1920:ies and has been an inspiration for cemeteries all around the world. The site is easily accessed via the Stockholm underground (station: Skogskyrkogården) and once there you turn right and just walk through the gates while you are facing the Chapel of the Holy Cross on your left side. Since I have a few of my relatives buried here, I usually visit the site once a year or so and in the spring and summertime it's a nice walk under the tall spruce trees that populates the cemetery. During All Saints Day (Halloween) the cemetery is lit up by thousands and thousands of candles and it's likely to be the day of the year to best visit the site.
---
Anders Westerlund
Hi! My name is Anders. I have grown up in the area around this cemetery. In high school, my six-kilometer walk to school included a shortcut through the cemetery. It was, in spite of what you think, a wonderful walk (perhaps because of the nice weather in May 1993). When I and my friends were young, we used to play in the forests. It's still the place I think of when having a long walk when I visit my parents, who still live in the area. I could go on and on about childhood memories experienced at Skogskyrkogarden. We played hide and seek there, we've played soccer and land hockey there. In our teens, we crossed the forests a few times because we were drunk and wanted to reach "Daisy's" (burger place) at the other end. Once, on Halloween some ten years ago, I was dressed in a robe and held pitch torches in my hand (we'd had some drinks that evening...). As I said, I could go on and on, Skogskyrkogarden will always bring back memories to me...
---
Site Info
Site History
1993

Deferred

Bureau - await ICOMOS study into 20C Architecture. Also consider "Cultural Landscape"?
1991

Referred

Bureau - pending comparative study of this type of property
Site Links
Unesco Website
Official Website
Visitors
213 Community Members have visited.