Serra da Capivara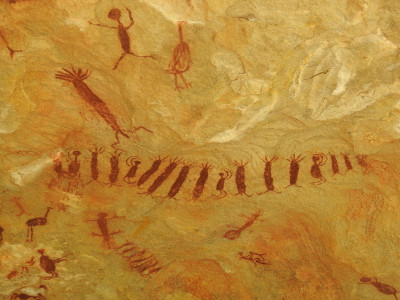 Serra da Capivara National Park holds many rock shelters in which the oldest rock art of South America has been found.
This art reveals aspects of the religious belief and practices of the earliest inhabitants of this region.
The earliest traces of rock painting here dates from between 26,000 and 22,000 BC. Most of the painted works date from 10,000 to 4,000 BC, and were made by Nordeste and Agreste cultures. The sites weren't rediscovered until the 1960's.
The park lies in the north east of Brazil.
Community Reviews
---
I visited Serra da Capivara NP some months ago. Truly an amazing experience. It takes time and planning to get there, as the closest airport is 400 km away, but newly paved roads make it accessible.
It usually takes three days and lots of hiking with an accredited guide to spot the most famous rock paintings the park is famous for. Most of them are 6.000 to 12.000 years old, but some are said to be much older - some researchers belive that's the proof that the first Americans also came from Africa, crossing the Atlantic Ocean during Ice Age, and not only from Asia through Alaska.
The painting are plentiful and depict various themes such as hunting and adoration, but also regarding sex intercourse, animal habits, honey collecting, etc.. Very interesting indeed.
There is very little left in Brazil about human activity before the Portuguese colonizers. Serra da Capivara is a remarkable exception.
---
Peter Ravenscroft
I have, I much regret, not got there yet, just via hyperspace. But I would like to observe that this is perhaps the most important early human site found in the Americas to date. Given the recently obtained dates, of around 50,000 BP, it is the oldest known. The similarities of the rock art, to Australian aboriginal rock art, given the other archaeological and cultural similarities between these two distant regions, and to finds in the Middle East, will re-write the entire story of early human expansion.
---
Caron De Mars
FANTASTIC!!!! I'm a diplomat who has lived in Brazil for almost two years. I've travelled around quite a bit. As far as stark beauty, good hiking, and incredible history, this place can't be beat. The guides are professional and knowledgabe. I vowed I'd only go to sites once since Brazil is such a rich, vast country full of treasures, and I know I'd only live here two years. Well...I broke my vow, and I'm going back this weekend.
---
Site Info
Site History
2003

Rejected

Regarding extension on natural criteria
Site Links
Unesco Website
Official Website
In the News
Visitors
6 Community Members have visited.