Rock Paintings of the Sierra de San Francisco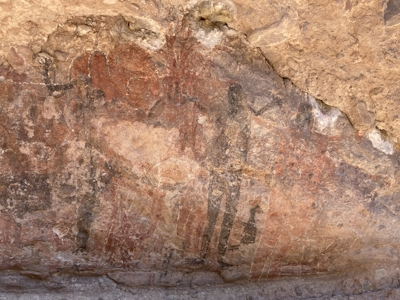 The Rock Paintings of Sierra de San Francisco is the name of the prehistoric rock art found in Baja California, Mexico.
They are representations of what was once the life of the Cochimi or Guachimis in the Baja California peninsula. These paintings on the roofs of rock shelters and on the walls of Sierra de San Francisco were first discovered by the jesuit Francisco Javier in the eighteenth century. The property is made up by around 250 sites.
Map of Rock Paintings of the Sierra de San Francisco
Load map
Community Reviews
---
sheilafromny@prodigy.net
We packed in for a camping trip with local guides, mules, and donkeys. The terrian is rugged and the views are out of this world. I managed to stay a day in a fresh water lagoon which I affectionitly call the viper pit. You do need a guide, and the hikes are always up, and the shade in the shelters are a great place to mediate and view the colorful panels. You could stay a week and still need more time. Try to visit when it is NOT summer.
---
Site Info
Site Links
Unesco Website
Official Website
Related
Visitors
19 Community Members have visited.