Rice Terraces of the Philippine Cordilleras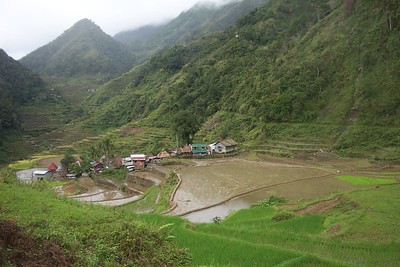 The Rice Terraces of the Cordilleras (on the island of Luzon) ar a cultural landscape developed 2000 years ago by the Ifugao people.
These terraces are still in use, and are under continuous maintenance by the current Ifugao farmers.
There are many more rice terraces in Asia, but these in the Philippine Cordilleras are outstanding because of their altutude (up to 1500 meters) and steep slopes (maximum of 70 degrees). A complex system of dams, sluizes, channels and bamboo pipes keeps whole groups of terraces adequately flooded.
The WHS consists of four clusters of well-preserved rice terraces:
Banaue: Batad and Bangaan
Mayoyao: Mayoyao Central
Klangan: Nagacadan
Hungduan
Map of Rice Terraces of the Philippine Cordilleras
Load map
Visit December 2005
3.5
My two days in the Rice Terrace Region of the Cordilleras got off to a bad start: rain was pouring down all of the first day. I didn't get any further than the Banaue viewpoint, and returned to my guesthouse soaking and with only one gloomy photo of a rice terrace that even isn't on the list.
It kept on raining during the following night, but things didn't look too bad the following morning. I decided to make an early start and head for Bangaan. By various means of transport, that even included climbing over a landslide that had occurred during the night, I eventually arrived at the town of Bangaan. It's picturesque, there is no other word for it. Imagine a vally surrounded by high green mountains, with only steep rice terraces on their lower slopes, and a tiny hamlet in the middle. Or look at the photos around this post.
There's an enormous variation in shades of green (and some brown), wherever you look. Narrow walls / paths make it possible to walk amidst these rice fields. Because it's not the rice harvesting season only fields with seedlings are bright green in December when I visited. But there's a lot more to these rice terraces than growing rice: their construction technique (a massive effort for 2000 years ago) and also the traditions of the Ifugao people that still live here and earn a meagre income from the rice (and making a bit on the side by selling souvenirs).
There are several more WH designated rice terraces in this area. The ones in Batad are the best according to both the guidebooks and the locals. My (self-imposed) travel schedule didn't leave room for a visit of Batad or one of the others, but Bangaan already did let me conclude that these Rice Terraces are worth every effort of getting there.
---
---
---
---
---
---
---
---
---
---
---
---
---
---
---
---
Site Info
Full Name

Rice Terraces of the Philippine Cordilleras

Unesco ID

Country

Inscribed

Type

Cultural

Criteria

3

4

5

Categories

Link
Site History
2012

Removed from Danger list
2001

In Danger

Abandoning of the terraces
Site Links
Unesco Website
Official Website
In the News
Visitors
87 Community Members have visited.