Red Fort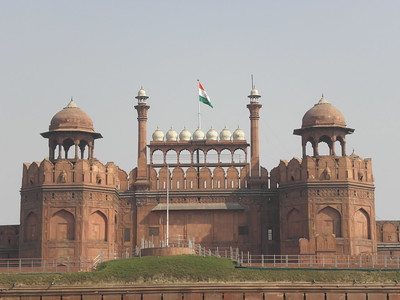 The Red Fort Complex is considered the final flourishing of Mughal architecture, combining Islamic, Persian, Timurid and Hindu traditions.
It was built in the mid-17th century, and became a symbol of power of Mughal emperor Shahjahan. It was the palace of his, Shahjahanabad. He moved his capital from Agra in a move designed to bring prestige to his reign, and to provide ample opportunity to apply his ambitious building schemes and interests.
After 1857 the site was used as the headquarters of the British Indian Army. They introduced new colonial-style buildings and functions over the earlier Mughal structures. It was also the place where Indian independence was first celebrated, and is still celebrated today.
The Complex consists of:
Red Fort, with:
Walls, bastions and gates
Chhatta Chowk, palace market
Naubat Khana or Naqqarkhana Drum House
Diwan-i-Am, Hall of Public Audience
Palace pavilions and the Nah-i-Bihisht, Stream of Paradise
Diwan-i-Khas, Hall of Private Audience
Hammam Baths
Moti Masjid, Pearl Mosque
Hayat-Baksh Bagh, Lifegiving Garden
British period buildings
Salimgarh Fort (an older fort, connected to the Red Fort by a bridge).
Visit February 2011
3.0
Forts are among my least favourite WHS, and this one is no exception. To do it justice I have to say that it is much more than a fortress - It reminded me of the Forbidden City, with its endless rows of gates and audience halls, built to impress.
The more interesting structures are at the back of the complex, after you have suffered the queue at the security gate (well, not much of it at the Ladies entrance) and the souvenir stalls at Chhatta Chowk. These structures at the back are all made out of white marble. I especially liked the Hammam.
I arrived here with Delhi's Hop on Hop off Bus - an easy way to reach all 3 Delhi WHS in one day. At least - that's what I thought until I learned that the full circuit takes 4 hours to complete. And that is only the bus ride, sight visits of about 1 - 2 hours not included. So after Qutb Minar, Jantar Mantar and the Red Fort I decided to stop my efforts and returned "home" effortlessy by metro.
Community Reviews
---
This WHS is very similar to the red Agra Fort and could be quite confusing to discern when trying to recall both experiences. However, the Red Fort in Delhi is truly a national and worldwide heritage site and encloses several buildings, palaces, courtyards and gardens within its walls. I visited this WHS in January 2012.
---
I have been to the Red Fort Complex myself and it can be very crowded in the evening there are quite little shops before entering the real Red fort complex. The Red Fort complex is extreamly similar to the Agra Fort in Agra. The fee for entering the Red Fort is 100 Rupees for adults and children are free.
---
Lal Qila – The Red Fort – with its mighty red walls that extends for over 2 km is for sure the most important and majestic of all sights in Dehli. Construction was begun in 1638 by the mighty Mughal emperor Shah Jahan and was completed 10 years later.
With its gates, palaces, bazaars, gardens, fountains and pavilions its and eloquent reminder of the glory of the Mugal era and its magnificence simply leaves one awestruck. It's a calm haven of peace which helps one to break away from noisy and busy life outside the walls of the Fort, and transports the visitor to another realm of existence.
And after having dreamt yourself away to another age and time you can return to the present at the little Tea House, were you quickly realize that you've been taken for a ride when receiving the bill..!
---
Site Info
Full Name

The Red Fort complex

Unesco ID

Country

Inscribed

Type

Cultural

Criteria

2

3

6

Categories

Link
Site History
1993

Referred

Bureau - Better nomination documentation etc required
Site Links
Unesco Website
Official Website
In the News
The culture ministry and the Archaeological Survey of India are again at odds over Ram and damage to heritage sites. The issue is culture minister Ambika Soni's permission to bring Ramlila back to the Red Fort grounds five years after the ASI had succeeded in banishing the annual ceremony off the world heritage site's greens. (28.11.07)
Visitors
371 Community Members have visited.