Qutb Minar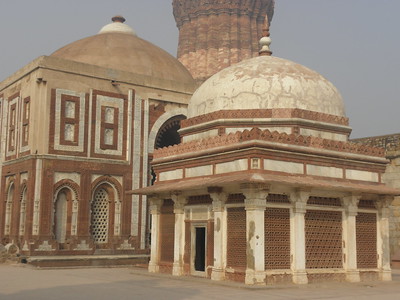 Qutb Minar and its monuments is a group of religious and funerary buildings that display the architectural and artistic achievements of early Islamic India. They are located in South Delhi.
The complex includes:
Quwwatu'l-Islam mosque, the earliest extant mosque in northern India.
Qutb Minar, a red sandstone tower, 72.5 m high. Its construction was started around 1202 by Qutbu'd-Din Aibak, the first Muslim Sultan of Delhi. It has five storeys, and is the highest stone tower in India.
Iron Pillar, built during the Gupta Empire in the 4th century AD. It is made of such pure iron that it has never rusted, a standing testimony to the metallurgical skill of ancient Indians.
Tomb of Iltutmish
Alai Darwaza (southern entrance)
Alai Minar, the base of a second, unfinished minaret
Visit February 2011
3.5
This was the first stop on my full-day tour of Delhi sights. The complex has a serene atmosphere, enhanced a little by the famous Delhi morning fog. You can sit on park benches and take in the views to these old constructions. There were about 20 other western visitors around, more than I had seen at any sight outside of Delhi.
Focal point of the complex obviously is the enormous minaret. You only really feel how broad and tall it is when you're standing next to it. A magnificent piece of work.
And then there's the enigmatic Iron Pillar. It looks so out of place here, in this whole complex full of brick and sandstone buildings. It's a very thin pillar, surrounded by a fence to protect it. It looks like if it was placed here only recently, as the start of a modern construction.
Another monument that I enjoyed here was the Tomb of Iltutmish. It's a bulky structure when looked at from the outside and it is missing its roof. The interior however has lots of fine carvings, both in red sandstone and in white marble.
Community Reviews
---
I visited this WHS in January 2012. The 72.5m red sandstone and marble Minaret alone, already deserves being inscribed in the list. The intricate carvings with arabic calligraphy and islamic symbols are truly incredible and can be seen from every angle adorning the tallest minaret in India. The rest of the site is made up of interesting remains, tombs and an early mosque.
---
Jacob Choi
Qutb Minar and it's monument's in Delhi is amazing although there has been some canges over the years for example you can't try to put your hands on the Iron Pillar beacause theres a gate around it. But the rewrds are amazing it's basiclly a complex so expect 1hour-1 and a half hour to explore the whole thing. The admission price for this monument is as falows,250 Rupees for all adults, children are free.
---
Having muscled through the traffic of central Dehli to the southern suburbs, I found myself at the Qtub Minar, the 73 meter high minaret and one of the true landmarks of the city. Whether it was really meant as a minaret or just a watch tower seem to be still under discussion but it was unquestionably built in the late 12th century by Qutub-ud-din Aibak.
Standing next to the Quwwat-ul-Islam mosque and many other temples in a nice park, it's a peaceful excursion that could last you an hour or two. And while you are there, don't miss Ala-ud-Din's unfinished minaret, meant to be twice as high as the Qtub Minar, but left at 27 meters at the time of his death.
---
sherlyn
i live quiet close to the minar and its visible to throughout the day and in the night when its light is lit
its a magnificient site to see.
---
Pranjal Chatterjee
Qutb minar is one of the most incredible monuments.its amazing that it is still standing today after so many environmental problems.
---
The Qutb Minar complex is an incredible self-proclamation of Islams arrival in India. When you consider the age of the Minar itself it makes it all the more impressive.
The unrusted ancient iron pole at the site is a wonderful unsolved mystery. How can iron be so pure that it doesn't rust?
---
Runjhun
I have the privilage of seeing the minar from my balcony. Ive been many times, though it is nothing special
---
Site Info
Site Links
Unesco Website
Official Website
Related
In the News
Visitors
284 Community Members have visited.