Piazza del Duomo (Pisa)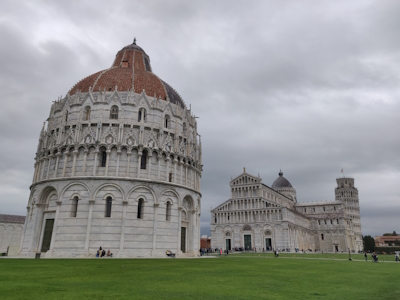 The Piazza del Duomo, Pisa, is a square that contains four artistically important medieval monuments. They were constructed between the 11th and 14th centuries.
The Tuscan town Pisa used to have a fleet that reigned the Mediterranean Sea. Nowadays its Tower is known worldwide. This marble building is leaning over, and has always been.
The monuments included are:
the cathedral, with its bronze doors and mosaics
the baptistry, a round Romanesque building with an early Renaissance pulpit
the campanile (the 'Leaning Tower')
the walled cemetery Campo Santo with its frescoes
Pisa native Galileo Galilei is believed to have formulated his theory about the movement of a pendulum by watching the swinging of the incense lamp (not the present one) hanging from the ceiling of the nave of Pisa's cathedral. He also had dropped balls from the Leaning Tower to demonstrate that their time of descent was independent of their mass.
Visit May 2002
3.0
Campo dei Miracoli, Field of Miracles - what a name. But the green lawn in northwestern Pisa, with its marble medieval monuments, does deserve it.
The leaning tower of course is the most famous attraction here. The beauty of the neighbouring 11th century cathedral and baptistry is stunning though. They dwarve the tower, both in size and elegance.
For a steep 15 euro (and some patience) you can do yourself the favour of climbing the tower. It takes about 300 marbles steps to get to the top, where large bells can be found on the edges of the highest platform. When you're on top you can sense that the surface under your feet isn't particularly straight. It's not called the leaning tower for nothing.
---
---
---
---
---
---
---
---
---
---
---
---
---
---
---
---
---
Site Info
Site History
2007

Extended

To include the Piazza del Duomo as a spatial composition, by extending the core zone to all three visual axes that lead to the square.
Site Links
Unesco Website
Official Website
Visitors
784 Community Members have visited.