Orkhon Valley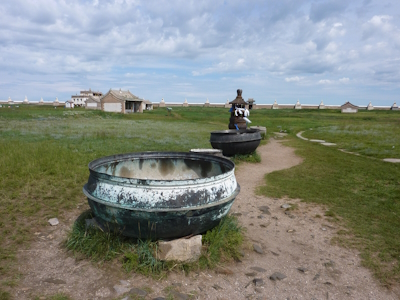 The Orkhon Valley encompasses 121.967 hectares, and can be found in Central-Mongolia. It also includes Kharkhorum, the 13th and 14th century capital of Chinggis (Genghis) Khan's vast Empire. The inclusion of this site is a tribute to Mongolia's nomadic culture, that even now persists.
Further, it illustrates several significant stages in human history. First and foremost it was the centre of the Mongolian Empire; secondly it reflects a particular Mongolian variation of Turkish power; thirdly, the Tuvkhun hermitage monastery was the setting for the development of a Mongolian form of Buddhism; and fourthly, Khar Balgas, reflects the Uighur urban culture in the capital of the Uighur Empire.
Visit September 2002
4.0
Karakorum nowadays is a small town in the center of Mongolia. There's even a road there from Ulan Bator, one of the few in Mongolia. The town hosts the country's major tourist attraction: Erdene Zuu monastery. So we weren't the only visitors here. The monastery buildings are encircled by a wall of 108 white stupa's: just great!
The next day, after staying the night in a comfortable ger-camp, we drove on to Tövkin Khid. This is a smaller monastery in the mountains, a few hours from Karakorum. The drive to get there is completely off-road, crossing a river and driving along the paths in the grasslands. This day was undoubtedly the best day of my stay in Mongolia: I wished it would never end. The landscape around here is greener and more hilly than in the rest of Central Mongolia, and so pure. We also visited a nomadic family on the move, dismantling their ger with help from their neighbours.
In the Orkhon-area you can see quite a number of gers from nomadic families, maybe because of the proximity of a 'big city'. This traditional way of living is still quite common in the rural areas, though I wonder for how long. The grasslands are getting drier and drier by the year.
Community Reviews
---
As an inveterate "listophile" I maintain a large number of travel-related lists. "Ancient Capital Cities of the World" is one – so the chance to "pick up" that of Ghengis Khan at Kharkhorin ("Karakorum") in Mongolia was not to be missed! In fact, if you visit Mongolia, you are not likely to miss it. Mongolia has many merits as a destination (particularly its wonderful open spaces and the chance to see/experience a nomadic lifestyle) but historical remains are not a major feature. The nature of the country and its people's lifestyle meant that Buddhist monasteries were the main permanent buildings and the Stalinist purges of the 1930s destroyed many of these. So, almost any tour of the country is likely to take in the main restored monasteries in Ulaan Baatar and Erdene Zuu.
Mongolia has chosen to badge this WHS inscription as "Orkhon Valley Cultural Landscape" rather than specifically as "Karakorum" or the main monastery of the area at Erdene Zuu. A good choice I think. By including all the old sites AND the pastureland, still spotted by gers (yurts) and the herds of horses, yak and camels of nomad families, it ties together past and present very nicely and emphasises the continuity of lifestyle involved. The landscape of the valley and the nearby holy mountains with their shamanistic heritage provides a microcosm of Mongolian culture and is well worth spending a couple of days to see. We were a "group" of just 2 persons with a Mongolian guide/interpreter and the chance to visit/stay with families in their yurts and exchange experiences and questions on a near 1 to 1 basis was one of the highlights of the trip. Ger life is an interesting mixture of old and new – some families now have their own little wind powered generators for their TV batteries!
There is in fact very little of Karakorum left – mainly 2 of the 4 "Turtle Rocks" which marked the boundary of the ancient city. Locals have decked them with rather fetching collars of Buddhist silk! Far more impressive is the monastery, inside an enormous wall of over 100 linked stupas. The monasteries have been at least partially restored and function again as a centre of "Yellow Hat" Lamaism. There are likely to be ceremonies in progress both inside and outside the monasteries when you visit (photo)
---
David Atkinson
Erdene Zuu is a remarkable place. I was lucky enough to be there almost on my own, and I found the atmosphere of remoteness and history almost tangible. Apart form the slightly tacky, but almost inevitable gift shop and trinket sellers it is possible to get a feeling for the amazing ancient society that was based around here. The town nearby is nothign to write home about, but was once home to Chinggis Khan and his warroir hordes. That they survived in such a remote place is one thing; that they ruled such a huge part of the world from such a place is something else entirely.
---
Site Info
Full Name

Orkhon Valley Cultural Landscape

Unesco ID

Country

Inscribed

Type

Cultural

Criteria

2

3

4

Categories

Link
Site History
2003

Deferred

Needs proposal for a wider cultural landscape
Visitors
44 Community Members have visited.