Neolithic Flint Mines at Spiennes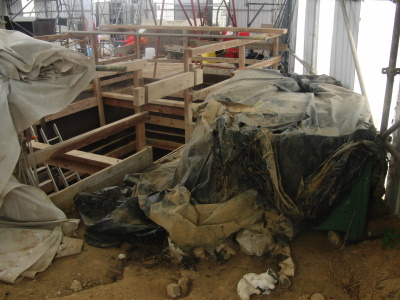 The Neolithic flint mines at Spiennes, covering more than 100 ha, are the largest and earliest concentration of ancient mines in Europe.
They were actively used from 4400 - 2000 years B.C. The extraction was carried out in open quarries and in pits.
Flint is found in chalkland, there it forms layers within beds of chalk. It's an easy to shape material, with sharp edges. From the early beginnings, humans used flint tools for personal use. For example to make robust axes (to be used by hand or with a wooden grip).
Probably there are thousands of pits in this area. There is no horizontal network that joins them. When a new pit was hewn out, the older pit was used to dump the rocks. It all was done on quite a small scale: no residential area was found near the mines, the flintknappers came from kilometers away. The site was used for excavations by numerous generations.
Map of Neolithic Flint Mines at Spiennes
Load map
Visit May 2004
1.5
Last months, I enjoyed the 'discussion' below among the visitors about how to get to the mines in Spiennes (and even more important - how to get in). But gradually the basic visitor information became clear: there are guided tours on the first Sunday every month, and you have to be very alert in the town of Spiennes to spot the site. To make it even easier: via the link 'Mining site of Spiennes' above there's access to a map.
Besides an extra round on the Mons Ring road (there's only a small sign to Beaumont), I had no trouble finding it. In Spiennes the 'minieres' are even signposted. From above the ground the site looks remarkable like any farming field. The archeological excavations are limited to two areas: one official site and one for volunteers.
One of the guides showed me around. First to some open excavations on the surface. After that we descended a steep iron ladder, to get 10 meter below the ground. Here we arrived in a well-lit cave network (the electrical lights only recently installed). The difference between the white chalk and the 2 flintlayers was clearly visible. The guide explained the techniques used by the neolithic people to get to the flint. It was a tough and patient job, carried out precisely. An amazing experience to stand here thousands of years later.
---
---
---
---
---
---
---
---
---
---
---
---
---
---
---
---
---
---
---
Site Info
Site Links
Unesco Website
Official Website
Related
In the News
Visitors
130 Community Members have visited.