Lena Pillars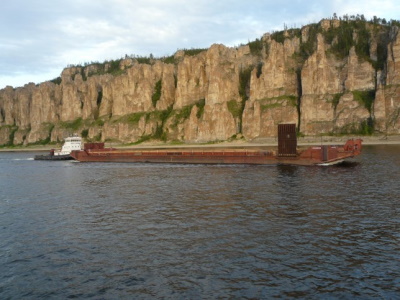 Lena Pillars Nature Park is a rock pillar landscape made by freeze-thaw processes and fluvial removal of debris.
It was formed during the Cambrian era. The pillars line the banks of the Lena river, and are up to 100m in height.
The park also holds fossil reefs and "tukulans", high-latitude sand dunes. It is located in far eastern Siberia.
Community Reviews
---
We have been kayaking the Lena and Sinaya rivers in Summer 2016 and visited the pillars on the banks of both rivers. It was an absolutely stunning experience.
The pillars are located some 200 kilometers south of the city of Yakutsk. To get to Yakutsk is actually not that difficult though it is definitely one of the most remote places on earth. There are several flights a day from Moscow. For instance, getting to Yakutsk from one of the larger European airports via Moscow costs about 800 euros for a round trip. The journey from Europe takes at least 12 hours, a two to three hours flight to Moscow, the transfer and then a almost seven hours flight from Moscow to Yakutsk. 
Once you have arrived in Yakutsk you will find out that the city actually offers a lot to see. The majority of the population belongs to a number of indigenous nations with most of them being Yakuts. Their culture and traditions are absolutely impressive. Also the city itself has a lot to offer like the world's only mammoth museum or a traditional Yakut village a little outside the city.
From Yakutsk there are different possibilities to get to the Lena pillars. You may book one of the ships cruising the Lena river or you make book a personal guide. I would highly recommend to book a personal guide. We decided to do a kayak tour for ten days. The starting point was somewhat close the source of the Sinaya river which is a tributary of the great Lena river. If you are visiting the Lena pillars you should definitely also try to get to the Sinaya river. For me the pillars there were even more impressive. Visiting the Yakutia is a true once in lifetime experience. I believe there are not many stunning destinations like Yakutia left which are that unknown to foreigners. 
Read more from Lena here.
---
On our way to Kamchatka, we have made a detour through Yakutsk. It's a good way to get to Kamchatka, as direct flights from Moscow to Petropavlovsk Kamchatskiy are much more expensive. Yakutsk is a good base from which to see the stunning Lena Pillars and then either to move on to Kamchatka or ride the Road of Bones. There were three of us and we booked a tour with local tour operator named Bolot (from Visit Yakutia), who arranged a three-hour return car ride to the bank of Lena River and a boat ride from there.
Overall it takes four hours to reach the small stretch of the vast national park that is actually open to tourists. The first magnificent sights are available as you sail past the massive rock pillars and then you can reach a viewing platform on top of the range through a well-marked wooden hiking path. It's quite steep path in which you climb about 300 metres in two kilometres of hike. It is strenuous but fortunately very short, so definitely doable. From the viewing platform you can observe the pillars on either side of you, the river itself and surrounding landscape. It's beautiful.
Count one whole day for the trip if your starting point is Yakutsk - four hours there, another four hours to get back, three hours on the premises of the park. There isn't much of facilities, so bring your food for the whole day with you. Alternatively, there was a basic eatery on the riverside, so we had an early lunch on arrival waiting for our boat.
Read more from Martina Ruckova here.
---
Site Info
Full Name

Lena Pillars Nature Park

Unesco ID

Country

Inscribed

Type

Natural

Criteria

8

Categories

Link
Site History
2012

Advisory Body overruled

IUCN had asked for deferral. Also 1 criterium less was inscribed (vii)
2009

Requested by State Party to not be examined
2000

Requested by State Party to not be examined

As "Lena River Delta"
Site Links
Unesco Website
Official Website
Related
In the News
Visitors
6 Community Members have visited.