Island of Saint-Louis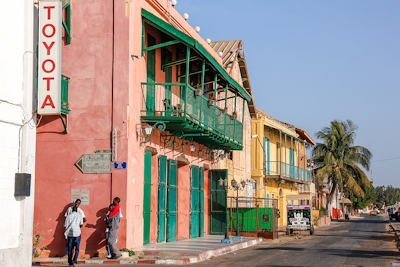 Saint-Louis' characteristic colonial architecture along with its regular town plan, its location on an island at the mouth of the Senegal River and the system of quays, gives Saint-Louis the distinctive appearance and identity that have raised the Island to the rank of world heritage.
Saint-Louis was the capital of the French colony of Senegal from 1673 until independence in 1960. From 1920 to 1957 it also served as capital of the neighboring colony of Mauritania.
Community Reviews
---
Belinda McDremmot
When i went to the island of Saint-Louis the beaches where beautiful the people of the island were fantastic and thre charicters of the community were wonderful i went there for my wedding of my partner Glenn all of the island got together for our special day and our honey moon was on the other side of the coast
A Special hello to bob!
---
I visited Ile St Louis in Dec 2003. Ile St Louis can be reached by a short ferry ride from Dakar. The ferry is a bit of a challenge as you'll be constantly harassed to hire a guide or visit a souvenir shop. The slave fort itself is open for visits and although colorful in pink plaster and brilliant flowering shrubs, it has a sour aura of sadness about it. We were lucky to have a tourguide give a 20 minute soliliquy (in French) on life at the fort. His dramatic and authentic presentation was worth the trip alone. The island remains inhabited with friendly french speaking Senegalese and the colorful french style colonial houses and beautiful children love to be photographed. (Ask first). There are a few pensions on the island but plenty of hotels in Dakar. Although we were constantly harassed, we never felt unsafe.
---
Site Info
Site Links
Unesco Website
Official Website
Visitors
49 Community Members have visited.