Ichkeul National Park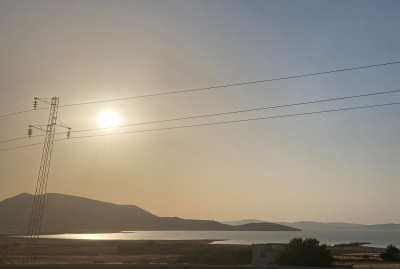 Ichkeul National Park is an important stopping-over point for hundreds of thousands of migrating birds each year.
It is located in northern Tunisia near the shore of the Mediterranean Sea. Among the lake's visitors are ducks, geese, storks, and pink flamingoes.
Dam construction on the lake's feeder rivers has produced major changes to the ecological balance of the lake and wetlands. Because these dams have sharply reduced the freshwater inflow to the lakes and marshes, the reedbeds, sedges, and other fresh-water plant species have been replaced with salt-loving plants. These changes have produced a sharp reduction in the migratory bird populations, which depend on the mix of plants that used to exist.
Community Reviews
---
2.00 Switzerland - 03-May-18 -
Ichkeul is easy to reach from Tunis. Take the motorway to El Alia and then drive below Lake Bizerte on a 4 lane street almost till the park entrance. The entrance is marked on google maps as "l'entrée de park national de l'ichkeul". From there it's about 15mins on a semi paved road to reach the parking lot. There was a lot of construction work going on at the time of my visit (Mai 2018).
The park itself will not take your breath away. There is a nice road to walk around a small peninsula with a tiny and free eco museum on the top of the hill and a wooden bird observatory closer to the lake. I saw some ducks far away but not much else. Even if you are lucky enough to see some birds, for all Europeans this would be rather boring. Despite the flamingoes, the birds there are exactly those you can probably spot in your nearest lake all summer long. The landscape itself is also nothing special, but still nice enough to enjoy a little hiking and nature.
To my surprise, there were many other visitors, including a bus full of scholars and other locals.
---
Well, the place was visited by me in 1999 but I guess that most of the information is actual. The easiest way to get there is by car (I haven't even checked the possibility of local transportation there), from Tunis take road P7 to Mateur and then P11 to Tinia, after a while turn left on a non-sealed but stable road you can reach the gate of the park (there is an entrance fee for the car). Just around 2 km from the place there is an eco-museum (at the time of my visit it was free of charge) with local exhibitions. From that point you can take an easy by-the-lake walk on a local road (unsealed) round the lake. All that area together with a nearby Jabal (Mointain) Ichkeul and the marchlands with bulls (on a way to the park) are inscribed as World Heritage Site. More info:
www.eoearth.org/article/Ichkeul_National_Park,_Tunisia
---
Site Info
Full Name

Ichkeul National Park

Unesco ID

Country

Inscribed

Type

Natural

Criteria

10

Categories

Link
Site History
2006

Removed from Danger list
1996

In Danger

construction of two dams had limited freshwater flow and devastated the wetland values
1979

Deferred

Until Tunisia has contacted other States to ensure adequate protection of summering and wintering areas of major migratory species found in Ichkeul
1978

Deferred

Lack of documentation
Site Links
Unesco Website
Official Website
Related
Visitors
37 Community Members have visited.