Humberstone and Santa Laura Saltpeter Works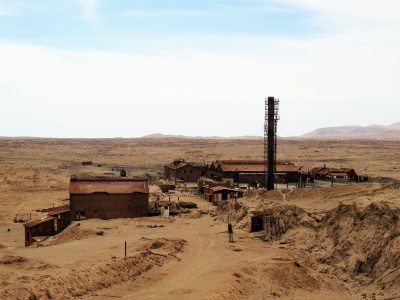 Humberstone and Santa Laura works represent over 200 former saltpeter works where workers from Chile, Peru and Bolivia lived in company towns and forged a distinctive communal pampinos culture.
That culture is manifest in their rich language, creativity, and solidarity, and, above all, in their pioneering struggle for social justice, which had a profound impact on social history.
Situated in the remote desert Pampa, one of the driest deserts on earth, thousands of pampinos lived and worked in this hostile environment, for over 60 years, from 1880, to process the largest deposit of saltpeter in the world, producing the fertilizer sodium nitrate that was to transform agricultural lands in North and South America, and in Europe, and produce great wealth for Chile.
Because of the vulnerability of the structures and because of the impact of a recent earthquake, the site was also placed on the List of World Heritage in Danger, to help mobilize resources for its conservation.
Map of Humberstone and Santa Laura Saltpeter Works
Load map
Community Reviews
---
Chris
I visited the site end of 2014. Humberstone is in pretty good shape but Santa Laura I can imagine it's on the danger list. The sites really show the history of the mining. When I visited there were not that many visitors in Humberstone and in santa Laura I was the third that day only. It's a ghost town, and when you just stand still you only here the howling wind through the buildings.
Read more from Chris here.
---
Jarek Pokrzywnicki
Visited the site in November 2006. Sunny and hot day so you could imagine how it is to wander throughout a desert whe the whole salitera is located. Site consist of 2 units: Humberstone ghost town with market square, church, theatre, swimming pool school and numer of houses (all restored) and Santa Laura factory (much more ruined, that's why it is listed on List in Danger) located some 2 km from the town) and numerous other object (railways, dumps, paths, ruins). Recommended for those who like factory architecture or want to see the life of workers in Chile some 50-100 years ago. But hurry up - the desert and winds deteriorate the condition of the site constantly.
---
Maria Pastora Sandoval Campos
It was a wonderful experiencie go to the saltpeters works. I'm a journalist and I wrote about it. It was very incredible to see things I only hearded and see in photos.
Really amazing! I want to be tehe again! To keep learning about our history.
Here are my links about Saltpeters Works:
Saltpeter process in Santa Laura
http://english.ohmynews.com/articleview/article_view.asp?article_class=3&no=223630&rel_no=1
Santa Laura Museum
http://english.ohmynews.com/articleview/article_view.asp?article_class=5&no=223630&rel_no=2
Humberstone way of life
http://english.ohmynews.com/articleview/article_view.asp?article_class=5&no=223630&rel_no=8
Photos (captions in Spanish)
http://mariepelouse.blogspot.com/2005_03_01_mariepelouse_archive.html
Post in my blog (in Spanish):
http://www.mariapastora.cl/2005/03/santa_laura_humberstone_la_tir.html
---
Site Info
Full Name

Humberstone and Santa Laura Saltpeter Works

Unesco ID

Country

Inscribed

Type

Cultural

Criteria

2

3

4

Categories

Link
Site History
2005

In Danger

"Extremely fragile nature of the buildings; Lack of maintenance for 40 years; Vandalism due to looting of re-usable materials; Damage caused by the wind"
Site Links
Unesco Website
Official Website
Related
In the News
Visitors
32 Community Members have visited.