Ha Long Bay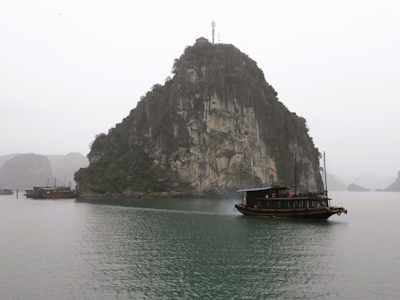 Ha Long Bay is a group of offshore islands that is the best example of marine invaded tower karst in the world.
The Bay holds over 1.600 islands and islets. There are caves and grottoes, with stalactites and stalagmites. Its limestone pillars are an unique natural feature of great scenic beauty and biological interest. The great extent and the richness of its forms sets it apart from other sites.
The site was first inscribed in 1994, and extended in 2000 to include natural criterion (I).
Visit March 2011
3.5
Between 8 and 9 in the morning, you'll see dozens of minibuses plying the streets of Hanoi. They are picking up their passengers for a tour to the famous Ha Long Bay. You'll see the same minibuses over and over again when driving the 3.5 - 4 hours to Ha Long, and the same tourists will be on your boat or the one next to it. Ha Long Bay is an extremely popular destination both for foreigners and Vietnamese: already in the early 1990s it saw over 1 million visitors a year. It is unlikely that that number has decreased over the years - so there will always be about 3,000 other people in the Bay at the same time as you!
I visited just a week after the fatal accident that killed 12 people here on an overnight boat. Traffic seemed to have resumed as normal. Overnight stays are also possible again, some of my group went on to stay for 1 or 2 nights on the boat. I opted for a daytrip only: not because of the accident, but also since I usually get bored pretty quickly looking at "natural beauty". And I had heard bad reports about life on board of the ships: I knew that I had made the right decision when I overheard the guide speak to the others about the evening programme that would constitute of "drinking and karaoke".
The natural beauty of the Bay lay hidden today under a very common fog. As I had already seen the similar karst landscape at Yangshuo/Guilin in China a couple of years before, I cannot really say that I was blown away by it. We went onto one of the islands to visit the Surprising Cave - an indeed suprisingly big and beautiful cave with three hollow chambers. We saw some monkeys here too, just outside the cave exit.
Part of the tour also was half an hour of kayaking - enough to paddle a full circle around the main area. The views from the kayak I found much more impressive than from the larger boat: you're so tiny then and the peaks rise sharply in front of you. I had a better look at the water too, and cannot say that I saw pollution by plastic or other junk floating around (contradictionairy to most of the reviewers below). There is a thin layer of oil on the water in some parts though.
And then it's time to get back in the bus to Hanoi, another 3.5 hours. It has been somewhat of an obligatory trip, to tick off the WHS. However, the tour was carried out well (good seafood for lunch) and I had a satisfying day.
---
---
---
---
---
---
---
---
---
---
---
---
---
---
---
---
---
Site Info
Full Name

Ha Long Bay

Unesco ID

Country

Inscribed

Type

Natural

Criteria

7

8

Categories

Link
Site History
2000

Criteria

Additional criterium added (Natural i), no boundary change
1993

Deferred

Bureau - Agreed not cultural but natural values are OK - however boundaries etc need redefining to exclude induct areas. Also better Management plan
Visitors
354 Community Members have visited.