Göreme NP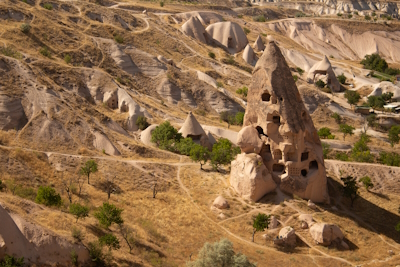 Göreme National Park and the Rock Sites of Cappadocia consists of an eroded landscape dotted with rock-hewn sanctuaries. It lies in the mid-western part of Turkey.
The extraordinary landscape was formed millions of years ago, the combined work of lava spitting vulcanoes, wind and water.
The inhabitants of the area hew rooms, chapels, even whole villages out of the rocks. Religious Byzantine paintings can be found on the walls of the churches and monasteries.
Visit July 1992
4.0
Coming from Eastern Turkey, Cappadocia is like arriving back in the western world. It is probably close enough to the coast to attract a lot of tourists. Despite this, Cappadocia is a beautiful place.
Stay a few days, walk around and discover!
Community Reviews
---
Göreme National Park and the Rock Sites of Cappadocia are a geologic wonderland, steeped in the history of the early Christian church. I visited Göreme National Park and the Derinkuyu underground city in the fall of 2007 as part of a two day tour of Cappadocia, in central Turkey. The town of Göreme, with its many cave hotels built into rock formations, is an excellent introduction to the region. All around the town are photogenic hoodoos, also called fairy chimneys. In the days of the early church, Christians found the soft rock of these wind-carved formations could be easily chipped away to create homes and churches. Today, some of their art can still be found inside the rock sanctuaries, though the faces of many of the saints have been scratched away. When the Arab-Byzantine wars began in the 8th century, the early Christian church in Cappadocia prepared to go underground, creating subterranean complexes such as the city of Derinkuyu, which was outfitted with stables, storage rooms, living spaces, and chapels. This was quite an amazing site to see. I hope that despite how long it has been since the last review, Göreme is still getting many visitors; it truly is a memorable landscape.
Logistics: Göreme and its national park may be reached by bus from most major cities in Turkey; the nearby city of Kayseri, east of Göreme, may also be reached by plane or train. Although there is much to see within walking distance of Göreme, private transportation makes it easier to access sites further outside the park.
---
visited in 2000 Went via bus from Egirdir.
The area is unique, with so much to see; the underground cities, the carved churches, the natural rock formations. One of the highlights of our trip to Turkey
---
Robert Peters
Cappadocia is about a five hour bus ride from the capital city of Ankara, where I currently live. Having been there a few times, I have to say that it is unique in the world, let alone in Turkey. The churches are great, but there is much more in the region than that. Underground cities, rustic village life, and a fantastic geological history make this place a must see. My personal favorite is just walking around Zelve. Enjoy!
---
Words can't really describe this moonscape of both natural and man-made sculptures of rock. Troglodyte dwellings of generations past are fun to wander through and their architectural style can best be described as early Dr. Suess. A balloon ride, though expensive is beyond worth the price as the surreal landscape will take the breath away from even the most jaded traveler. My own recommendation is to stay in a cave hotel for a unique and fun way to spend the night.
---
Steve
the cave churches in Goreme are fantastic. i visited in July 04. it's not too hot in this part of Turkey in summer. the Turks are the kindest people i've met in the world and you will feel safe and welcome wherever you travel. the WHS takes about 1/2 to do justice to. try to drive there. walking from town is a trek. it only costs about $5 to see it all. while the site has sidewalks near the rock churches, you need to climb up lots of stairs and crawl into places to really see it fully. Goreme town itself is an amazing site itself. try to stay in one of the "fairy chinney" hotels in town-- like nothing else. Also, spring for a balloon ride to see the whole valley of wonders.
---
Rosalinda Carrey
Unique!
It is an unbeliviable site to visit and live!
I have been leaving here for the last 2 years and I am still discovering new places...
---
Site Info
Full Name

Göreme National Park and the Rock Sites of Cappadocia

Unesco ID

Country

Inscribed

Type

Mixed

Criteria

1

3

5

7

Categories

Link
Site Links
Unesco Website
Official Website
Related
In the News
Visitors
256 Community Members have visited.