Evora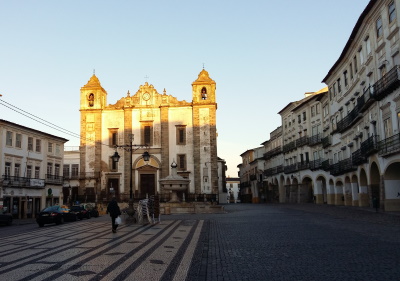 The Historic Centre of Evora is exemplary for the Golden Age of Portugal, and strongly influenced Portuguese architecture in Brazil.
Although some buildings of the medieval period - such as the Cathedral - remain, the historic town evolved from the 15th century.
Evora became the seat of the Portuguese royals, an archbishopry and a university town. Many new churches, convents and palaces were built.
Its cityscape is dominated by the many low whitewashed houses and narrow streets. The town also holds a Roman Temple, believed to have been constructed around the first century A.D.
Visit December 2002
2.0
This must be the largest disappointment of my Portugal trip. The town's beauty is sung by many guidebooks, and it has become very touristy.
Even around Christmas quite a number of tourists occupied the streets of this Spanish-looking town. The historic centre is confined within city walls, but unfortunately cars (and buses) are allowed there too.
One sight I did enjoy was the "Bone Chapel". I found it really strange to stand in a room that is built totally with cemented human bones, and a skull here and there. And then those two bodies hanging in a corner ...
Community Reviews
---
The capital of the Alentejo region, Évora, is a city with more than twenty centuries of history. But its profile is much lower than that of other points of interest in Portugal, so a day after we had to dodge the insane crowds in Sintra (in late April), we encountered a much more manageable amount of fellow visitors in Évora. The town was far from deserted but instead just lively enough for our liking.
Évora retains various monuments from different eras. The oldest is the Roman temple of Diana, free-standing on an airy square at the edge of the town center. The medieval cathedral, a short walk away, first dates from the early 13th century; its suitably somber exterior hides a fairly vibrant interior. One of the prominent features here is the Baroque altar with a statue of pregnant Virgin Mary (called Nossa Senhora do O), created in the 15th century; it is highly uncommon in its positioning in the middle of the central nave of the church. You can also climb to the roof of the cathedral, both for views over town and for a number of impressive details.
The town roof line, I have to admit, is actually kind of bland. Three colors predominate in Évora's palette: white, yellow, and red. The core of the town is practically all whitewashed with yellow accents and red roofs, with many of the houses dating from between 16th and 18th centuries, Évora's golden age, when it was a regular residence of the royals. The white façades, unfortunately, are discolored in a fair number of instances, which gives many perspectives a bit of a dirty-ish tint.
One other major point of interest in Évora is the church of São Francisco, whose several components include the Bone Chapel, mildly distressing in its impeccable design. There is a plaque in the center of the chapel that attempts to explain that the purpose of this space was not necessarily to shock but rather to prompt people to think about and accept their own mortality. Entrance to the chapel is combined with a collection of nativity scene sets; the gallery is like a toy museum that is bound to impress kids if you have them in tow. The interior of São Francisco proper (which can be entered for free) is among the most impressive that we've seen in Portugal, which is a high praise given that lavish church interiors are close to the norm in this largely Catholic country.
Évora is about an hour and a half due east from Lisbon by car. We spent a little over half a day there, which feels like the right amount of time to get acquainted with the city.
Read more from Ilya Burlak here.
---
Évora has received some mixed reviews on this site, and, although I had a pleasant visit (admittedly a quite short one), I also thought the town was a bit overrated (maybe the hordes of tourists prove me wrong). The main sight, the cathedral, is really massive on the outside and beautifully decorated on the inside. The Roman temple (generally named the Temple of Diana, but it's not really clear to whom it was dedicated) just a few steps away is nice, but nothing really special. Évora has some other historic attractions (mainly the Church of Sao Francisco with the Bones Chapel - unfortunately already closed when I went there) and is really nice for wandering around, but I felt that the WH status was only justified for the cathedral, not the entire town.
---
I'm not sure I saw Évora at its best, since I visited on a cool, rainy autumn day in 2012, but I was impressed with the Roman monuments and Portuguese architecture I saw throughout the city. I joined a walking tour of the city, which started out in the subdued, empty Praça do Giraldo (probably rather deserted as a result of the poor weather), where we had great, uninterrupted views of the Church of St. Anton and a Renaissance fountain. From the square, we walked through back streets filled with the distinctive Portuguese white and yellow-painted buildings that apparently can also be found in colonial architecture in Brazil. In another city square we stopped at the impressive Roman Temple of Évora, which may have been dedicated to Jupiter, rather than Diana; it is one of the most complete monuments remaining from the city's days as a Roman settlement. The tour also visited a section of the old Roman wall around Évora, as well as Roman baths found beneath the city's Town Hall. I enjoyed learning about the city's extensive history, although I think I will need to revisit Évora during better weather in order to fully appreciate the city.
Logistics: Évora is an easy day trip from Lisbon, and can be reached by train, bus, or automobile. The historic center of the city is very walkable.
---
I visited this WHS in August 2014. I spent a night here before heading to Elvas the following day. Overall, I felt that Evora was the most neglected WHS in Portugal and the one that mostly needs attention. The white and yellow paint of most buildings has faded or peeling off and having a private parking lot just next to the Temple of Diana which is the main attraction doesn't help either. Having said that I really felt I was almost visiting a WHS in Latin America and not in Europe so the OUV for the architecture that was exported to mainly Brazil is definitely there. Having practically no entrance fees to pay, I decided to visit the bone chapel near the Church of St Francis. Unfortunately prices have tripled and I had to pay 2 euros as an entrance fee and 1 euro to be able to take photos. I'm happy I visited the bone chapel but I still think that 3 euros is too much.
---
Karen schousboe
One of the challenges of Evora is the fact that there is no avalable information in English about the sense of the place -neither at the tourist information nor in the bookshop. What is special about this place, one asks ... And gets no answer. Only a pathetic map with a few comments about each site. And only those which are publicly acknowleged. We wondered what it was all about
---
I agree with David that there is much of value to see here, and with Ann regarding the magnificent aqueduct.
But the experience for me was marred by the traffic and huge car parks that obstruct views of the sites. These should be removed well away from the city walls.
---
David Crisostomo
I do not understand how I can see such bad comments and opinions about the capital of Alentejo. Ebora Cerealis (roman name), is one of most amazing and monumental cities on the Iberian Peninsula. It was considered the ideal exemple of a "museum-city". I've known the city since I was litle, and it has always fascinated. My favourite places are: the Catedral and it's museum (Tesouro da Sé - Museu de Arte Sacra), the Giraldo square with the St. Antão church, the city museum, the Diana roman temple, the Loios church and convent, the St. Francisco church with the Bones chapel (capela dos Ossos) and the Graça church. Like a typical and yet sumptuous city of the south of Europe, Évora has a charm and elegance hard to find in anywere on the world.
---
Ann Reeves
On a recent trip to Portugal (see Sintra reviews) I visitedv Evora. I decided to write after reading the poor review of it on this site. Yes it has become quite touristy but I imagine it has been a "tourist spot" for hundreds of years because of it's strategic location, heritage and history. If in Portugal it is a must-s The Capela dos Ossos, the Chapel of Bones (one of several in Portugal) is quite exotic, and filled with skulls and bones, quite eerie. The Temple of Diana is smaller than I had imagined but still inspiring to find in Portugal. The aqueduct is marvelous. We stayed at the very charming Estalagem Albergaria do Calvario, and it turned out to be my favorite hotel of the trip, with free internet access, great service, and wonderful rooms at mid-range prices. We ate at the Pickwick restaurant and had a tasty dinner there. Back to Evora though, one of the great things about it, talking
about a city underneath it, is that we were walking about and could see where they'd been excavating and uncovering walls and such. These areas had glass viewing windows on the
outside walls so you could see the progress. And for you shoppers out there, there is some great shopping to be had here of local craft and products from around the area. It is a good base location, and we made several day trips. What was a disappointment though was the "megalithic tour". The standing stones and "painted" caves are less than impressive, especially if you've visited Stonehenge, or seen any of the desert rock paintings in Arizona, USA or elsewhere.
The nearby town of Arrailos, where the carpets are made, is a nice side trip. The carpets are wonderful, and it is fun to see the place where alot of the carpets you see in the palaces and castles of Portugal came from. Another
interesting town we visited was Estremoz, especially on market day. So if in Portugal, include Evora on your schedule. Do the research and you'll enjoy it.
Ann Reeves, California, USA
---
laura Eijkelboom-Wernsen
Evora is forever in mine hart! I have worked there from may untill october. The city is full of historical monuments and each building has its own story. I have met the nicest people on earth and working there has made me to what i am today. The idea that there is a city beneath Evora is amazing. Walking in the little streets you can see a part of this city beneath you. Really impressing. I have been in many old houses and you can smell and sense the history inside! I worked in restaurant Pickwick, nearby the big square Place du Geraldo. The owners are Antoinette en Luis Linhan. I have lost contact with them becauses i have moved to another place and so do they. If someone can help me!!! I know they still work there, its a famous restaurant. They also own Mr. Snob, a restaurant-bar. There isnt a day when i think about them. Please contact me. Lots of thanks, Laura Eijkelboom-Wernsen
---
Site Info
Full Name

Historic Centre of Evora

Unesco ID

Country

Inscribed

Type

Cultural

Criteria

2

4

Categories

Link
Site Links
Unesco Website
Official Website
Visitors
252 Community Members have visited.