Ephesus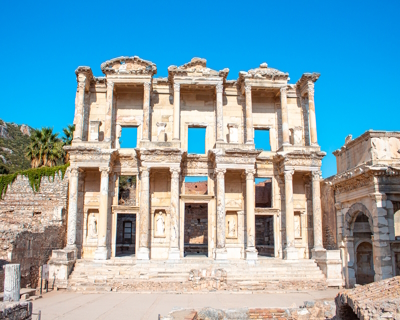 Ephesus contains successive settlements from the Neolithic, Hellenistic, Roman, Byzantine, Selçuk and Ottoman periods. The property is located at the Aegean Coast of Turkey.
This site comprises 4 locations:
Cukurici Mound
Ancient City of Ephesus
Ayasuluk Hill, the Artemision and the Medieval Settlement
The 'House of Virgin Mary'
Community Reviews
---
I visited Ephesus on a two-week group tour of Turkey in July 2018. As everything was organized, I have done really few researches beforehand and I was happily surprised to discover such an impressive site! We spent two days in Selçuk. We had free time on the first afternoon and I used it to visit Saint John's Basilica, Isa Bey Mosque and Ayasoluk Kalesi. The second day was spent for a group tour to Ephesus, Artemis temple and Şirince (not inscribed) and a self-guided walk to Grotto of the Seven Sleepers (buffer zone) and House of the Virgin Mary.
Inscribed sites closer to Selçuk (Saint John's Basilica, Isa Bey Mosque and Ayasoluk Kalesi) are interesting but far from breathtaking. The Basilica was a very important site for the history of Christianity, but only a few columns and foundations remains. The same apply for Isa Bey Mosque. I know it's an important place, but the visit was not memorable. Selçuk is a nice city to visit. Ayasoluk Kalesi gave me the same feelings of a historically important place where few remain. All these three sites can be seen in the photo background. I really enjoyed the ruins of the aqueduct with its numerous nesting storks!
Ephesus old city is by far the highlight of this WHS. The library and both theaters are especially worth mentioning. Having a guided tour of the site was great. There's not much to see of Artemis temple. A single column made of many pieces remains and, again, storks nest on it (photo). Şirince, though it is not inscribed, was an interesting excursion for Selçuk. Learning about the population exchange between Greece and Turkey was great.
My walking self-guided tour to Grotto of the Seven Sleepers (buffer zone) and House of the Virgin Mary was fun as the views on the landscape are beautiful. Otherwise, both sites are, at best, boring. Only a few uninteresting brick constructions remain at the site of Virgin Mary's House. I don't believe neither of them should be within the core zone. You shouldn't take time to go there, unless the pilgrimage is important for you.
In sum, Ephesus is an amazing site and well deserve its late inscription on the list, but most of its OUV come from only one of the components I visited.
---
Ephesus was one of the great cities of antiquity, and erstwhile home to the Temple of Artemis, one of the Seven Wonders of the Ancient World. After its harbor silted up, Ephesus lost value as a commercial center and never recovered. However, it left behind impressive ruins, which unfortunately don't include the Temple of Artemis. Ephesus is also important for Christian travelers, both for its Biblical history and as a pilgrimage site to the believed last home of Mary, the mother of Jesus. With such history I was surprised it took until 2015 for the city to become a World Heritage Site. I visited Ephesus in the spring of 2013, and thoroughly enjoyed wandering the ruins of the city. The restored façade of the Library of Celsus was magnificent, as was the large theater at the end of the former Harbor Street. Also on view were ancient baths, the agora, and a smaller Odeon theater. Although I didn't visit them, there was an archeological excavation of Terrace Houses on display for an additional fee. Ephesus was crowded with tour groups, but I didn't notice them because the city was so fascinating to explore.
Logistics: Ephesus is located near Selçuk, and can be reached by walking, biking, minibuses, or private transportation or tours. Ephesus is a popular stop for cruise ships, which often bring large tour groups.
---
Beautiful site with a lot of history. Also the site of one of the seven wonders of the world; the Temple of Artemis (eventhough not much remains of this site).
Worth a visit and worthy to be a World Heritage Site.
---
Christine Gravlin
This is a wonderful place to visit and experience history. I hope that it will be made permanent site. It needs to be preserved.
---
Site Info
Full Name

Ephesus

Unesco ID

Country

Inscribed

Type

Cultural

Criteria

3

4

6

Categories

Link
Site Links
Unesco Website
Official Website
In the News
Visitors
274 Community Members have visited.