Delos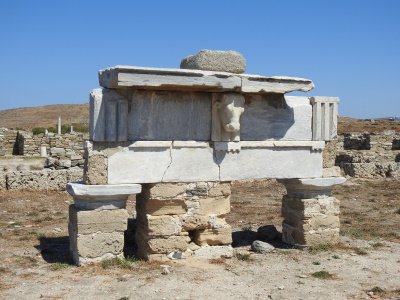 Delos is a small island and archaelogical site that is part of the Cyclades island group.
It has been made a WHS because of:
its role in early archaeology,
its part in Aegean history,
its important role as cosmopolitan Mediterranean port from the 4th to the 1st century BC,
it being the mythological birthplace of Apollo and Artemis.
Community Reviews
---
Delos archaeological site is vast and is among the most impressive of its kind. Ancient ruins everywhere require a non-trivial application of imagination to see beyond the piles of stones and the occasional surviving pillar, but Delos offers more than a few structures and artifacts that help visualize a bustling settlement from two and half thousand of years ago. The island was a major cult center for most of the first millennium BC, as well as an important trading post in the later centuries of that period. It was largely abandoned and uninhabited for the following two millennia, which contributed to the exceptional richness of its archaeological remains.
I visited Delos in the summer of 2018.
The aforementioned piles of stones and occasional surviving columns prevail at this site as in many others, but walking through the site, you come across occasional buildings that more or less retain their entire structures, or at least retain key features, such as doors or windows. In a few houses, despite exposure to the elements, rich details such as mosaic floors survived in a fairly good shape. The amphitheater at Delos, conversely, is among the least preserved areas of the site – its aerial photos found on the web look more impressive than the ground-level perspective.
Among the most amazing surviving artifacts are the Naxian marble Lions, dedicated to Apollo around 600 BC. In addition to them, a fair-sized collection of various items can be seen in the onsite museum.
Over a hundred points through the site are marked as individual buildings or places of importance, many accompanied by descriptive stands with information in 3 languages (Greek, French, English).
We had three hours for exploring the Delos archaeological site as part of a day-cruise itinerary. That is sufficient time for any layman visitor to discover all of the major points of interest and peruse the museum. A true enthusiast may not be satisfied even with a full day here. Naxos, Paros, and Mykonos all offer daily options to visit Delos in the summer season.
Read more from Ilya Burlak here.
---
Delos Island is accessible by daily ferries from Mykonos. The WHS takes up half of the area of the island, so to see it all means a lot of walking. In the middle of the island is a museum containing statues and artifacts found on the island, one of the bvest in Greece.
In antiquity Delos was a consular city, where governments around the Mediterranean, and as far away as Syria, sent representatives to resolve disputes, arrange trade etc.
The residents obviously enjoyed a high degree of comfort, judging from the size of their houses, the amenities and entertainment available.
---
Mith
Abseloutley an amazing experience of a life time with so much to see with so much history and meaning. there's passion through every temple, statue or monument.
Truly Fantastic
---
Site Info
Full Name

Delos

Unesco ID

Country

Inscribed

Type

Cultural

Criteria

2

3

4

6

Categories

Link
Site Links
Unesco Website
Official Website
Related
In the News
Visitors
92 Community Members have visited.