Coffee Cultural Landscape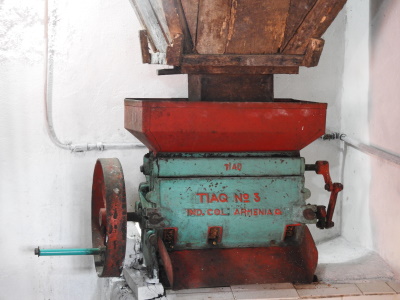 The Coffee Cultural Landscape comprises 6 landscapes and 18 urban centres within the coffee producing areas in the Andes.
The growing of coffee started here in the 19th century, and currently accounts for 35% of Colombia's total production.
Map of Coffee Cultural Landscape
Load map
Community Reviews
---
We finally made it to a WHS my wife was more excited about than I was. I knew we would pass through this WHS somewhere along the road between Armenia and Salento at the very least but like others before us, were unsure of the exact boundaries. So we adopted our own interpretation of what we were supposed to be seeing/doing there. For the cultural part we visited Salento and nearby Filandia, both nearly identical in appearance with pretty, colourful buildings spreading outwards for a few block radius from their central squares. This is tourist central, especially on the weekend with all the local tourists day-tripping in.
We also observed the landscape within the core zone, both as we passed through but also from several viewpoints around Salento and especially Filandia where there is a tall wooden observation tower from which you can see all the surrounding villages as well as Armenia. There wasn't as much coffee growing here as we expected considering the importance of the crop to the local economy. We visited a family run coffee finca too and took the tour. It might've been within the buffer zone but we aren't sure. This seemed a fair example with their traditional methods still preserved unlike some of the larger, commercial operations. We learned quite a bit in the process and found it worthwhile. My wife insisted on drinking copious amounts of local coffee so we nailed that part too ;)
---
Visited in February 2019.
Like many members, I am often bewildered when trying to determine exactly what I am supposed to see when visiting a Cultural Landscape site. Colombia's recently-inscribed Coffee Cultural Landscape is a perfect example of that.
As I prepared my recent visit, there was a map available on the UNESCO page for this site that, in theory, gives the location of the core- and buffer-zones of this site. However, the map is close to impossible to read easily, seemingly being created from whatever public-domain map its creators could find. Text labels for cities and towns are sometimes in the wrong place, and the roadways, and other landmarks, are also not very clear. Nevertheless, after staring at this map for a long time, I was able to determine that I would pass through two sections of the core zone on my recent cycling trip, namely the town of Anserma (presumably all of the city center is not included, but the area just beyond that is), where I spent one night, and the roadway connecting the towns of Viterbo and Apia.
There is certainly coffee being grown in these areas, though maybe not as much as you might expect. There is also a lot of sugarcane and bananas, though the latter are often used as a shade crop for coffee. I did not notice any sort of buildings or other infrastructures involved in the processing of coffee in these two areas.
The only informational items relating to the WHS that I saw were a new road sign over the highway leading into Apia from the west that said "Apia: Coffee Cultural Landscape" (in Spanish) with the WHC logo (I'm not sure about the eastern approach since I used the very hilly, rocky "short-cut" road in that case,) and a mural in a narrow hallway inside the old hotel where I stayed in Anserma that is the photo for this review. It says: "We are Coffee Cultural Landscape", "Anserma is Grandmother of the Caldas (region)" "Greets you."
Overall this site does feel more like a marketing ploy than a WHS, but a lot of people like to drink Coffee, so perhaps that is understandable. I probably should have drank a cup while I was there, for the experience, but I don't really like coffee, so I didn't.
Read more from Michael Ayers here.
---
First of all - it is not easy to distinguish what exactly was inscribed as Coffee Cultural Landscape - particular coffee farms, land area, towns and villages. All available maps do not show inscribed zone, there are no signs of World Heritage in the places (yet, November 2011) that is for sure inscribed as UNESCO heritage. But for sure the landscapes are spectacular although I haven't seen any difference between inscribed part and non-inscribed.
I was visiting Salamina, passing through Chinchina, travelling around Salento, Manizales, Armenia and Pereira. Those areas are either directly inscribed as WHS (Salamina, Chinchina) or located in close vicinity of Coffee Cultural Landscape. Salamina is truly remarkable (nice colonial town, sourrounded by high mountains, with lovely old houses, one the most interesting places in Colombia). Chinchina looks to be quite ordinary, like many other towns.
---
Site Info
Full Name

Coffee Cultural Landscape

Unesco ID

Country

Inscribed

Type

Cultural

Criteria

5

6

Categories

Link
Site History
2011

Advisory Body overruled

ICOMOS recommended Deferral - OUV (v, vi) not proven, comparative analysis needed improvement, boundaries/buffer zones needed improvement, serial approach as selelcted not justified. WHC inscribes with push from Bar, Mex, Brz
Site Links
Unesco Website
Official Website
Visitors
45 Community Members have visited.