Belfries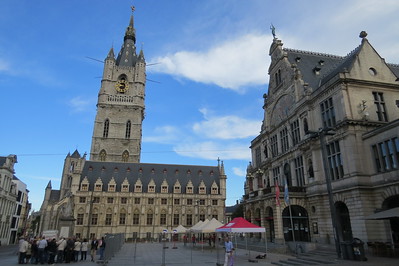 The Belfries of Belgium and France are 56 bell-towers, built between the 11th and 20th centuries.
They are mostly found in town centers, and connected to the local town hall or church. At their time, the Belfries represented the growing importance of cities instead of the feudal system in the Middle Ages.
After several fires, stone began to be used as building material instead of wood. Mainly square, robust towers were built in this period. Later, from the 14th to the 17th century when most of the still remaining belfries were built, the towers lose their defensive character. They become narrower, and the styles are influenced by Baroque. In the 19th and 20th centuries, newly created belfries had a more symbolic value of independence and prosperity.
Visit Jan 2001, Apr 2005, May 2006, September 2013
3.0
Of the numerous belfries in Belgium, I first visited the one in Lier. Lier is a picturesque small town near Antwerp. It also has an old Beguinage, part of another worldheritage. The tower in Lier distinguishes itself because of the 4 little towers. It's situated at a typical Flemish square, where a market for pigeon enthousiasts was going on when I was there.
The belfry in Leuven, another nice Flemish town, I visited four years later. It's part of St. Peter's church. This tower has a quite unusual shape because it was left unfinished.
My first French belfry I saw in Amiens. I had expected Amiens to be a lot more like those Belgian towns, but there isn't much left of its medieval history besides the city's two highlights: the Cathedral and this belfry.
The belfry in Gent was the first one that I climbed. Its stairs are narrow and winding, so it is not for all. I met an English speaking tourist on the way up, who had left his wife behind downstairs. It does reward one with a magnificent view of the skyline of Gent.
I visited during the festivities of its 700th birthday (1313-2013). The circuit let us also into the quarters of the St. Michaels guild (now a fencing club) in the Cloth Hall that is build against the belfry. With a good zoom lens you can also see the 4 guard statues that are placed on the corners of the belfry.
---
---
---
---
---
---
---
---
---
---
---
---
---
---
---
---
---
Site Info
Full Name

Belfries of Belgium and France

Unesco ID

Country

Inscribed

Type

Cultural

Criteria

2

4

Categories

Link
Site History
2005

Extended

To include belfries in France and another one in Belgium (Gembloux)
Site Links
Unesco Website
Official Website
Related
In the News
Visitors
504 Community Members have visited.