Aasivissuit - Nipisat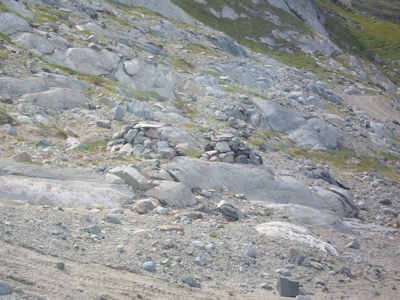 Aasivissuit-Nipisat, Inuit Hunting Ground between Ice and Sea, is a cultural landscape in West Greenland.
The inscribed area includes 7 key locations along annual migration routes from coast to inland in summer and then back again in late autumn. They show the interdependence between humans and their natural environment over time. The sites consist of both archaeological sites and settlements that are still in use. This landscape was settled about 4,200 years ago, with (Paleo-)Inuit sustaining themselves by marine and terrestrial hunting.
Community Reviews
---
3.0 Chinese-Canadian in NZ - 29-Jun-19 -
Landscapes are always a bit tricky to see or understand. Hunting grounds of the Inuits even more. There is little infrastructure to get into these places. The base to explore is Kangerlussuaq, 1h away from Ilulissat or Nuuk either way. The town is small but hotels are plentiful. (I stayed at the Old Camp mainly because the Polar Lodge was already full but it is also that much cheaper, although then you are 2km away from town and need to take an hourly bus to move around. The tours still pick you up here though.)
You can only organize tours via the same agency and the programs are set by date and time slots. I was told one could potentially customize a tour but that ended up not being done. I took two tours: the ice wall and the sightseeing tour. The sightseeing tour will explore the hunting area and other parts like the harbor, the shut US research station (apparently ordered to be moved by the Trump administration), the town and Husky puppies (sho qwute!!).
The main reason this was worth is because of the Inuit guide Kimmi. She is Greenland's unknown superstar and I shall not go into details of what her personal life holds. All I can tell is that she's a really good guide and a hunter. I don't mean this in a advertisement but having her as guide means she will try to understand what you want to know about the area and tell you more about it. If you come for knowledge about the world heritage site she will focus on that. As mentioned, she's a secret superstar so later this year a German TV documentary will shoot her hunting and I'm really looking forward to checking it out.
So in short if you are coming please check if Kimmi will be your guide. I was told she usually does the sightseeing tour though.
As for the hunting grounds, you drive past/through them but you don't really see anything spectacular. All I learned was that Caribou and arctic hares leave a trail which even the arctic fox uses to wait for its prey, and that the (i think) eagles will show the hunter where the game is (caribou or musk oxen) because they will know they can feast on it while the hunter is butchering the kill. I'm usually not into killing animals but I understand the Inuit hunting has a long history and they only do it for their own food etc, not for commercial reasons.
Not as spectacular as Ilulissat's icefjord but better than the farmlands of Southern Greenland. Also surprisingly warm here in June, even warmer than Iceland and more of a South Norway style climate.
I also saw some people hiking the Arctic Circle Trail. This will take you from Kangerlussuaq to Sisimiut and pretty much through the hunting areas. It also goes through rivers and along dirty roads and takes up to 9 days so that's not for me.
P.s. try to the ice field tour over 2 days I hear it is amazing. They only do that twice a week or something.
---
During my trip to Greenland in 2012 I spent two days in Kangerlussuaq, Greenland's biggest airport and usual entry point for most tourists. There is little to do in this small village (though there is small museum), although you can hike around or take a trip to continental glacier, located around 40 km from Kangerlussuaq (the road to the glacier is actually the longest in Greenland). Based on the map from the nomination file, the road crosses the core WHS area of Aasivissuit-Nipisat. Although the highlight of the trip is the glacier itself, the road is also interesting, with picturesque landscapes of small lakes, meadows (really green in the middle of July) and various stone forms. I remember our guide told us a lot about Innuits, their hunting habits and everyday life. On the road there were at least two Innuit tombs (see photo), dated 400 years back (I suspect they are marked on the official map as "place of worship"). Innuits buried their dead in sitting position and the body was then belayed by stones. On top there was always a flat stone, which also helped to differentiate burial mounds from orientation points. Such a construction of the tomb protected the buried body from wild animals.
I remembered this area as a nice natural landscape, perhaps other places in the core zone provide more artifacts of Innuit culture and justify inscription as cultural, not mixed site.
---
Site Info
Full Name

Aasivissuit – Nipisat. Inuit Hunting Ground between Ice

Unesco ID

Country

Inscribed

Type

Cultural

Criteria

5

Categories

Link
Site Links
Unesco Website
Official Website
Visitors
6 Community Members have visited.