Dresden Elbe Valley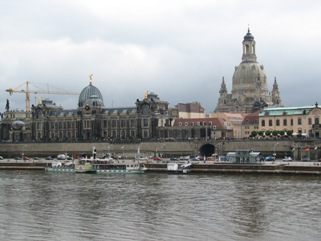 The Dresden Elbe Valley is a cultural landscape that extends for 18 kilometres along the Elbe river and through the city of Dresden. As the capital of the Electorate of Saxony, Dresden developed into a major cultural center during the 18th and 19th centuries.
Famous parts of the Elbe Valley are:
- Pillnitz Palace
- Village of Loschwitz
- Industrial heritage: the steel Blue Wonder bridge, the Standseilbahn Dresden, the steam ships and shipyard
- Historic center (Old Town) of Dresden with its baroque buildings like the Royal Residence Palace, the Zwinger, the protestant Frauenkirche, the Semperoper and the catholic Hofkirche
- New Town of Dresden with Japanese Palace and Goldene Reiter statue
The historic center of Dresden was heavily bombed at the end of WWII in 1945. Several of the monumental buildings have been rebuilt or restored during the past 50 years.
Map of Dresden Elbe Valley
Visit May 2009

Fatal error: Uncaught Error: Call to a member function get_stars() on null in /usr/home/elsslots/public_html/scripts/site.php:100 Stack trace: #0 {main} thrown in /usr/home/elsslots/public_html/scripts/site.php on line 100