Madā ͐ in Ṣāliḥ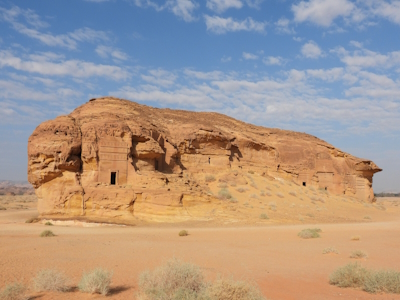 Al-Hijr Archaeological Site (Madâin Sâlih) covers the remains of an ancient city from the Nabatean civilization.
It is the largest Nabatean site south of Petra, which lies 500km to the north. Its ancient name was Hegra. It dates from between the 2nd century BC and the 2nd AD. The site consists of four necropoles, which include 111 tombs, a siq, walls, towers, water conduits, and cisterns. Many of the monumental rock-cut tombs have inscriptions.
The designated core zone also includes two historical sites from later date: the Ottoman Fort: built from 1744 to 1757 to protect the pilgrimage route to Mecca, and Hedjaz railway station: built by the Ottoman Empire between 1901 and 1908 to link Damascus and Jerusalem to Medina and Mecca.
Community Reviews
---
My impression of this site was personally 5-star, but I'm also relatively new to UNESCO sites and may not have a great standard for comparison.
I had just quit a job in Saudi Arabia and asked that my visa remain open a bit longer (since I'd never get one again), and immediately set my sights on Madain Saleh (the actual Nabatean part of the site). Getting there was not easy, especially since you need to somehow first get a Saudi visa - good luck if you're not on Hajj or an oil/diplomatic worker. A site visit permit was also required back in 2010.
From Riyadh, I flew to Medina, rented a car - carefully avoiding the Haram area where non-Muslims can't enter - and headed north. Or, that was the intent, since a white guy driving alone is uncommon enough that the National Guard stopped me while they figured out what to do. After a confusing phone call with one guardsman's brother, I learned I'd need a police escort to continue driving to Al-Ula, where the site is located. One hour and a lunch break later, I was following a rotating cast of police cars for the next four hours.
Once in Al-Ula, things were still weird: I couldn't leave my hotel "for my safety". At least the tour itself was wonderful: a personal guide met me at the hotel and we drove off to the site. Got to visit all the high points throughout the largely empty area: the Nabatean necropolis and surrounding rock formations, Al-Ula's abandoned old town (my guide used to visit in his youth), and the old Hejaz rail station through which pilgrims used to travel back in the days of Ottoman control. The cherry on top was a sunset tea and chat on a promontory where you could see most of the site.
Totally worth the out-of-the-way journey, and possibly made more memorable by how difficult it was to get there.
---
We felt lucky to have been able to get in to see this site in Feb 2020. It has been officially closed for quite a while and will continue to remain closed but during the Winter in Tantora festival in Al Ula the site was partially opened for tour visits. This involved registering and paying for a visit either online or in Al Ula where overpriced festival buses would transport you to the main north entrance. The old Al-Hijr railway station (part of its own Hejaz railway TWHS) is restored and being converted into a visitors centre and after a welcome tea and dates, we found ourselves funneled onto a different guided tour bus for a partial trip around the site.
On maps there is a road that makes a full loop of the site. We made 4 stops along the eastern semi-circle ending at the most famous Qasr Al-Farad tomb before returning the way we came. Seeing as how large an area this all is and the need for a vehicle to get around, I wouldn't be surprised if they maintained this type of tour bus set up as the mandatory way to visit in the future to both increase revenue and keep an eye on everyone. It has been many years since my visit to Petra but if memory serves me right, these tombs felt more numerous and spread out but generally smaller. We were told that archaeologists have recently discovered the residential portion of the city in the middle of the loop surrounded by the tombs and our guide pointed to a large fenced off area which had the look of a dig in progress.
The appeal definitely lies in the lack of crowds and good preservation of the site but my independent nature was frustrated by the lack of freedom to explore the other tombs we could see in the distance and generally wander at will.
---
4.00 Chinese-Canadian - 27-Mar-19 -
Mada'in Saleh is currently closed for ... getting ready for tourists? It says "closed for development" and the guide told me they will open it up for the general public sometime in 2020 but most of the places were available for visit with a few "renovation" piles of lights, planks, etc, and some areas are maybe off-limits and I didn't notice. A true marvel to visit nonetheless and harsh for them to close this off entirely. Comes to show that the Kingdom currently does not give a **** about tourism. However, you CAN visit if you are with a guide. They will arrange a visit for you and then it's even better because none of the visitors are here to spoil the fun - so maybe NOW is the time to try and visit?!
Stay overnight at Al Ula, the closest town with hotels. It is a long drive from Medina and you want to be here in the morning for the first light. All the rock formations and structures will be desert red and if you love taking photos you will love the first half an hour of light. Our tour started at the south gate which needs a 4WD going through the desert roads and ends up at the north gate.
All the tombs show marvelous carvings by the Nabataeans whose capital is Petra. To think it was done over 2000 years ago. Before coming the Qasr al-Farid is the main thing to see, and it remains the most photogenic due to its freestanding large sandstone boulder but little did I know it was unfinished.
Now that I think about it it seems a sin to keep this closed to the public.
---
I visited Mada'in Saleh in December 2018 as part of a trip to Saudi Arabia for the inaugural Formula E race hosted in Riyadh. I took a day trip up to Al Oula where our group got permission to visit Mada'in Saleh.

(Mada'in Saleh is currently closed indefinitely for improvements, however, I didn't think the site was actually in that bad of shape. The roads and signs did need some upkeep, but the current conditions were more than passable for visitors. I've seen much worse at other sites around the world).

We had the entire facility to ourselves. There wasn't a single other visitor or staff member on the property that I could see.

The site is most similar to Petra, as it was built by the same people during the same time period. However, the site is much more spread out than Petra is. You can see most everything at Petra with a good day of walking. To get between the sites at Mada'in Saleh, you really need a car.
The biggest difference between the two sites is that Petra was an actual city, whereas Mada'in Saleh is more akin to a graveyard. Almost all of the structures were built as tombs.

The area around Mada'in Saleh is very similar to what you will see in Wadi Rum in Jordan. Southern Jordan and Northern Saudi Arabia can sort of be considered a single geologic region. The Bedouin of Northern Saudi Arabia are similar to the Bedouin in Southern Jordan, it is just that the borderline was drawn between them.

Saudi is quickly opening up their country to tourism, and the Al Oula region is high on their list of tourist destinations they want to develop. Over the next few years, more and more people should be able to visit this site.
---
So, in a couple of weeks Saudi Arabia may get its first WHS with the inscription of Al-Hijr Archaeological Site - more commonly known as Madâin Sâlih. We were there in 2002 and found it an interesting place. It is set in the desert country of NW Saudi around 250kms from the Jordanian border. This provides a clue to its history:- It is most famously a Nabataean city, built as they expanded out of their home area around Petra and with its peak around 100BC -100AD. In fact its history reaches much further back but the main sites you will see are Nabataean and consist mainly of tombs (over 100!). Its location was well placed on the trade routes to from Syria to the Hadramaut and later for the pilgrimage route from Damascus to Mecca.
Generally its location and remains are less spectacular than Petra (it does however have its own "Mini Siq" passageway between the rocks!) but the tombs are better preserved. They all follow a similar design of a flat facade with a step motif above and a triangular portico above the doorway. Inside are funerary niches etc and some carvings. Apparently one of the unfinished tombs was important in "proving" that the rock carving started "from the top down". Qasr Farad (photo) is particularly impressive being carved into a single rock outcrop and is usually chosen to feature in books/posters about the site. Everything is very spread out but you are not going to arrive here without transport anyway. Most of the tombs have notices in Arabic and English explaining their history and with translations of the carvings. These provide a fascinating insight into the practical concerns of those arranging the building of these impressive structures. I quote from one "May Goddess Dushara …. curse whoever sells, buys, pledges or grants this tomb or takes out any corpses or bones from it or buries anyone other than Kamkam and her daughters and their descendents. Whoever disregards the above written shall be cursed 5 times by the goddess Dushara and pay the priest a fine of 1000 haritha"!!! On which point Wiki has an interesting comment that the locartion is mentioned in the Qur'an as being a cursed place due to the inhabitants turning away from the word.
I will be interested to discover if the site is inscribed alone or whether the nearby Hejaz railway sites are included. There seems no obvious logical reason for them to be connected into a single inscription but the description of the site on the Tentative List covers both aspects. The railway remains are interesting and include a railway shed still containing (restored) old German locomotives from around 1907, together with a station and marshalling yard with rather less well preserved rolling stock.We followed the railway for over a day and there are better, more atmospheric remains elsewhere along its track including some wonderful rusting locos in the middle of nowhere looking as if they had been left untouched since the day that Lawrence of Arabia blew up the track around them – though in fact Lawrence never operated this far south!
The site will also be of interest to those interested in the History of Exploration. Charles Montague Doughty who wrote "Travels in Arabia Deserta" is credited with being the first European to visit it in the 1880s. He stayed in the Turkish fort which was the raison d'etre for there being a railway station here – you will probably use it as a picnic stop away from the midday heat!
---
Site Info
Full Name

Hegra Archaeological Site (al-Hijr / Madā ͐ in Ṣāliḥ)

Unesco ID

Country

Inscribed

Type

Cultural

Criteria

2

3

Categories

Link
Site History
2021

Name change

From "Al-Hijr Archaeological Site (Madâin Sâlih)" to "Hegra Archaeological Site (al-Hijr / Madā ͐ in Ṣāliḥ)"
2008

Advisory Body overruled

By ICOMOS (later overruled by the Committee) fo a management plan
Site Links
Unesco Website
Official Website
Related
In the News
Visitors
42 Community Members have visited.